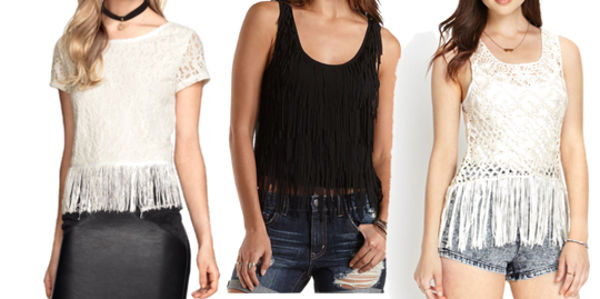 Fringe Tees: 1. H&M, 2. Charlotte Russe, 3. Forever 21
This spring, runways have been draped with a trend I'm starting to love – fringe. A little 1970s bohemian, a little 1920s flapper, fringe is surprisingly wearable in day-to-day life. From skirts and dresses to more unexpected pieces, like cardigans and accessories, you can easily find something that suits your wardrobe.
Now typically, fringe brings to mind a more laid-back aesthetic, but as Callan points out in this article, this trend doesn't have to equal hippie-chic. Edgy, classic, or even sporty outfits can benefit from a fringed jacket, skirt, or handbag.
If you're not sure if this daring look is for you, it's best to start simple with something like a solid-colored fringe top. Below, I'll be showing you how to style a fringe tee for both a day of classes and a night out. If you're interested in rocking the fringe trend this spring, read on!
Fringe Tee: Class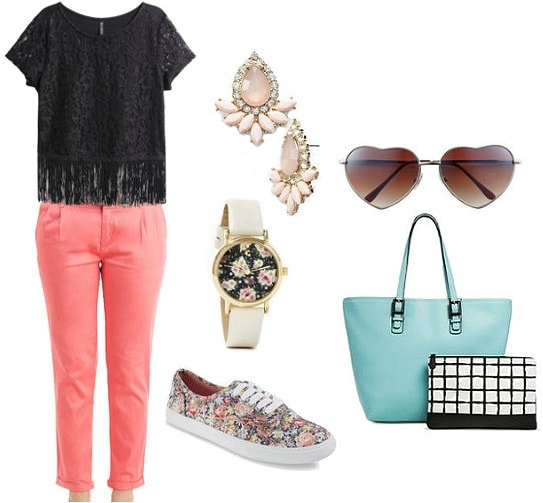 Product Info: Fringe Tee, Pants, Sneakers, Watch, Earrings, Sunglasses, Tote
Start by choosing a fringe tee you're comfortable in; the simple silhouette on this one makes it appropriate to wear for daytime. Even if the temperatures are still dropping into the negatives on your campus, dress in the hopes of spring with a pair of candy-colored trousers. As long as there's no snow on the ground, floral sneakers are comfortable enough for a day of classes and will put a spring in your step. (Get it? Spring? I am so done with winter.)
A floral watch and bold, peach-hued earrings add to the fun pastel color scheme, while heart-shaped sunglasses add a whimsical touch. Finally, incorporate one last pop of color with a big, structured tote (this one comes with a clutch you can use to hold makeup or your pencils for class), and you're good to go.
Fringe Tee: Night Out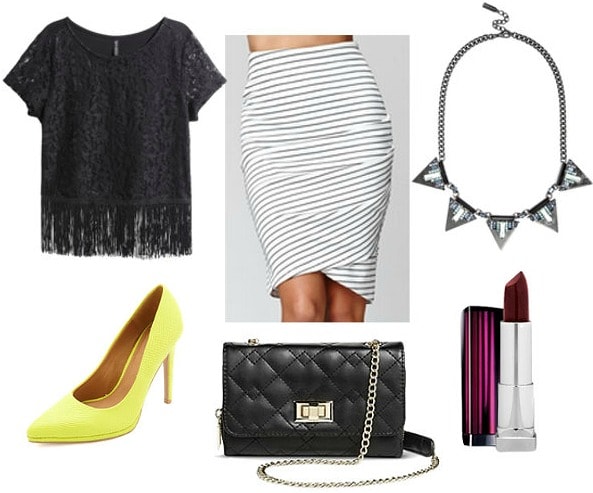 Product Info: Fringe Tee, Skirt, Heels, Purse, Lipstick, Necklace
For a dressy night out, pair your fringe tee with a striped pencil skirt. Keep your accessories minimal, but bold; a statement necklace, for instance, is a great way to draw the eye up towards your face without stealing attention from your bold top.
An otherwise simple outfit gets a kick from a pair of citron pumps, and a chain-strap cross-body bag will keep your hands free all night. The only other thing you really need is a swipe of vampy lipstick, and then you're ready for a night out!
Thoughts?
Are you sold on fringe? Or are you a little hesitant to try this trend out? What do you think of the outfits above? Are there any particular styles you'd like me to cover in the next post? Leave me a comment; I'd love to hear from you guys!