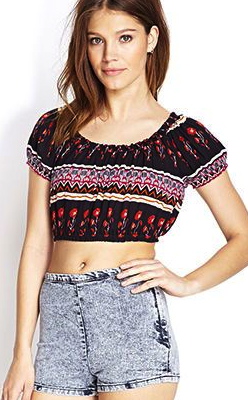 Folk Print Shirts from Forever 21: 1, 2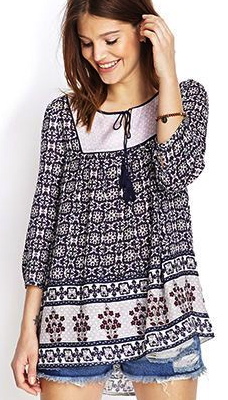 Do you struggle with transforming your outfits from day to night? Don't worry, CF is here to help turn that daily annoyance into a fun challenge. Class to Night Out focuses on one piece per week, and aims to help you take your look from study sessions in the library to dancing the night away.
When I was out shopping this past weekend, I noticed a large selection of folk printed blouses in several of my favorite stores. These folksy floral prints are eye-catching, beautiful, and come in a wide array of patterns and colors. I found myself repeatedly drawn to these prints, and realized there is so much you can do with a folk printed tee or blouse.
A folk print top is a great piece to transition into fall – it's still colorful enough to be fun for summer, but you can also pair it with a jacket and boots once it cools down. In this post, I'll be showing you how to style a fun folk printed tee for both class and a night out. Scroll down to see both looks:
Folk Printed Tee: Class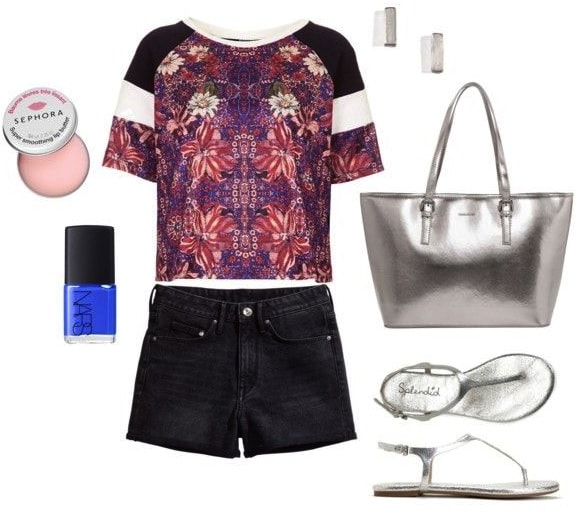 Product Information: Shirt, Shorts, Shoes, Bag, Earrings, Lip Balm, Nail Polish
The sporty shoulder detailing on this floral folk print tee makes it ideal for a casual classroom ensemble. When paired with trendy yet laid-back high-waisted black denim shorts, the colorful printed top remains the main focus of the outfit.
Give the look some modern shine with minimalistic silver sandals, brushed silver bar studs, and a sleek silver tote. Add a pop of color with a cobalt blue nail polish that plays off the touches of blue in the folk print. Keep the rest of your beauty routine natural with just a hint of light pink lip balm.
Folk Printed Tee: Night Out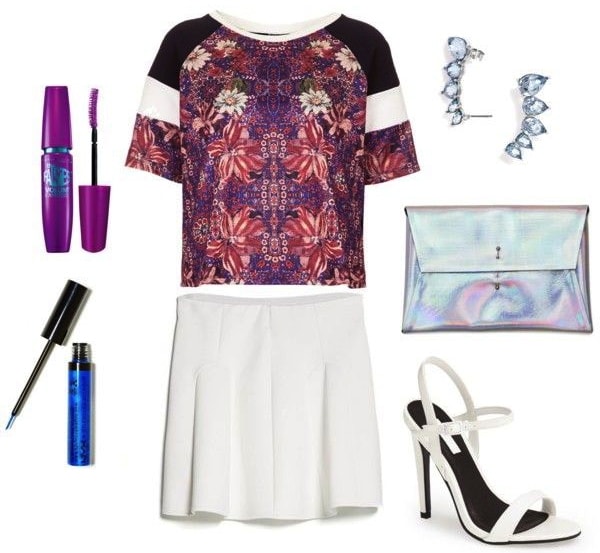 Product Information: Shirt, Skirt, Heels, Bag, Earrings, Mascara, Eye Liner
Glam up this folk print tee up for a night out by pairing it with a modern white scuba skirt and a matching pair of high-heeled sandals. The white lightens the look up and makes it feel more summery, while the futuristic holographic clutch plays off the trendier elements on the top, like the mirrored print and sporty detailing.
Continue the trendy yet glam vibe with jeweled earrings that create an ear cuff effect. Go bold with your eye makeup by painting on a sleek cobalt blue cat eye, then use mascara to create doll-like eyelashes.
Your thoughts?
Would you wear a folk print tee? To class? For a night out? How would you style this top? Let me know what you think of the outfits in the comments, and tell me what other pieces you'd like to see featured on Class to Night Out!