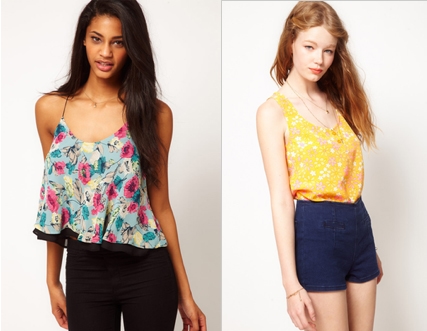 In a romantic mood? Or just feeling outdoorsy? Show it in your outfit! There's nothing like a floral tank top to make you feel like you should be frolicking around in a sunlit meadow instead of trudging to summer classes, but a girl's gotta do what a girl's gotta do.
This week I'll be showing you how to style a flowy, floral tank top for both day and night. Read on for more!
Floral Tank: Class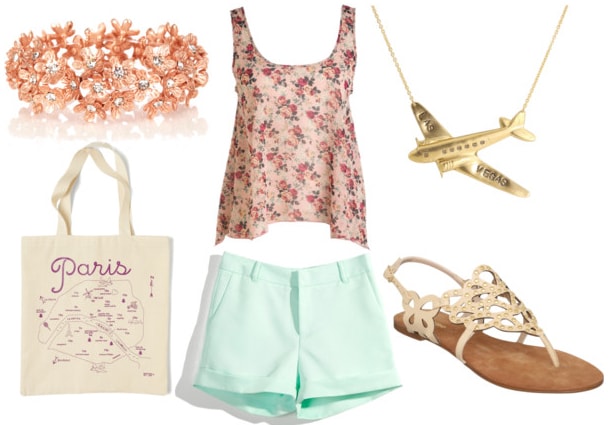 Tank, Shorts, Sandals, Tote, Necklace, Bangle
For your daytime look, pair your tank with some tailored mint shorts. This gives you a more polished look that still maintains a breezy summer vibe. Keep your look light and girly with cute details, like a sparkly floral bangle and an adorable Paris tote bag. Keep up the travel theme with a gold airplane charm necklace. Finish the look with studded white sandals for a touch of edge.
Floral Tank: Night Out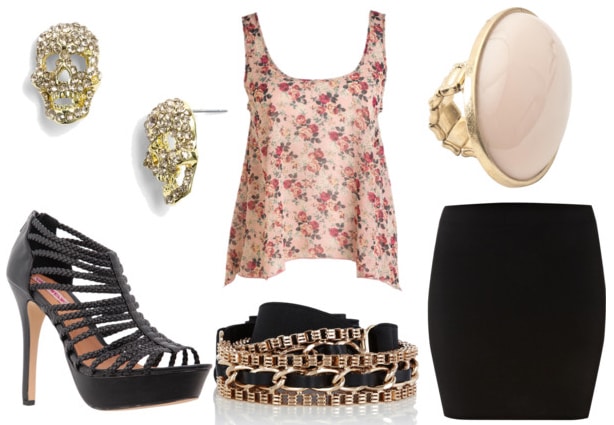 Tank, Skirt, Belt, Pumps, Earrings, Ring
Take things up a notch for your night look by pairing your tank with a black bodycon skirt. This basic skirt is an absolute staple for any college girl's wardrobe because it gives you a lot of room for creativity with your nighttime looks. Add some edge with a pair of high-heeled gladiator sandals and belt your tank at the waist with a black and gold chain belt. Keep your accessories girly but wild – an oversized cocktail ring and blinged-out skull earrings should do the trick.
What do you think?
How do you style your floral tanks? What did you think of the outfits? Be sure to leave me a comment and let me know, I'd love to hear your thoughts!