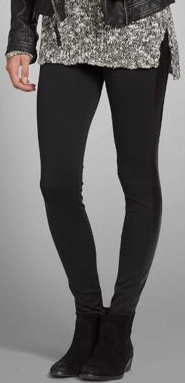 Leather Panel Leggings from: Abercrombie & Fitch, Missguided, Tylie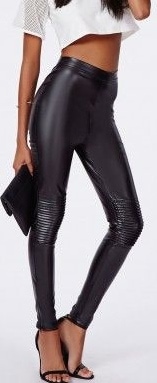 Do you struggle with transforming your outfits from day to night? Don't worry, CF is here to help turn that daily annoyance into a fun challenge. Class to Night Out focuses on one piece per week, and aims to help you take your look from study sessions in the library to dancing the night away.
Leather was all over the runways for fall, as it has been for the past few years. Leather jackets, pants, and skirts were featured, along with leather paneling on everyday pieces, like sweaters and t-shirts. Needless to say, (faux) leather is a huge trend again this fall and winter, and there are numerous ways to try it out.
I think the coolest and most versatile way for a college girl to try out the leather trend is with a nice pair of leggings featuring leather or faux leather paneling. This adds a bit of edge to any outfit, and is the perfect piece to wear when you feel a little spunky.
In this post, I'll be showing you how to style a pair of leggings with faux leather paneling (that only cost $30!) for both class and a night out.
Leather Panel Leggings: Class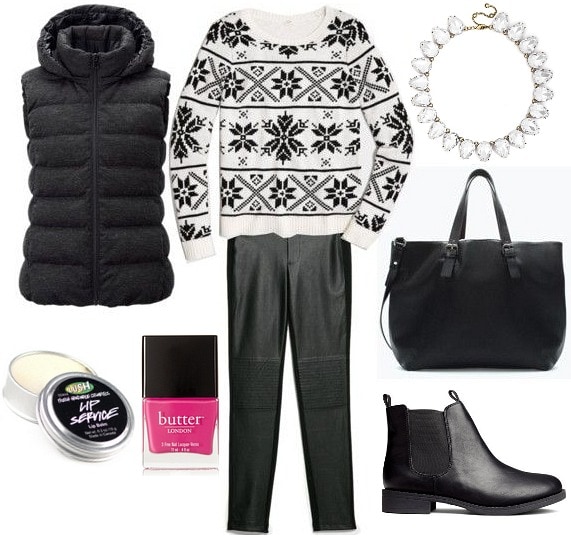 Product Information: Leggings, Sweater, Vest, Necklace, Bag, Boots, Lip Balm, Nail Polish
Create a look for class that is equal parts city sleek and preppy sweet by pairing these edgy moto-detail faux leather leggings with a black-and-white Fair Isle snowflake sweater. It may seem like a strange combination, but the fact that the sweater is black-and-white gives it a slightly graphic, more modern feel than the typical Fair Isle sweater.
Black Chelsea boots complement the look perfectly, while a puffer vest takes this ensemble from fall to slightly chillier weather. A roomy tote is essential for carrying all of your belongings, while a clear crystal statement necklace adds a touch of girly-girl flair. This outfit is very neutral, so paint your nails a hot pink hue for a fun touch, and don't forget to moisturize your lips with a heavy duty balm before they crack in the winter wind.
Leather Panel Leggings: Night Out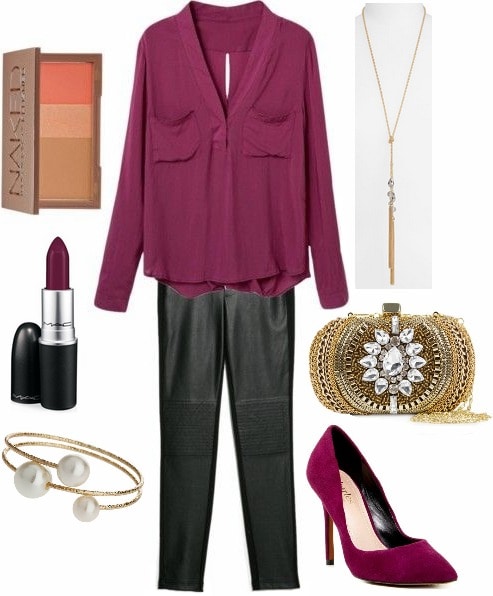 Product Information: Leggings, Blouse, Necklace, Bracelet, Bag, Shoes, Face Palette, Lipstick
One of my favorite colors for the fall and winter, especially around the holidays, is a beautiful berry hue. Something about it just feels festive to me! Create a look fit for the season by wearing these faux leather panel leggings with a drapey berry-colored blouse and matching suede pumps.
Add dazzling gold accessories, like this gold and crystal lariat necklace, a gold and pearl cuff, and a super-embellished gold box clutch. All three pieces add a ton (but not too much!) of girly sparkle to the ensemble. The best beauty look to complement this outfit is a perfectly sculpted face, which can be achieved with blush/bronzer/highlighter, and a bold plum lip that is slightly darker than the berry shade in this ensemble.
Your thoughts?
Would you ever wear leather or faux leather paneled leggings? To class? Out at night? How would you style these leggings? Let me know what you think of the outfits in the comments, and tell me what other pieces you'd like to see featured on Class to Night Out!