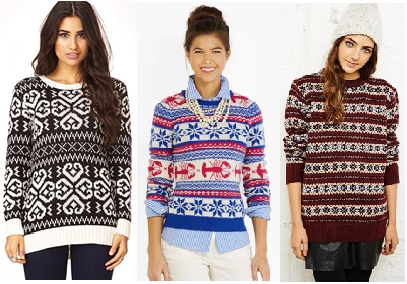 Sweaters: Forever 21, Vineyard Vines, Urban Outfitters
Do you struggle with transforming your outfits from day to night? Don't worry, CF is here to help turn that daily annoyance into a fun challenge. Class to Night Out focuses on one piece per week, and aims to help you take your look from study sessions in the library to dancing the night away.
The best thing about the holidays? It's officially "ugly" sweater season. There's nothing better than waking up early for class (or a final… ugh) and slipping on a pair of leggings and one of your mom's cast-off knits from Christmases past. So cozy and surprisingly cute! Seth Cohen would be proud of your Chrismukkah spirit.
But save the sequined reindeer and iron-on Santa for theme parties — fair isle sweaters are by far the best holiday knit. The preppy pattern looks super this season, and they're much more versatile.
This week, I'll be showing you how to style the perfect fair isle sweater for both a day of class, and a night out. (Hey, if you're going to be shivering at a party, what's the point in going out in the first place?)
Fair Isle Sweater: Class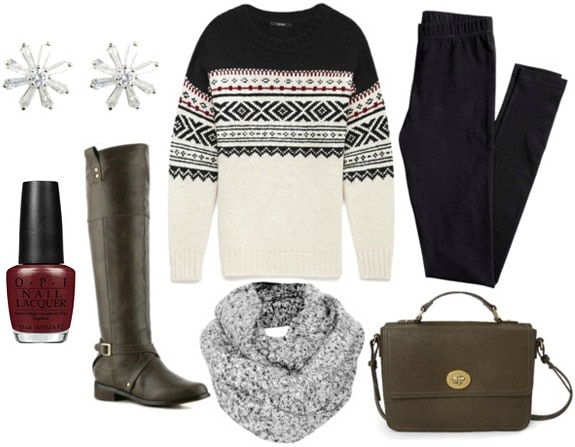 Sweater, Leggings, Scarf, Boots, Bag, Earrings, Nail Polish
Who says you can't look cute on lazy days? If you're feeling the finals week blues, this outfit is perfect for you. Pair your sweater with simple black leggings and some classic brown riding boots. Add a cozy marbled gray infinity scarf for extra warmth.
Next, grab an elegant brown satchel and paint your nails a deep red — gotta have holiday spirit! Complete the look with a pair of cute and seasonal snowflake earrings.
Fair Isle Sweater: Night Out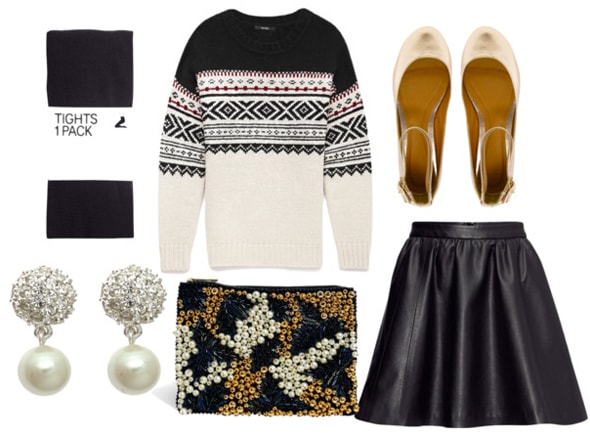 Sweater, Skirt, Tights, Flats, Clutch, Earrings
Put a spin on the traditional sweater party look by pairing your knit with a faux leather skater skirt. Instant chic! Layer up with a pair of thick black tights, then grab a pair of metallic gold ballet flats for a holiday-friendly look.
Make sure your accessories are extra special — try an intricately beaded clutch and super sparkly pearl earrings to complete this ensemble.
Your thoughts?
Do you like fair isle sweaters? How would you style this one? Be sure to let me know what you think of the outfits in the comments, and what other pieces you'd like to see featured on Class to Night Out!