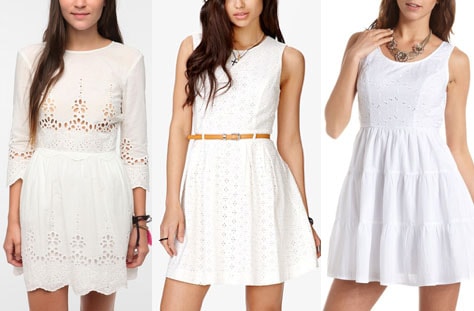 Do you struggle with transforming your outfits from day to night? Don't worry, CF is here to help turn that daily annoyance into a fun challenge. Class to Night Out focuses on one piece per week, and aims to help you take your look from study sessions in the library to dancing the night away.
Is there anything more classic than wearing a pretty eyelet dress on a warm spring day? This breezy fabric is a warm-weather staple, and you can incorporate it into your look whether you have a boho, super-feminine, or preppy sense of style.
This week, I'll be showing you how to style a white eyelet dress for both a day of classes and a night out. Looking to get inspired? Keep reading!
Eyelet Dress: Class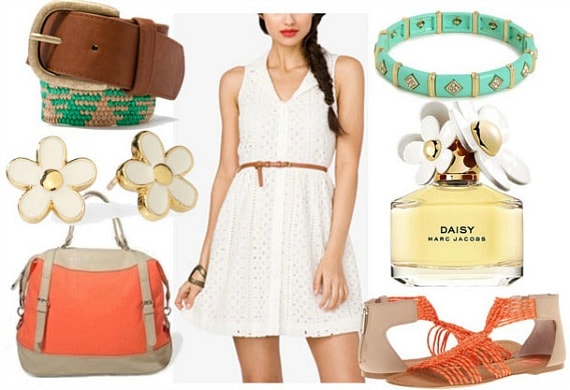 Dress, Belt, Sandals, Bag, Bangle, Earrings, Perfume
Create a feminine, yet outdoorsy outfit for class by incorporating elements of bright mint and coral into your outfit. Belt your dress at the waist with a woven, printed belt for a boho feel, then add strappy coral sandals to get that music festival vibe going. I'll admit, this dress totally reminds me of Marc Jacobs' Daisy perfume, so spritz some on, then grab a pair of daisy-shaped earrings. Complete the look with additional pops of color, like a sturdy coral tote and an embellished mint bangle.
Eyelet Dress: Night Out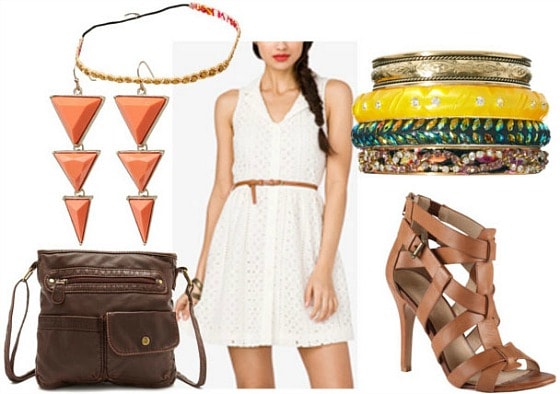 Dress, Bag, Sandals, Bangles, Earrings, Headband
Put a boho-chic spin on your nighttime look with a pair of strappy heeled sandals in an earthy brown. Then, add a deep brown cross-body bag and a stack of colorful, embellished bangles for a worldly vibe. Grab a pair of geometric drop earrings in a soft melon hue to add another dash of color, and complete the ensemble with a little bling by sporting an embellished gold headband.
Your thoughts?
Do you own an eyelet dress? What's your favorite way to style it? Be sure to leave me a comment and let me know what you think of the outfits – I love hearing your thoughts!