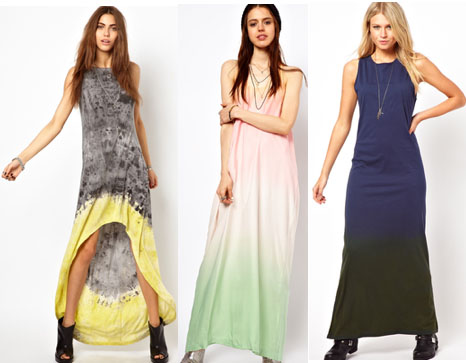 Do you struggle with transforming your outfits from day to night? Don't worry, CF is here to help turn that daily annoyance into a fun challenge. Class to Night Out focuses on one piece per week, and aims to help you take your look from study sessions in the library to dancing the night away.
Just when we thought the dip dye trend was a thing of the past, it's returned with a vengeance for the new season. This boho-inspired look is back for summer 2013 in a big way, and I'm fully in favor of jumping on the bandwagon.
This week's Class to Night Out will show you how to style a dip dye maxi dress for both a day of class and a night out. Whether you're a big fan of dip dye or you're just looking to try it out, you're sure to get inspired. Read on for more!
Dip Dye Maxi Dress: Class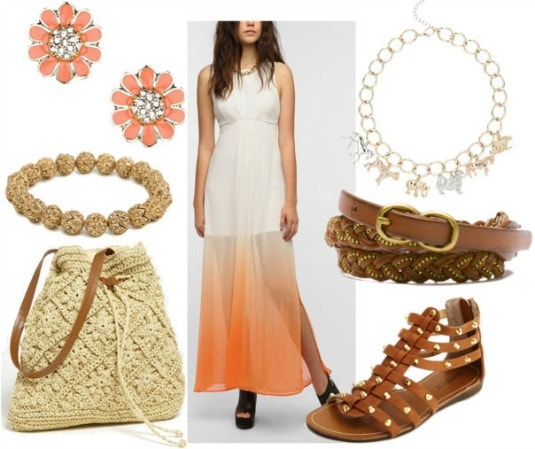 Dress, Belt, Sandals, Bag, Necklace, Bracelet, Earrings
This dress is a real stunner, so tone it down for class with a casual brown and gold woven belt and matching studded gladiator sandals. This gives you a breezy, ethereal look that's still class-appropriate. Grab a straw-colored crochet tote, which adds an easygoing and natural vibe. Add a chunky charm necklace, which brings some balance to the outfit. Complete the ensemble with a few touches of sparkle – a gold beaded bracelet and coral flower studs should do the trick.
Dip Dye Maxi Dress: Night Out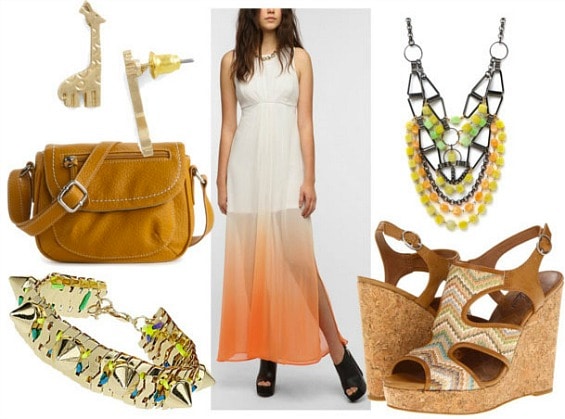 Dress, Wedges, Bag, Necklace, Bracelet, Earrings
For a festival-inspired night out look, mix your dress with some colorful, textured wedges. Then add a showstopping abstract statement necklace with neon tones that will light up the night. With such dramatic accessories, the rest of the ensemble should be kept simple, but fun. Add a spiked bracelet and a neutral cross-body bag to balance out this statement ensemble. Complete the outfit with a pair of fun giraffe-shaped earrings. (You are a party animal, after all.)
Your thoughts?
Would you wear a dip dye maxi dress? How would you style it? Be sure to leave me a comment and let me know what you think of the outfits – I love hearing your thoughts!