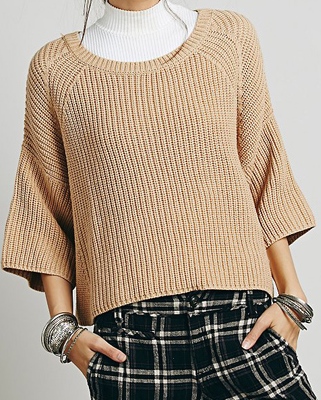 Cropped Sweater: Free People
Do you struggle with transforming your outfits from day to night? Don't worry, CF is here to help turn that daily annoyance into a fun challenge. Class to Night Out focuses on one piece per week, and aims to help you take your look from study sessions in the library to dancing the night away.
Cropped tops provide the perfect counterbalance to the ever-popular high-waisted bottoms. You can always count on a cropped top to look cute with your high rise cutoffs throughout the spring and summer. Now that it's fall and temperatures are dropping, you don't have to stop rocking the crop. Cropped sweaters look so adorable with high-waisted skirts, pants, and even shorts as a summer-to-fall transition piece.
In this post, I'll be showing you how to style a cropped sweater in one of the most popular colors of the season (pink!) for both class and a night out. Read on to learn how to style this tricky trend:
Cropped Sweater: Class
Product Information: Sweater, Shorts, Shoes, Backpack, Blush, Lip Gloss
As it starts to cool off outside, you can be left with a tricky wardrobe situation. It still gets warm in the middle of the day, but is too chilly for shorts and a t-shirt in the morning. Solve this problem by wearing a cropped sweater, like this pink waffle knit one from Topshop, with a cute pair of high-waisted shorts. This ensures that you'll be warm enough on the way to your morning classes, but not boiling in the afternoon.
This outfit is simple and sleek with black perforated slip-ons and a faux leather backpack. The overall look is casual, but so on-trend. Keep your beauty routine low-key with a little blush for a pink flush and clear lip gloss.
Cropped Sweater: Night Out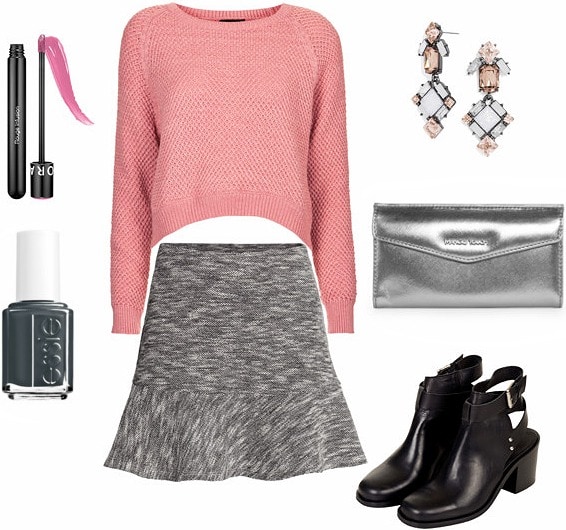 Product Information: Sweater, Skirt, Booties, Clutch, Earrings, Lip Stain, Nail Polish
This cropped sweater is cozy, yet perfect for a night out when paired with a comfy skirt featuring a fluted shape and high waist. To keep the ensemble from looking too casual, add an edgy cut-out bootie and some shiny accessories. The silver clutch looks modern and takes this outfit to the next level, as do these sparkly statement earrings.
Complete the look with some fall-appropriate beauty products. In this case, we went with a bold pink lip and trendy dark gray nails.
Your thoughts?
Would you ever wear a cropped sweater? To class? For a night out? How would you style this cropped sweater? Let me know what you think of the outfits in the comments, and tell me what other pieces you'd like to see featured on Class to Night Out!