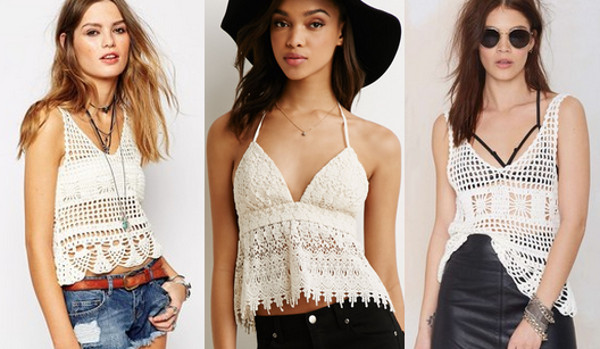 Crochet Tops: 1. ASOS, 2. Forever 21, 3. Nasty Gal
Maybe it's the warm weather that's finally thawed away that last remnants of winter, or maybe it's the Coachella buzz that's still permeating social media, or maybe it's even the launch of the Lilly Pulitzer for Target collection. But whatever it is, I've been feeling major summertime vibes lately. On my campus, students are tanning on the quad, playing Frisbee between classes, and making impromptu beach trips. As the weather warms up, we're already anticipating the hot months of summer and all the beach-inspired fashion that comes with it.
For me, there's something so beachy about a crochet top. This style is ubiquitous in surf shops at the Jersey Shore, and it's no wonder why. It's versatile enough to go from your beach cover-up during the day to your date outfit at night. Plus, a crochet top can easily be dressed up or down and transition from the current warm spring weather we're experiencing to July and August's hotter weather.
If you love crochet (or can even crochet yourself), want to feel beachy as you suffer through finals season, or just love the look of this trend, read on to see how I've styled a crochet top for a day of classes and a night on the town:
Crochet Top: Class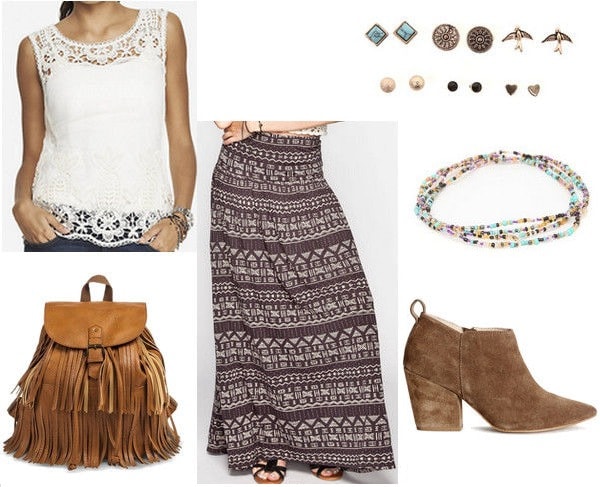 Product Info: Crochet Tank, Maxi Skirt, Booties, Bracelet, Earrings, Backpack
To keep your look class-appropriate (we're not at the beach yet!), make sure to layer a matching cami underneath the crochet tank. Add a maxi skirt, which is basically the skirt equivalent to sweatpants, so you can look dressy and stay comfy.
Amp up your ensemble with heeled booties and beaded bracelets, which won't snag on your top. Accessorize with a fun pair of earrings (like any, or all, of the ones shown here – the birds are particularly adorable) and tie your hair in a topknot for a low-key vibe. An on-trend fringe backpack completes the look.
Crochet Top: Night Out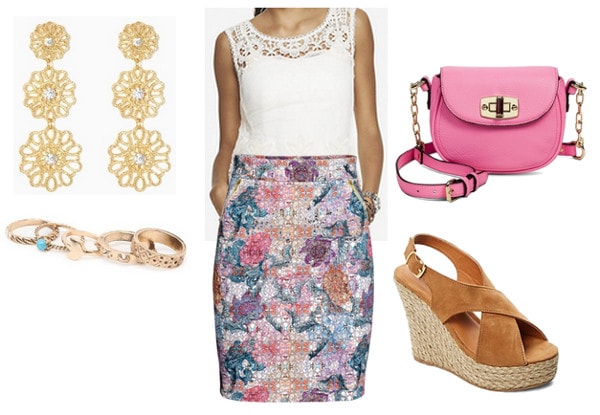 Product Info: Crochet Top, Skirt, Wedges, Rings, Purse, Earrings
If you're daring, swap out your white cami for a bold-colored bandeau or tank top for your night out look. Tuck your top into a brightly-colored or printed skirt, like this floral one, and elongate your legs with neutral wedges.
Make sure to really pile on accessories, like a handful of midi rings and long, dangly earrings. Choose a neon crossbody purse, and you'll be all set for a night out!
Thoughts?
Would you wear a crochet top? What do you think of these outfits? Which one is your favorite? What other pieces would you like to see styled? I'd love to hear your thoughts!