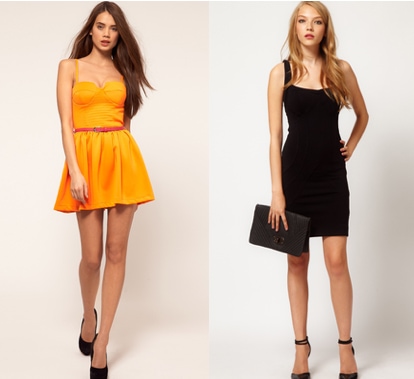 Do you struggle with transforming your outfits from day to night? Don't worry, CF is here to help turn that daily annoyance into a fun challenge. This column will focus on one piece per week, and teach you how to take your look from study sessions in the library to dancing the night away.
Okay, I already know what you're thinking. Who on earth would wear a corset dress to class? But I promise you're not going to look like you're attending a True Blood theme party or a Madonna concert. Though they're definitely a little "chest-enhancing" (for lack of a better word) these lingerie-inspired dresses can be worn for both a date night and a day of classes – it's all in the styling. Intrigued? Take a look at the outfits below.
Corset Dress: Class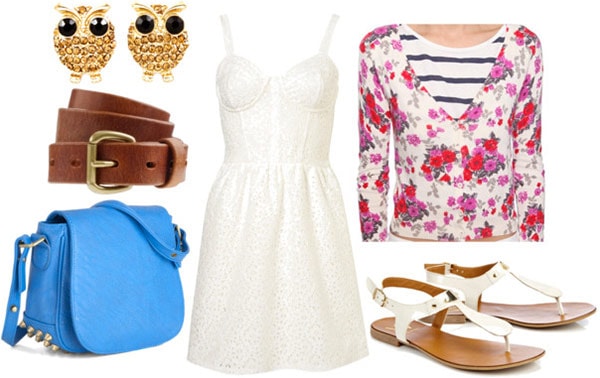 Dress, Cardigan, Bag, Belt, Sandals, Earrings
First, to tackle the issue at hand – how do you wear a corset dress to class without looking like you're already itching to hit the club? First, it's all about the fabric – a dress in a feminine material like lace in a soft, light color can help offset the corset detailing. Next, extras are key – adding a similarly girly floral cardigan gives you a look that even your grandmother would approve of. Tie everything together with a soft, brown belt at the waist for the ultimate in casual-cute. Accessorize with simple white sandals and a bold saddle bag, completing the look with adorable owl-shaped earrings.
Corset Dress: Night Out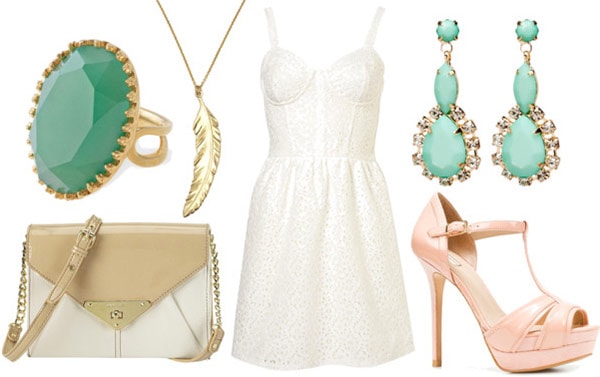 Dress, Bag, Pumps, Necklace, Earrings, Ring
For night, keep your look simple and feminine by pairing your dress with pale pink open-toed pumps. This creates a vibe that's sweet but sexy. Next, try out a classic two-toned cross-body bag for a touch of old-school elegance, and add subtle sparkle with mint drop earrings and a matching cocktail ring. A simple but unique gold charm necklace polishes off the look.
Your thoughts?
Do you own a corset dress? Would you wear it to class? Be sure to leave a comment and let me know what you think of the outfits, I'd love to hear your thoughts!