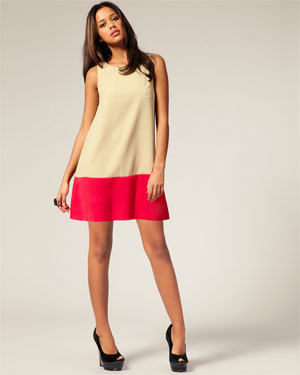 Do you struggle with transforming your outfits from day to night? Don't worry, CF is here to help turn that daily annoyance into a fun challenge. This column will focus on one piece per week, and teach you how to take your look from study sessions in the library to dancing the night away.
Dresses are the staples of every college girl's night-out wardrobe. Sometimes it feels like wearing anything else is cheating, especially if the dress isn't little and black. But LBDs aren't exactly class-appropriate, and let's face it, they can get so boring! That doesn't mean you can't dress a little fancier for class, or for an evening out. This week, I'll be showing you how a simple colorblock dress can easily make the switch from day to night.
Colorblocked clothing became a hot trend this spring, but pulling off a mix of colors can be difficult – especially in the winter. Since you're probably not going to an '80s-themed party, stick with a dress with only two or three colors, and make sure at least one is a neutral. This lets you test the waters of the trend while still matching most of your other clothes and accessories.
Colorblock Dress: Class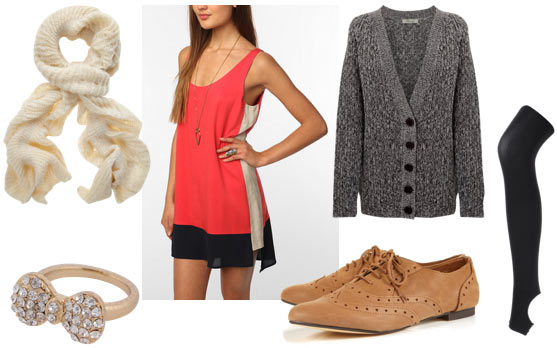 Dress, Cardigan, Scarf, Ring, Oxfords, Tights
Create a comfortable (and warm!) look for class by layering a cozy cardigan over the dress. This tones down the drama of the colorblocking and gives you a cool, slightly undone vibe. Casual oxfords and black opaque tights add to the layered look. Add a warm beige scarf to tie everything together, and finish with a sparkly ring for a fun, boy-meets-girl look.
Colorblock Dress: Night Out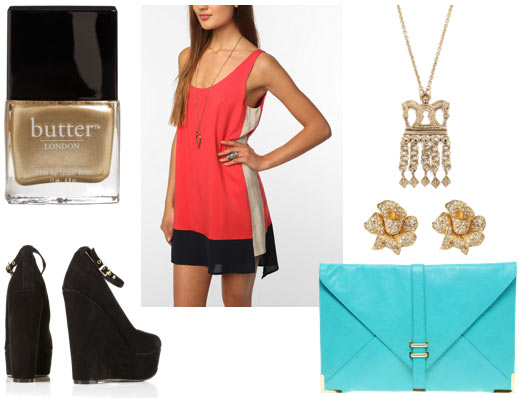 Dress, Shoes, Clutch, Necklace, Earrings, Nail Polish
Transitioning this dress from day to night is all about amping up the style and adding sparkle, without going over-the-top. Colorblocking can be really dramatic, especially when black is involved, so there's no need to go crazy with accessories. A clutch in a contrasting color accents the dress perfectly, while basic black ankle strap wedges are a trendy way to give yourself some height. And make sure to keep the tights if it's going to be freezing outside!
For the finishing touches, put on some pretty jewelry, add some sparkle to your nails for a touch of wintery glamor, and you're all set. For bonus classy points, put up your hair in a simple bun, or leave it in loose, natural waves for a wilder look.
What do you think?
Would you wear the same dress to class and out at night? What do you think of the outfits? Leave me a comment and let me know, I'd love to hear what you think!