Color-Blocked Tops: Bloomingdale's, Nordstrom, J. Crew
Do you struggle with transforming your outfits from day to night? Don't worry, CF is here to help turn that daily annoyance into a fun challenge. Class to Night Out focuses on one piece per week, and aims to help you take your look from study sessions in the library to dancing the night away.
Colorblocking has been in style for quite some time now, and continued to be featured on runways this spring. It makes sense, really – after all, a color-blocked top, skirt, or pair of pants can be amazingly flattering on just about anyone. It's not hard to snag a color-blocked item that suits your personal style, as this trend can be found in breezy, casual pieces as well as more structured, formal looks.
In this post, I'm going to show you how to style a black-and-white color-blocked top for both class and a night out. With a piece like this, you'll get double style points: black and white is a classic color combination that has been revamped for summer, and, of course, you'll be totally on-trend with the colorblocking. Scroll down to check out both looks.
Color-Blocked Top: Class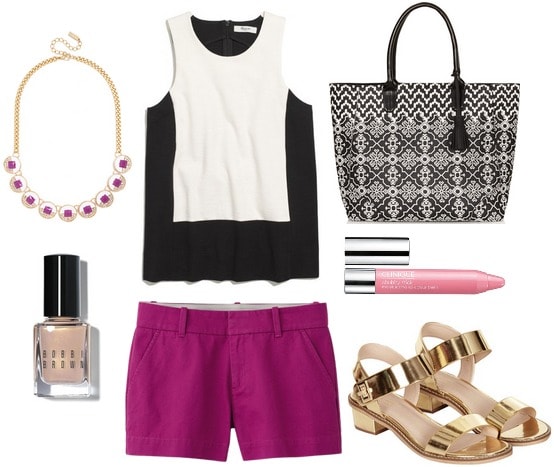 Product Information: Top, Shorts, Sandals, Tote, Necklace, Nail Polish, Lip Color
This structured black and white color-blocked tank will look casual and adorable for class when paired with jewel-toned chino shorts. The shorts lend a summery dose of color to the look, while gold sandals with a low block heel add the appropriate amount of sass and shine.
Incorporate the fuchsia tone even further with a color-blocked necklace that pairs perfectly with the rest of this ensemble. One more touch of black and white can be found in this printed tote – it's also ideal for carrying all of your essentials. Finish the outfit with a shimmery nail polish and a pink-tinted lip balm.
Color-Blocked Top: Night Out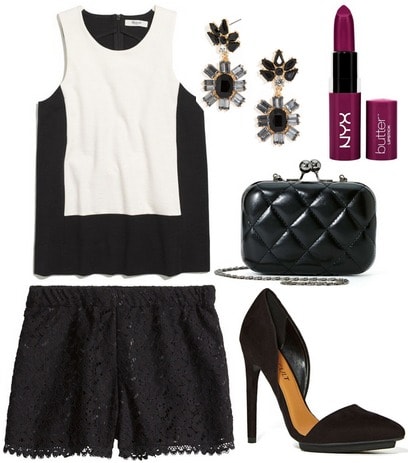 Product Information: Top, Shorts, Pumps, Bag, Earrings, Lipstick
Black and white transitions nicely into summer with this sizzling look for a night out on the town. I love wearing a cute pair of dressy shorts for a night out – it's a look that's fun and slightly unexpected. These black lace shorts add a feminine touch to the ensemble, while maintaining its structured feel.
These fabulous black pointed-toe pumps pair perfectly with the outfit, and the cut-out shape is ultra-trendy. Some people find that pairing heels with shorts can be iffy or hard to pull off, but I think anyone can rock it as long as the shorts are an appropriate length and on the dressier side. In addition, the conservative neckline on the tank allows you to show a little more leg if you want!
As far as accessories go, a glitzy pair of statement earrings and a quilted faux leather box clutch really glam things up. Lastly, paint on a plum lip for a bold pop of color.
Your thoughts?
Would you wear a color-blocked top? To class? For a fun night out? How would you style this color-blocked top? Let me know what you think of the outfits in the comments, and tell me what other pieces you'd like to see featured on Class to Night Out!