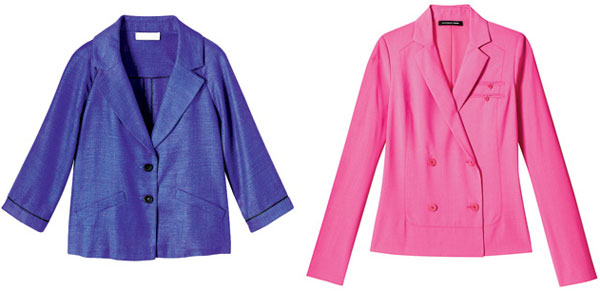 Do you struggle with transforming your outfits from day to night? Don't worry, CF is here to help turn that daily annoyance into a fun challenge. This column will focus on one piece per week, and teach you how to take your look from study sessions in the library to dancing the night away.
With spring fashion right around the corner, it's more than tempting to throw on a floral sundress and forget that the weather isn't exactly there yet. Luckily, we can still cure our spring fever with brightly colored outerwear and accessories, even if the thermostat hasn't actually climbed above freezing. Try choosing a classic outerwear staple – the blazer – in a bold color to melt your winter blues away and get you ready for your spring wardrobe shopping spree.
This week, I'll show you how to make the transition from day to night (and from winter to spring!) with a candy colored blazer that will have you dreaming of spring break long before midterms.
Bright Blazer: Class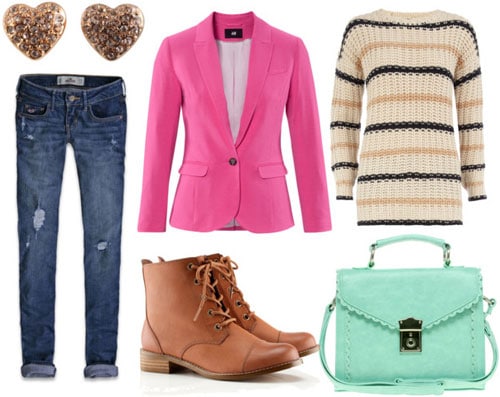 Blazer, Jeans, Sweater, Boots, Bag, Earrings
For class, layer a neutral colored chunky sweater under your blazer to maximize cuteness and provide all the necessary warmth and coverage for those drafty classrooms. Dress the blazer down with some distressed denim for a laid-back, yet stylish look and choose a brightly colored bag in a contrasting color to make the blazer really pop. Finish off this classic look with glittery heart-shaped stud earrings and casual tan boots to combat any remaining snow.
Bright Blazer: Night Out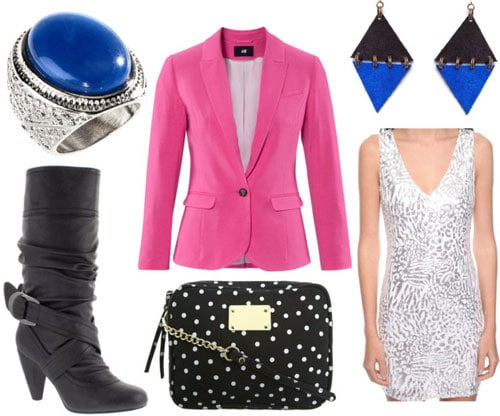 Blazer, Dress, Boots, Bag, Earrings, Ring
Peel off your layers for a fun night out by pairing your blazer with a sequined dress in a fun print. Choosing a dress in a simple black or white will really emphasize the brightness of the blazer. I'm currently obsessed with this sparkly dress from Forever 21 because of its awesome abstract animal print that's super fun without being distracting. Pair this fierce combination with black knee-high boots and a polka dot cross-body bag for some extra dramatic touches. Bold jewelry in contrasting colors give this outfit a cool new wave vibe that will make you the life of the party.
Your thoughts?
Would you wear these outfits? What do you think of bright blazers during the winter months? Make sure to leave a comment and let me know, I'd love to hear what you think!