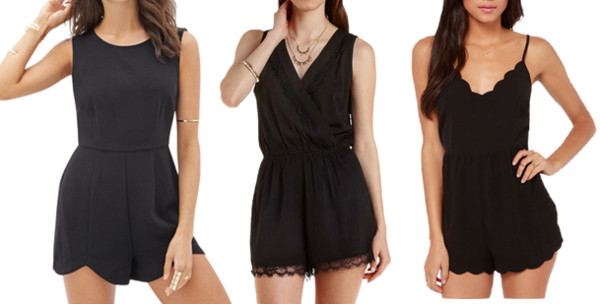 Black Rompers: 1. Forever 21, 2. Charlotte Russe, 3. Lulu's
If you're not already in the thick of finals week, you'll be there soon. The weather is warming up, but none of my classes are cooling down. I'm hounded day after day with research projects, group presentations, and tons of essays. The only light at the end of the tunnel is a week of final exams, and then I can relax.
While all this occurring, I still want to look cute, but comfort is obviously my main priority while I spend hour after hour (after hour) in the library. That's where the romper comes in. It has all the ease of throwing on a sundress without worrying about windy mishaps, plus all the comfort of a t-shirt and workout shorts while actually looking like you made an effort.
A basic-colored romper gives you a nice background for layering and accessorizing, plus black is obviously universally flattering. Because these pieces are so versatile (and you'll still want to have fun during finals week!), I've styled a black romper two ways: one look for a long day of class and the other for a fun night out. Read on for some outfit inspiration!
Black Romper: Class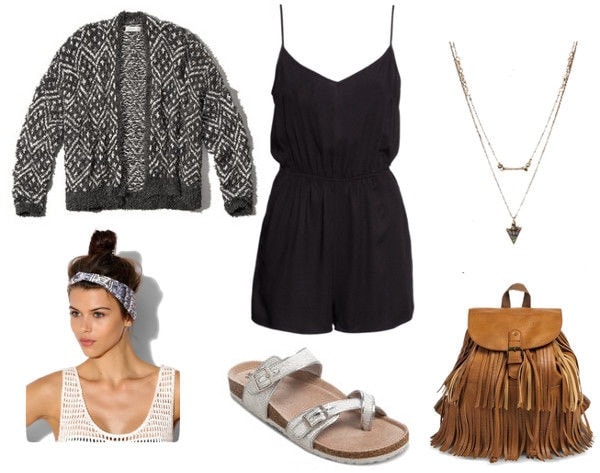 Product Info: Black Romper, Cardigan, Headwrap, Sandals, Backpack, Necklace
After hitting the snooze button one too many times following an all-nighter, slip on a romper. There's no easier way to get ready for class on time! Layer on a cozy cardigan for added comfort and color, then slide on some Birkenstock lookalikes (unless, of course, you happen to own the real thing).
A fringed backpack is both trendy and functional, while a long, arrow-charm necklace adds a little more visual interest. Finally, throw your hair up into a bun and add a chic headwrap for a cute, "I woke up like this" hairdo.
Black Romper: Night Out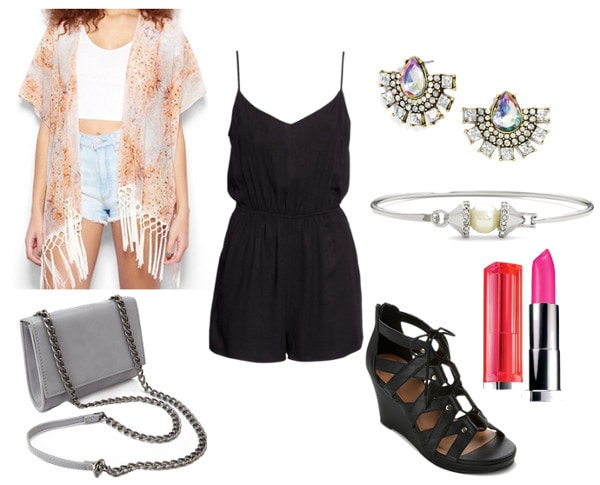 Product Info: Black Romper, Kimono Cardigan, Crossbody Bag, Wedges, Lipstick, Bracelet, Earrings
For a night out, start with strappy wedge heels to add some extra oomph to your simple romper. A fringed kimono cardigan is a pretty top layer. For jewelry, I loved the look of these colorful fan earrings and a sleek silver bracelet.
A gray crossbody bag is simple enough that it won't take away from the rest of the look. For the finishing touch, add a swipe of pink matte lipstick – pick a color as bold as you dare!
Thoughts?
What are your thoughts on black rompers? Do you love the versatility of this piece? How would you style a romper like this? I'd love to hear from you!