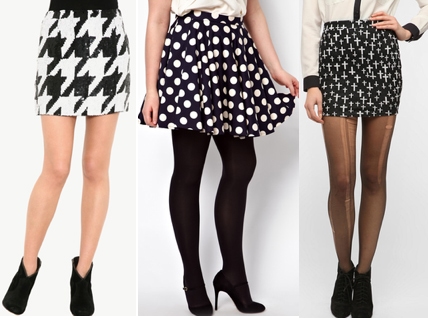 Do you struggle with transforming your outfits from day to night? Don't worry, CF is here to help turn that daily annoyance into a fun challenge. Class to Night Out focuses on one piece per week, and aims to help you take your look from study sessions in the library to dancing the night away.
Black and white clothing is one the hottest spring fashion trends, so why not rock it in a fun and flirty way, even if the snow hasn't actually melted yet? This stark and gorgeous color combo is perfect for everything from girly, mod-inspired looks, to chic boy-meets-girl outfits.
Ready to work this trend? This week, I'll be showing you how to style a black and white polka-dot skater skirt for both a day of class and a night out.
Black and White Skirt: Class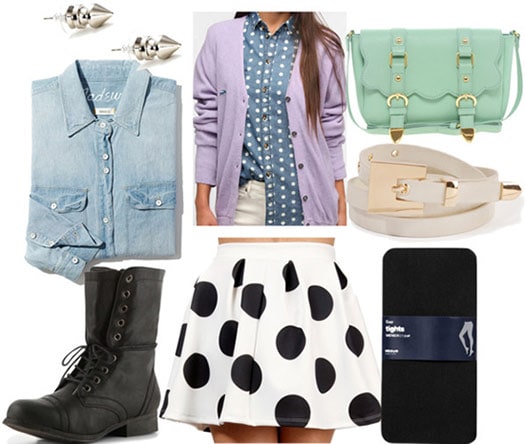 Skirt, Shirt, Cardigan, Belt, Tights, Bag, Boots, Earrings
Add a rugged feel to your flirty skirt by pairing it with a well-tailored chambray work shirt. The worn denim contrasts perfectly with the adorable print, creating a chic, eclectic look. Add a pop of lavender, another hot spring color, by sporting a cute cardigan. This softens up the look a little, making you look more polished in the process.
Now it's time to accessorize. Cinch everything in at the waist with a cream-colored belt for another touch of feminine flair. Add some edge with some black combat boots over a pair of thick black tights. Then tie the whole look together with a girly mint bag and silver studs.
Black and White Skirt: Night Out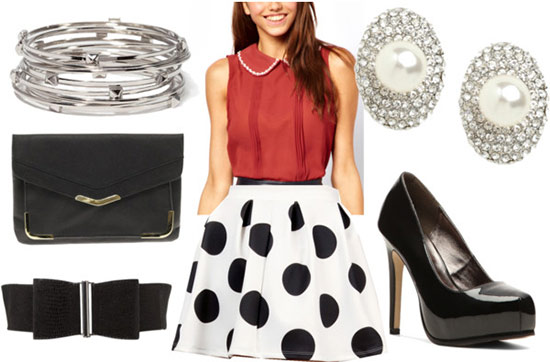 Skirt, Blouse, Belt, Clutch, Pumps, Bangles, Earrings
Incorporate the skirt's retro feel into the rest of your look by pairing it with a classic embellished blouse in a rich red. This creates a classic silhouette that emphasizes the looks mod feel. Define your waist with a black belt topped with a bow, and add studded silver bangles for a touch of edgy contrast.
Keep the rest of your accessories simple – sophisticated black pumps and a matching bag are really all you need here. Pearl studs surrounded by crystals are the perfect finishing touch for this elegant, glamorous look.
Your thoughts?
Will you be wearing black and white this spring? How would you style the skirt? Be sure to leave me a comment and let me know what you think of the outfits – I love hearing your thoughts!