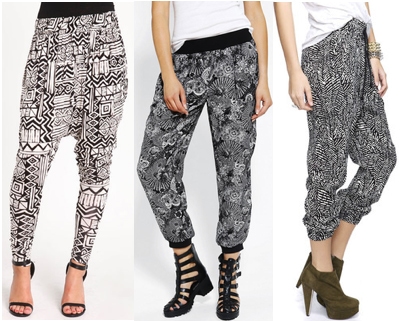 Pants: Love Culture, Urban Outfitters, Forever 21
Do you struggle with transforming your outfits from day to night? Don't worry, CF is here to help turn that daily annoyance into a fun challenge. Class to Night Out focuses on one piece per week, and aims to help you take your look from study sessions in the library to dancing the night away.
Bear with me, guys, because I'm about to hit you with fall trend overload. Black and white anything is a huge trend that will definitely stick around through winter and you already know all about my penchant for slouchy pants. So why not combine the two? Yes, this look is super trendy, but you can get black-and-white slouchy pants for under $20, so what do you have to lose?
Check out the two looks – one for day, one for night – that I've styled below.
Black and White Printed Slouchy Pants: Class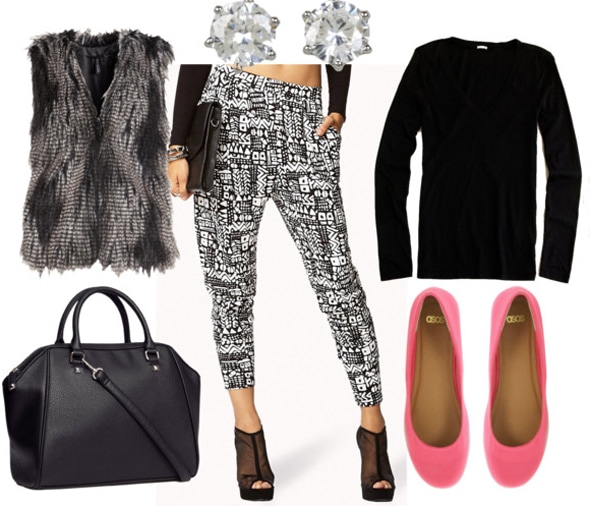 Pants, Tee, Vest, Flats, Bag, Earrings
When you're working with a crazy print during the day, sometimes it's best to go monochrome. Add a basic black long-sleeved tee to streamline your look – it's a surprisingly sophisticated wardrobe staple!
If you're feeling daring, add texture with a dramatic faux fur vest (you can always stick with denim or a utility jacket if your go-to class look is more casual). Grab a structured black bag and accessorize with classic crystal studs. Complete the ensemble with a pop of bright pink in the form of these comfy yet stylish ballet flats.
Black and White Printed Slouchy Pants: Night Out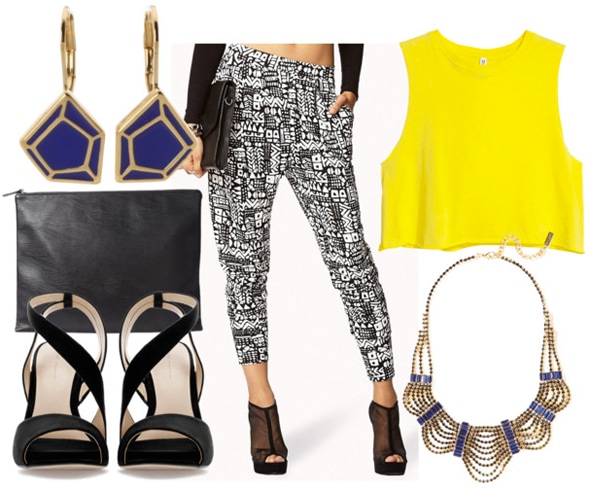 Pants, Top, Sandals, Clutch, Necklace, Earrings
Go all out for your night look by pairing your paints with a bright yellow crop top. Add a dramatic gold-and-sapphire tone statement necklace and matching drop earrings for a truly glamorous ensemble. Keep the rest of the outfit neutral – add a basic black oversized clutch and strappy platform sandals and you'll be ready to turn heads!
Your thoughts?
Will you be rocking slouchy pants this fall? How would you style this pair? Be sure to let me know what you think of the outfits in the comments, and what other pieces you'd like to see featured on Class to Night Out!