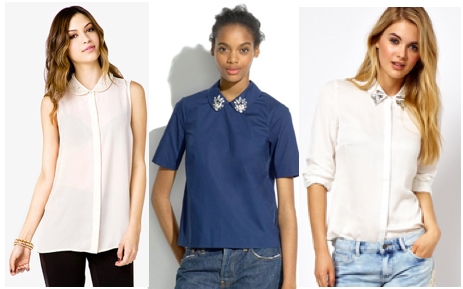 Tops: Forever 21, Madewell, ASOS
Do you struggle with transforming your outfits from day to night? Don't worry, CF is here to help turn that daily annoyance into a fun challenge. Class to Night Out focuses on one piece per week, and aims to help you take your look from study sessions in the library to dancing the night away.
The holidays are, without a doubt, my favorite time of year. (I might have put up my Christmas tree the day after Halloween… shhh.) If you're anything like me, you like to incorporate a little sparkle into your outfits all the way through January, just to add a little holiday magic to your life — even when you're stuck in a lecture hall.
Trendy embellished collars are still huge this season, so what better way to add a touch of glam to your daily look than with a bejeweled collar top? Sure, spikes and studs are great, but sparkly gemstones are perfect for this time of year, whether you're on a snowy walk through campus or perfecting your holiday party look. Check out the two outfits I've created below!
Bejeweled Collar Top: Class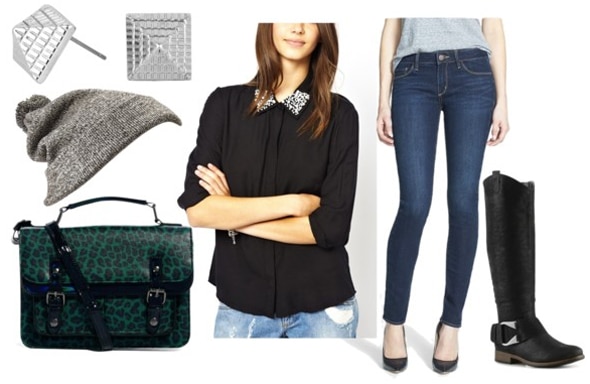 Blouse, Jeans, Boots, Bag, Beanie, Earrings
For a cozy daytime look with a touch of glam, pair your top with your favorite pair of classic skinny jeans (you really can't go wrong with them!). Next, grab a pair of black riding boots and a warm gray beanie for that girl-next-door vibe. Edgy accessories, like a green leopard print satchel and pyramid stud earrings, complete the ensemble with a hint of contrast.
Bejeweled Collar Top: Night Out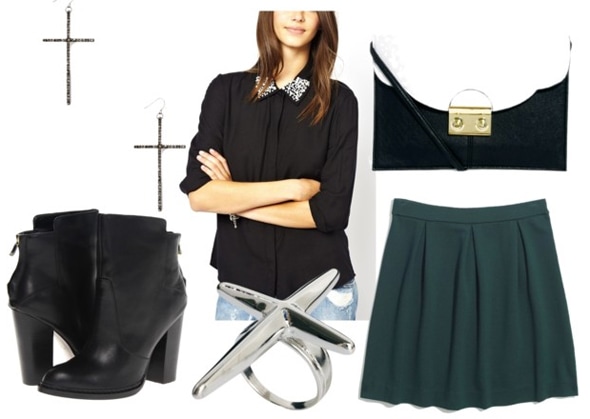 Blouse, Skirt, Boots, Clutch, Earrings, Ring
Create a festive getup by pairing your top with an on-trend deep green mini skirt, then grab a pair of classic black ankle booties. Try a black-and-white clutch for a more sophisticated look, then get a little rebellious with dangly cross earrings and a matching silver ring.
Bonus: Make this look holiday party-ready by switching out the edgy crosses for pearls or ugly-sweater-party-approved novelty jewelry.
Your thoughts?
Will you be wearing embellished collars this holiday season? How would you style this top? Be sure to let me know what you think of the outfits in the comments, and what other pieces you'd like to see featured on Class to Night Out!