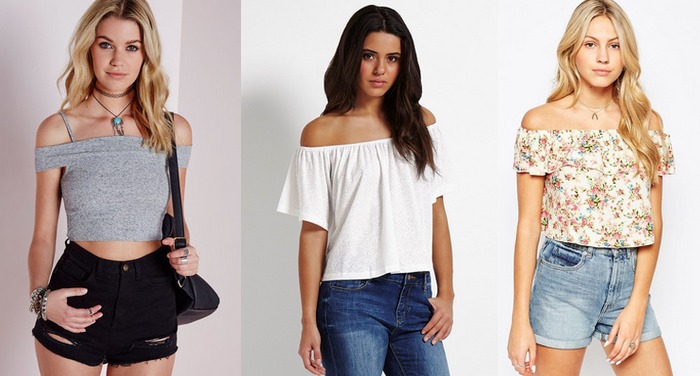 1. MissGuided – 2. Lipsy – 3. ASOS
Do you struggle with transforming your outfits from day to night? Don't worry, CF is here to help turn that daily annoyance into a fun challenge. Class to Night Out focuses on one piece per week, and aims to help you take your look from study sessions in the library to dancing the night away.
Deep v-neck tees will always be a wardrobe staple, but it's refreshing to temporarily set them aside and let your shoulders and delicate décolletage be the center of attention for a while.
When you see an off-the-shoulder or bardot top, you probably immediately get a mental image of Sandy Olsson. Or is that just me? Either way, the slightly retro style is very refreshing. You can toughen up a tight black bardot top for an edgy style, or opt for a flowy white one to let your inner boho goddess shine.
Keep reading to find out how to style the same bardot top for both class time and nighttime:
Bardot Top: Class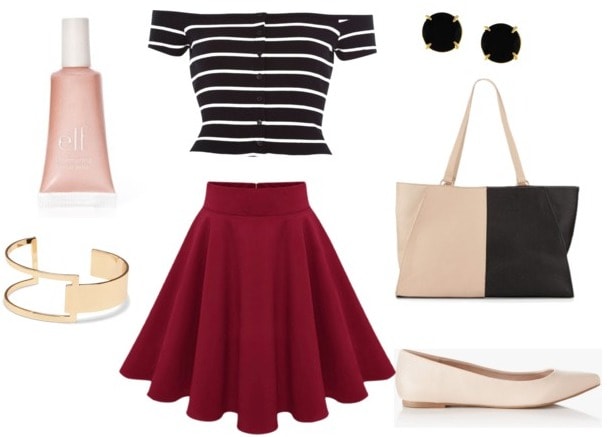 Top – Skirt – Bag – Shoes – Bracelet – Earrings – Highlighter
Opt for a cropped bardot top and pair it with a deep red high-waisted skirt to keep it classy (get it?). Keep the accessories minimal with a gold cuff bracelet, black stud earrings, and a colorblocked tote. Skip the necklace and instead use some body shimmer to highlight your collarbone area.
Bardot Top: Night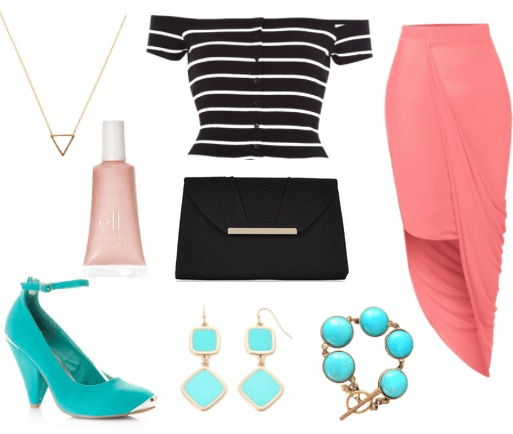 Top – Skirt – Shoes – Earrings – Bracelet – Clutch – Necklace – Highlighter
For a night out, pair the top with an asymmetrical hi-lo skirt in a bold coral pink hue. No need to go with super-high heels, just pick some turquoise mid-heels with a bracelet and earrings to match.
If you wear a necklace, choose a simple one that doesn't go past the neckline of the shirt. Apply more body shimmer to your décolletage and the tops of your shoulders (not too much, you don't want to look sweaty!), grab a black clutch with gold hardware, and you're good to go for the night.
What do you think?
Would you rock a bardot top? How would you style one for class and a night out? Would you wear these looks? Comment and let me know, I'd love to hear how you would style them!