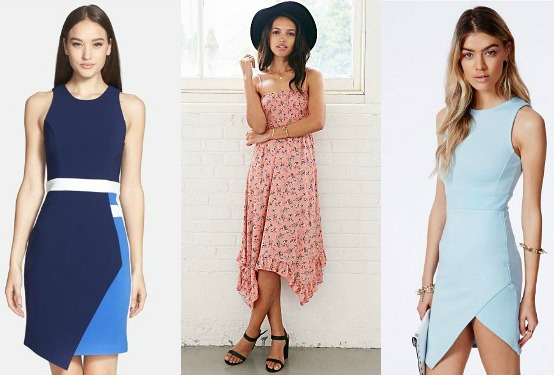 Asymmetric Hem Dresses from Nordstrom, Urban Outfitters, and MissGuided
Do you struggle with transforming your outfits from day to night? Don't worry, CF is here to help turn that daily annoyance into a fun challenge. Class to Night Out focuses on one piece per week, and aims to help you take your look from study sessions in the library to dancing the night away.
Whether it's a modern origami fold or a gradual tapering hemline, asymmetrical pieces have been gracing the runways for the last few seasons. We love the look of an asymmetric hemline, and there's one out there for every style.
The sharp lines of a more modern hemline (like the ones on the left and right above) have a very fresh and trendy vibe, while a softer draping hemline (the UO dress in the middle) has a girly yet boho silhouette.
In this post, I'll show you how to style a beautiful flowing dress with an asymmetric hemline for both class and a night out! Read on for tips on how to wear this versatile trend.
Asymmetric Hem Dress: Class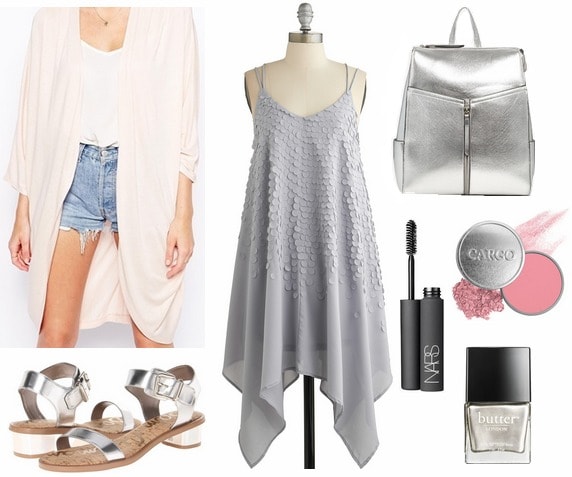 Product Information: Dress, Kimono, Sandals, Backpack, Mascara, Blush, Nail Polish
This beautiful dove gray dress has circular appliques and a flowy, asymmetric hem. Make it work for daytime by pairing it with a neutral-hued jersey kimono jacket and metallic accessories. I love pairing neutrals and metallics for a casual but luxe look.
Off-white and gray look great together, but these metallic block-heeled sandals and a shiny silver backpack take the outfit to the next level. Add another shiny touch by painting your nails a perfect silver. Keep your beauty look natural for class with a pretty pink blush and full eyelashes.
Asymmetric Hem Dress: Night Out
Product Information: Dress, Heels, Clutch, Earrings, Blush/Highlighter Duo, Lip Gloss
With its cross-back straps and flowy hemline, this breezy dress is perfect for a warm night out. Wear it with a fab pair of silver and white strappy sandals and a beautiful beaded clutch. The colors and geometric print of this clutch lend a healthy dose of flair to the ensemble.
Accessorize with glam blue-and-white studs, which play off the colors throughout the look and add a bit more shine. Complement the outfit with a pretty beauty look: a peachy-gold blush and matching lip gloss will keep things natural and glowy.
Your thoughts?
Would you wear a dress with an asymmetric hemline? To class? For a night out? On a date? How would you style this dress? Let me know what you think of the outfits in the comments, and tell me what other pieces you'd like to see featured on Class to Night Out!