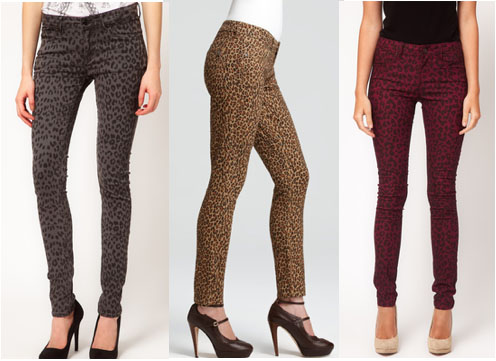 Do you struggle with transforming your outfits from day to night? Don't worry, CF is here to help turn that daily annoyance into a fun challenge. Class to Night Out focuses on one piece per week, and aims to help you take your look from study sessions in the library to dancing the night away.
I've professed my love for animal print in many of my CF posts, but I've always been a little hesitant to try out a pair of animal print jeans. With bottoms so bold, you have to have the confidence to match, and I guess I thought I couldn't pull it off.
However, with the printed pants trend out in full force this fall, I decided to take a walk on the wild side, so to speak, and give animal print jeans a try. And I have to say, it totally paid off! Honestly, I've never felt so stylish and confident walking around campus.
My recent foray into animal print jeans inspired me to compile two outfits, one for class and one for a night out, inspired by this bold trend. Of course, I have a leopard print bias, but these outfits would look great with any animal print, from snakeskin to even a bold tiger pattern.
Animal Print Jeans: Class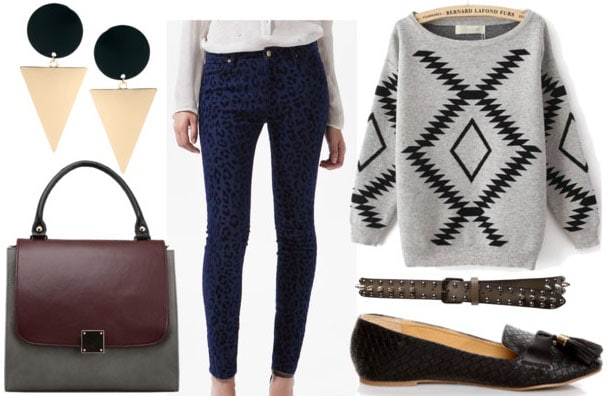 Jeans, Sweater, Smoking Slippers, Bag, Earrings
To create a casual, eclectic look for class, pair your jeans with an equally bold graphic sweater. The geometric patterns on this sweater contrast perfectly with the more subtle animal print of the pants, giving you an edgy but balanced look. Keep your look trendy but chic by accessorizing with a fashion-forward studded belt, geometric earrings, and a ladylike structured bag in modern colors (hello, oxblood!) Complete the look with a pair of black smoking slippers – a total fall necessity that adds a touch of schoolgirl chic to your look.
Animal Print Jeans: Night Out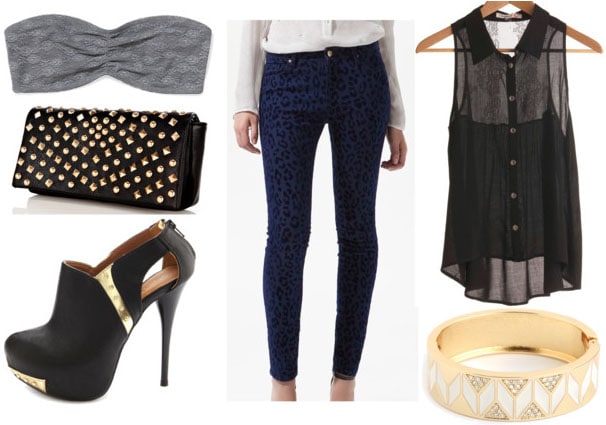 Jeans, Top, Bandeau, Ankle Booties, Clutch, Bangle
For your night look, keep the focus on the jeans by pairing them with a simple, sheer collared top. This black top has gorgeous lace detailing that's subtly sexy, but not overpowering. Layer it over a gray lace bandeau for an even sultrier look. Accessories should be simple but stunning. Try black ankle booties with a pop of gold, a bold bangle, and a trendy studded clutch.
Your thoughts?
How do you style your animal print? Would you wear it to class? Be sure to leave me a comment and let me know what you think of the outfits, I'd love to hear your thoughts!