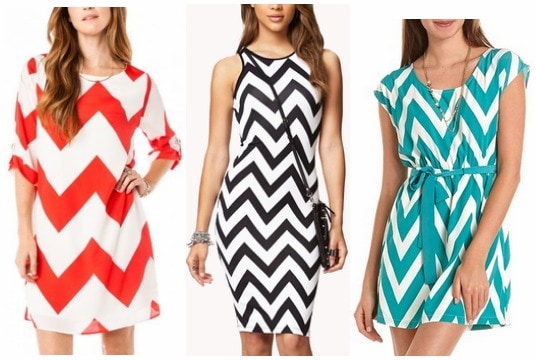 Do you struggle with transforming your outfits from day to night? Don't worry, CF is here to help turn that daily annoyance into a fun challenge. Class to Night Out focuses on one piece per week, and aims to help you take your look from study sessions in the library to dancing the night away.
Am I the only person who gets anxious about wearing stripes? Horizontal stripes are unflattering on me, and vertical stripes can bring jailhouse images to mind. I get nervous just thinking about them! (Okay, I'm willing to accept that I'm maybe just crazy.)
That's where chevron comes in. Finally, a stripe pattern I can really get behind! Chevron combines the best of both worlds with a mod, almost retro flair that can take an average piece from "blah" to stunning. I can't get enough of it.
That's why this week I'll be showing you how to style a simple chevron dress (that's perfect for the beach, might I add) for both day and night. Get ready for some style inspiration!
Chevron Dress: Class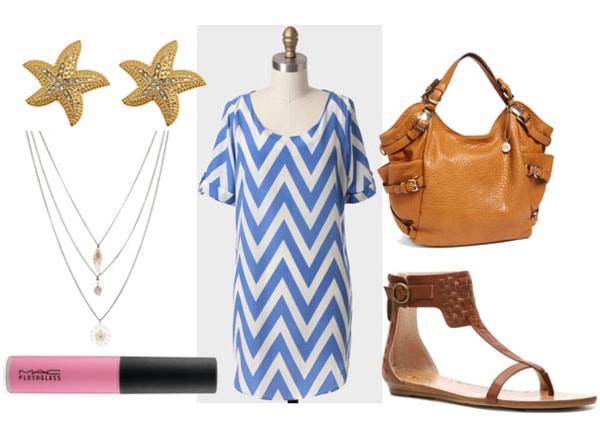 Dress, Sandals, Bag, Necklace, Earrings, Lip Gloss
For a natural day look, pair your dress with simple, but stunning accessories, like a soft faux-leather hobo bag and matching strappy sandals. Next, add a beachy vibe with a layered charm necklace and super cute starfish shaped studs. Complete the ensemble with a pretty pink gloss that'll leave 'em wanting more.
Chevron Dress: Night Out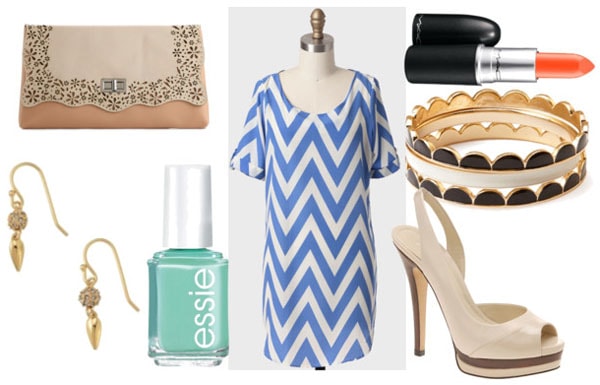 Dress, Pumps, Clutch, Bangles, Earrings, Nail Polish, Lipstick
For an outfit that's perfect for a late-night stroll down the boardwalk, grab a pair of nude peep-toe sandals and a matching embellished clutch for a relaxed, yet refined vibe. Keep your jewelry simple, but fun — try scallop-edged bangles and sparkly drop earrings. Paint your nails a pretty seafoam shade, then add a bright orange lip (or coral, if that's too wild!) to complete the look.
Your thoughts?
Do you like chevron print? How would you style this dress? Be sure to let me know what you think of the outfits in the comments, and what other pieces you'd like to see featured on Class to Night Out!