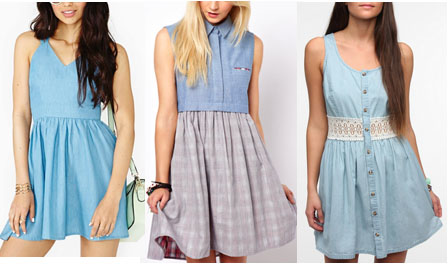 Dresses: Nasty Gal, ASOS, Urban Outfitters
Do you struggle with transforming your outfits from day to night? Don't worry, CF is here to help turn that daily annoyance into a fun challenge. Class to Night Out focuses on one piece per week, and aims to help you take your look from study sessions in the library to dancing the night away.
It's pretty safe to say that this is the summer of chambray. Whether it's shirts, vests or dresses, you've probably felt the urge to own one of these ulta-casual (but ultra-cute) pieces.
I love chambray, but I struggle with making it more versatile. Denim is usually a night-out no-no (unless you're wearing dark wash skinny jeans of course!), but after a little experimenting, I've figured out a way to make it work for both day and night. Check out these outfits inspired by a simple chambray skater dress!
Chambray Skater Dress: Class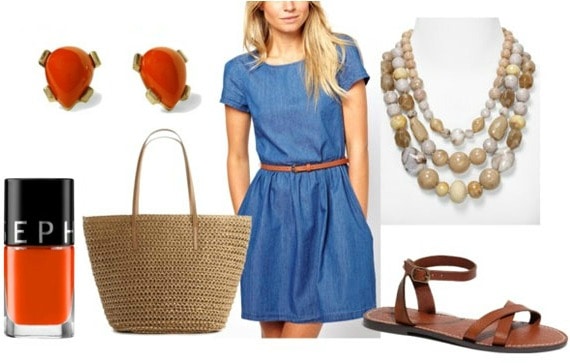 Dress, Sandals, Bag, Necklace, Earrings, Nail Polish
Look pretty and polished for class by creating a low-key, yet bold daytime outfit. Start with a pair of strappy casual sandals in a gorgeous chestnut brown and a classic straw tote bag to look like you're just casually wandering around Nantucket instead of campus. Add a beaded statement necklace for a pop of personality – the neutral, earthy color helps to keep the look understated. Complete the ensemble with bursts of deep orange, like a pair of teardrop studs and matching nail polish.
Chambray Skater Dress: Night Out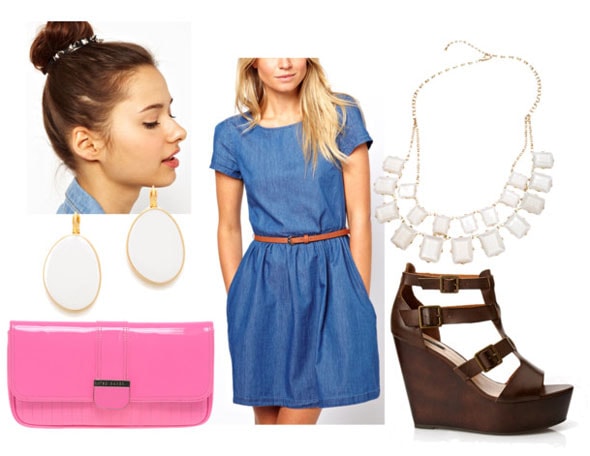 Dress, Wedges, Clutch, Necklace, Earrings, Hair Wrap
While your day outfit will look amazing with messy waves, up the ante by styling your hair into a super-chic top knot for your night out. Top knots make you look super refined – like you've put a ton of effort into your appearance, even though they only take a few seconds! Next, add pretty white statement jewelry, like a bold bib necklace and matching earrings to create contrast with the denim. Sky-high brown wedges and this clutch's bright pop of bubblegum pink complete the look and keep it nighttime friendly.
Your thoughts?
Do you wear chambray? How would you style this dress? Be sure to let me know what you think of the outfits in the comments, and what other pieces you'd like to see featured on Class to Night Out!