Do you struggle with transforming your outfits from day to night? Don't worry, CF is here to help turn that daily annoyance into a fun challenge.Class to Night Out focuses on one piece per week, and aims to help you take your look from study sessions in the library to dancing the night away.
The semester may have just started, but I'm already looking forward to spring break. I'm dreaming of the ocean, warm weather, and all of the cute summer clothes that I'll wear while I'm there.
Since it's still January, I can only pretend that it's warm outside. So, a blue and white striped tee shirt is a good way to channel the clothes of my dreams. It's nautical, beachy, classic, and works as well for winter as it does for summer. Keep reading to see how I styled a blue striped tee for class and a night out.
Blue Striped Tee: Class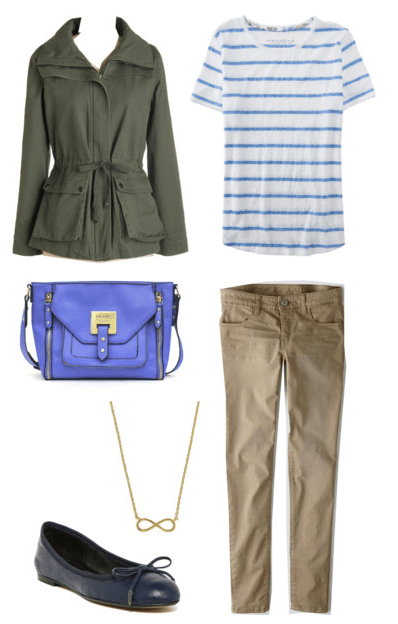 Products: Tee – Jacket – Pants – Purse – Necklace – Shoes
Wear your tee with some khaki skinny pants for a preppy look. Add an olive jacket, which goes well with your outfit thanks to its neutral color. Grab a purse in a coordinating blue and some navy flats that will keep you comfortable for class. Lastly, an understated necklace will finish your look.
Blue Striped Tee: Night Out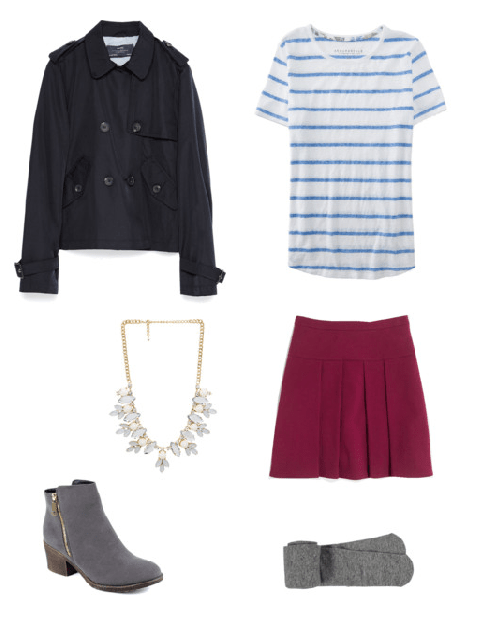 Products: Tee – Jacket – Skirt – Tights – Necklace – Shoes
To dress up your tee, add a miniskirt in an unexpected color like maroon. You could also experiment with yellow, purple, or orange. Wear a short navy trench to match your outfit and avoid covering up your skirt. Next, put on some gray tights and booties to stay winter-appropriate. As a bonus, wearing shoes and tights in the same color will make your legs look longer. Finally, add a statement necklace for some glam.
What do you think?
Would you wear either of these outfits? Are you dreaming of spring break? Let me know what you think!