This post may contain affiliate links, which means we may receive a commission if you purchase through our links. Please
read our full disclosure here
.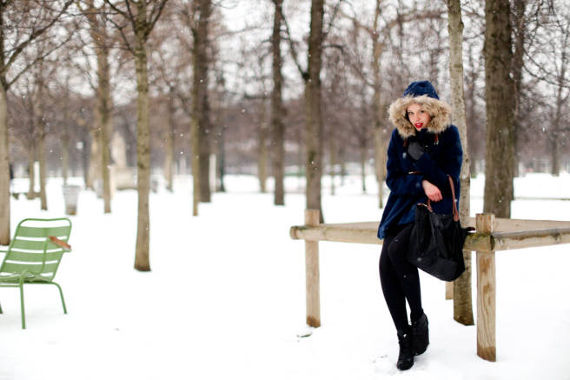 Photo via ELLE
If you live or attend school in the United States, you probably experienced (or at least heard about) the crazy cold front that swept the country these last few weeks. I go to school in a little town in the northwest, and our weather went from a sunny 71 degrees to – no joke! – a snowy 24 degrees in the span of a week.
Needless to say, I was caught off-guard. With all my winter clothes still at home, all I had was my fall wardrobe to keep me warm: casual staples like jeans, shirts, sweaters, boots, and scarves. No hats, gloves, or snow boots, and the only coat I had was a medium-weight utility jacket like this one.
So, what could I do? I had to choose between refusing to leave the house for over a week, or improvising and making my fall clothes work for the sudden cold snap. I went with the second option, of course (though the first was definitely tempting!), and now I'm here to share the tips and tricks that helped me survive winter's early arrival.
Tips for Staying Warm with Your Existing Wardrobe
What's rule #1? ALWAYS LAYER. This may seem obvious, but it's so important that it's worth restating. Creative layering is the only way you'll be able to make lightweight fall clothes work for winter weather. Layer, layer, and layer some more, and even if you think there's no way you can squeeze into another layer, try anyways! A good formula to start with is wool socks, leggings or tights, a tank, a shirt, pants, a sweater, a coat, the biggest pair of boots you own, and any combination of a scarf/hat/gloves/etc.. You can always double up on any of these layers – try two pairs of socks, two tanks or tees, two pairs of leggings… whatever works for you!
Don't feel like you have to go out and buy cold weather clothes if you don't want to. As already mentioned, layering will make a big difference, but you can also DIY some cold weather pieces. Be resourceful and try making your own infinity scarf from an old tee or sweater, or making fingerless gloves from a pair of socks.
Check your clothes' labels to see what they're made of. The warmest fabrics are things like wool, flannel, cashmere, acrylic, silk, and fleece. If you have any of these in your closet, definitely put them to use!
The trick to still looking chic and fashionable during a cold front is utilizing color, pattern, and accessories to your advantage. Mixing bright colors, bold prints, and sparkly accessories will always help you stand out on a dreary day.
Next up, I'm going to show you three looks inspired by outfits I actually wore while enduring snow, ice, and below-freezing temps. They all feature the same lightweight utility jacket, since that was the kind of jacket I had to wear every day:
Look #1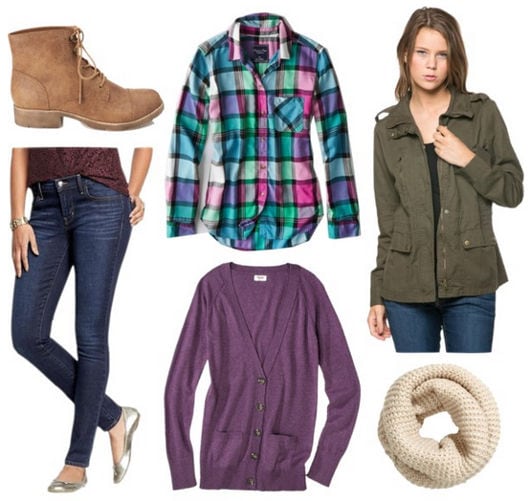 Products: Shirt, Cardigan, Jeans, Boots, Scarf, Jacket
For an easy and colorful cold weather combo, try layering a plaid shirt under a bright cardigan and a jacket. Make do with a pair of jeans and lace-up boots, and if you have one, throw on a cozy white scarf. I didn't show any base layers here, but you could easily add a tank or tee under the plaid shirt and a pair of tights or leggings under the jeans. And don't forget about a pair of thick socks (or two!).
Look #2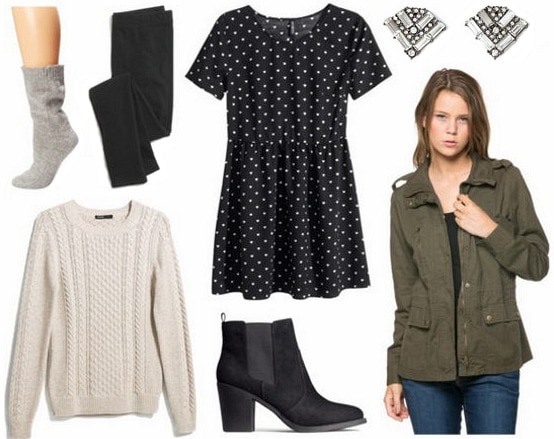 Products: Dress, Sweater, Boots, Leggings, Socks, Earrings, Jacket
If you're going to wear a dress in freezing weather, this is how to do it. Make do with whatever dress you have – you can even make a lightweight summer dress work if you have enough layers. Wear it over a couple pairs of tights or leggings, plus thick knit socks. Add a comfy cable knit sweater over the top, then your jacket. Complete the look with ankle boots (a stable, low heel if it's icy) and a bit of sparkle from jeweled earrings.
Look #3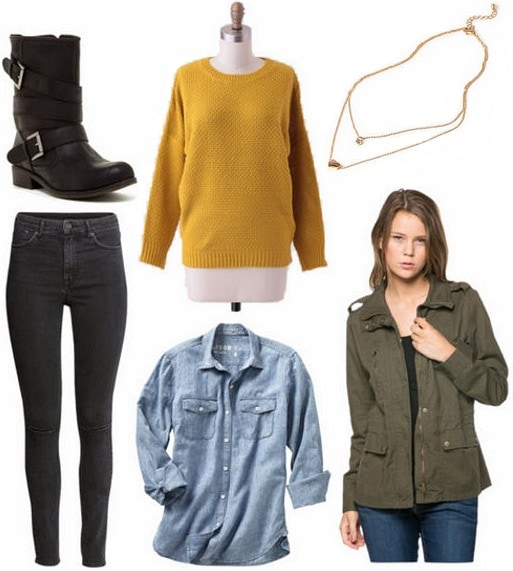 Products: Shirt, Sweater, Jeans, Boots, Necklace, Jacket
This layered look has a slightly preppy feel – just slip a chambray shirt on under a bright sweater (popped collar optional), and pair it with black jeans and a jacket. Black moto boots add an edgy touch, while layered charm necklaces add a bit of metallic sparkle. And again, don't forget that you could layer on an extra tank, tee, or pair of leggings for more warmth.
Share your thoughts!
Were you hit by the unusual cold front this week? How did you dress for the weather? What tips do you have for making a fall wardrobe work for winter temps? Let us know in the comments!