This post may contain affiliate links, which means we may receive a commission if you purchase through our links. Please
read our full disclosure here
.
Dear CF Readers, I hope you enjoyed Career Wardrobe Staples Part 1 and Part 2! You've asked for a post on accessories fit for careers – here it is!
When it comes to accessories, it's important to consider your work environment just as you do with your clothes. Is your office (or the typical office for those in your field) traditional and conservative? Is it trendy and fashion-forward? Or does it fall somewhere in the middle? The answer to this question will determine the style of accessories you'll want to buy!
Note: Often you may not know how conservatively you'll have to dress in your future office. That's OK! Just do your best to collect a range of styles, leaning towards more classic pieces; it's better to go too conservative than too flashy. Other times, you may have a good idea of how your office will view flashy accessories, and that's great! Begin collecting now!
No matter what, here are the top accessory pieces you'll want to have, according to your office style:
1. The Classically Conservative Office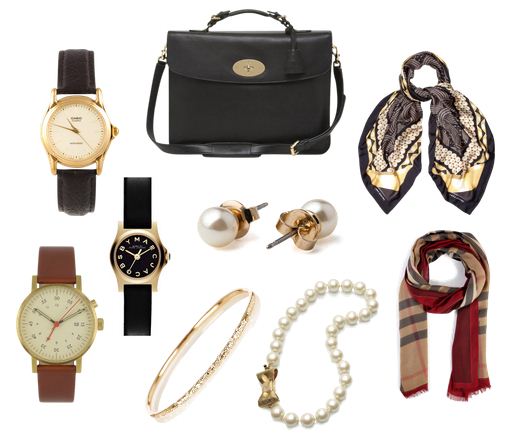 Product Information: (Top) American Apparel Leather Strap Watch / Mulberry Briefcase / Lara Bohinc Scarf / (Middle) Marc Jacobs Watch / American Apparel Pearl Earrings / (Bottom) Horne Watch / Karen Millen Bangle / kate spade new york Necklace / Burberry Scarf
In this office, you want your accessories to complement you and your outfit, but not draw too much attention. Here, accessorizing is all about looking professional and respecting the dress code while giving each outfit a hint of extra style.
Here are some tips for accessorizing in a conservative office:
Invest is some classic pieces, such as a watch with a nice leather strap and a sleek, sturdy briefcase (if you use one). These look really professional, and set the tone for the rest of your ensemble.
Pearls are perfect for professional femininity. They're graceful, elegant, and never look too try-hard!
Vintage jewelry is a great way to incorporate the current trends while remaining professional.
Don't ever go too wild with earrings. You don't want your boss or client to be distracted by dangly earrings that shimmer every time you move! Stick with small, classic studs in neutral tones.
If you do want to push the boundaries, do so little by little. Start with one bold accessory at a time, or gradually work up to some of your bolder colors and chunkier jewelry, keeping your office dress code in mind. And keep most accessories conservative if you have one really "out there" piece. Balance is key.
2. The Bold, Trendy Office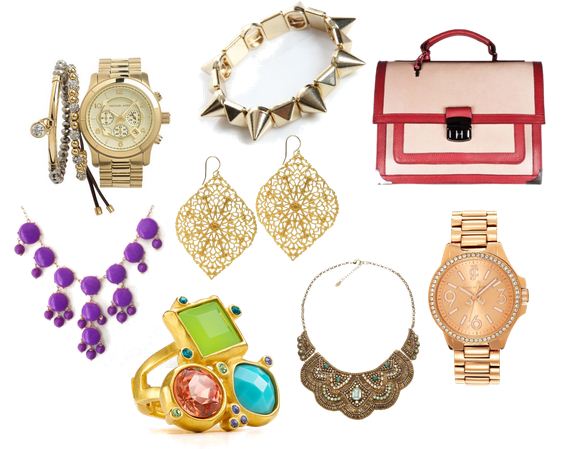 Product Information: (Top) Michael Kors Watch / Christie Bracelet / Christine Phung Bag / (Middle) Julie Tuton Earrings / (Bottom) himediy Necklace / Tahari Ring / Accessorize Necklace / Juicy Couture Watch
In this office, you want your accessories to make a statement about you and your personal style. Don't be afraid to wear whatever accessories you want, as long as you think they are still appropriate for your office.
Here are some tips for accessorizing in a less conservative office:
Go with your gut. This is the place where you can express your own style through your accessories – but you know your office best, so trust your instincts about what's appropriate! When in doubt, it's better to start a little less crazy and evaluate the response you get from there.
As with the conservative office, remember to keep your accessories from distracting you and those around you. Even if you have the freedom to be bold, you should do so professionally.
Make sure your accessories present you well. Remember: there's still a difference between office-appropriate and nightclub-appropriate. If your office is trendy, you should still try the trends in a way that will make a good impression.
Have fun with it!
If your office is somewhere between these two extremes, don't go overboard with your statement pieces, but still feel free to play with your personal style. Every office will have a perfect balance between the two; it's up to you to figure out where that is, and then decide if you will play it safe or go bold.
What do you think?
Would you rather be conservative or daring with your accessories? Do you have any tips to add? Please leave a comment! We love to hear from you!