This post may contain affiliate links, which means we may receive a commission if you purchase through our links. Please
read our full disclosure here
.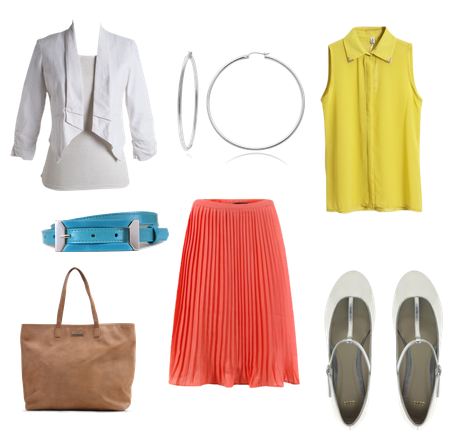 Whether you're graduating and starting out at a new job, heading off to an internship, or are interviewing for a summer position, chances are there is an occasion in your life that requires you to ditch your comfy college wardrobe in favor of something a little more professional.
As much as we love living in our skinny jeans and tees, curating a real adult wardrobe is a challenge we'll all face! Though it may seem daunting, building a big-girl wardrobe is totally doable if you break it down and shop smart.
Start small by choosing to buy one to three of the following transitional pieces! The best part? You can spend as much or as little as you want! We've broken down the items featured here by price point: $40 and under, $40-$65, and $65 and over, and each of these pieces can be seamlessly styled into your college closet. Read on to see how it's done!
The Must-Haves…
1. Basic Blazer
Go For: Flattering, wearable colors and excellent tailoring.
Your blazer should be perfectly tailored and figure flattering: no gaping or pulling, sleeves of the appropriate length, and in the correct size (not too oversized or shrunken!).
In terms of color, look for a hue that complements both your skintone and wardrobe. Pick a solid color over a print or stripes for a jacket that's super easy to mix and match. Neutrals are always a safe choice, and if you can afford it, it's great to own a few blazers in khaki, black, and grey to go with any of your other clothing options.
Avoid: Anything too trendy, over-the-top embellishments.
Since the aim here is to appear put-together and polished, it's generally best to avoid styles that are super trendy — think cropped jackets or blazers with extra-structured shoulders a la Gaga — in favor of a more classic look. The same goes for embellishments! Your go-to, wear-everyday work blazer will likely not be the one with rhinestone buttons and studded cuffs.
How to Wear It:Boyfriend blazers and normal-sized blazers have been huge for the past few seasons and it's easy to see why! A blazer adds instant sophistication to any outfit.
On campus, throw one on when you're giving a presentation or heading out to a party. Style it with broken-in boots or paired with your favorite tri-blend v-neck tee and you'll have a classic model-off-duty look.
In the business world, suit it up! Great dress pants or a longer fitted skirt and a chic blouse are the blazer's BFF, and a definite office standby.
2. Classic Wrap Dress
Go For:Eye-catching print, adjustable wrap styles.
There's nothing cuter than a figure-flattering dress in an adorable print! While you should avoid looking wild, don't be afraid to choose a dress with a great pattern or in vibrant jewel tone — as long as you keep the rest of your look clean and classy, you really can't go wrong.
Many true wrap dresses are customizable and adjustable: you can choose how tight or loose you want the fit and where to tie things up. A wrap dress can easily accommodate a few extra layers like a pair of tights or a camisole and will likely still fit even if your shape changes a bit. One of the best attributes of wrap dresses is that they're almost totally universally figure-flattering and look good on everyone, so finding a style that suits you should be pretty simple.
Avoid: Low necklines/high hemlines, casual fabrics.
In short, keep it classy and covered, ladies! Avoid deep Vs or styles that show a lot of leg, especially if you plan to wear heels. You'll be at work, after all! In terms of fabric, when in doubt, say no to lightweight jersey. The comfy fabric can appear ultra-casual and youthful, or ill-fitting and office-inappropriate. Polyester, linen, and/or cotton blends are better bets.
How to Wear It: Go polished and pretty for a spring class by wearing your dress with a denim jacket and a cross-body bag. Adding accessories, like a great belt or a fringe-y scarf can also make your sophisticated dress more college-friendly.
When at work, simply be aware of your footwear (go for heels or dressy flats), cover up with a cardigan, and tone down your accessories and you'll be good to go.
3. Conservative Footwear
Product Information: 1, 2, 3, 4, 5, 6.
Go For:Low heels, closed toes.
Save your feet, back, and mood: go for an in-office shoe that is comfortable and three inches or less in height! This is the time to look for heels that are lower and chunkier than what you are probably used to wearing.
This being said, don't feel like you have to wear heels to work! There are plenty of appropriate and adorable flats to give your outfit the perfect finishing touch. Whether you choose styles with pointy, rounded, or square toes, it's usually best to go for everyday work shoes that do not feature a peep-toe design — they can appear too dressy or sexy for a conservative work environment, look awkward with tights, and both require the perfect fit and pedicure. Keep it simple with closed toes!
Avoid:Stilettos, anything too casual or too dramatic.
Sorry girls: while there isn't much sexier than a great pair of stiletto heels, they just aren't appropriate for the majority of work environments! In terms of adjectives, look for shoes that are "attractive" and "stylish" instead of "hot."
When it comes to choosing the appropriate styles, always lean towards a more polished, classic look. This (probably) isn't the time to wear your glitter-covered oxfords or your favorite Sperrys. You can (and should!) still look for shoes that are cute! Conservative does not have to mean ugly or drab.
How to Wear It: What college girl doesn't "need" an extra pair of shoes or two?! Make use of your classic footwear to make your everyday outfits a bit more sophisticated. They also work well for going out to a nice dinner or attending a formal event. In a professional setting, all you need to do is grab a pair of these shoes and go! They're the perfect complement to a business-friendly outfit, no further thought necessary.
**Note: If you work in a creative industry, you can likely get away with attire that's trendier and more casual. When in doubt, however, it's better to be overdressed than under dressed!
Find Out More!
Want to know even more about dressing for work? We've got you covered. Check out these articles for sage advice and start building that wardrobe of yours!
Plus, we've covered this topic in-depth in the past! Check out our articles on rocking a professional look from interview to internship:
Your thoughts?
What do you think? Do you own many dressy, conservative clothes? How do you dress for work? Do you have any great wardrobe tips to offer other CF readers? Leave a comment and let us know your thoughts!