This post may contain affiliate links, which means we may receive a commission if you purchase through our links. Please
read our full disclosure here
.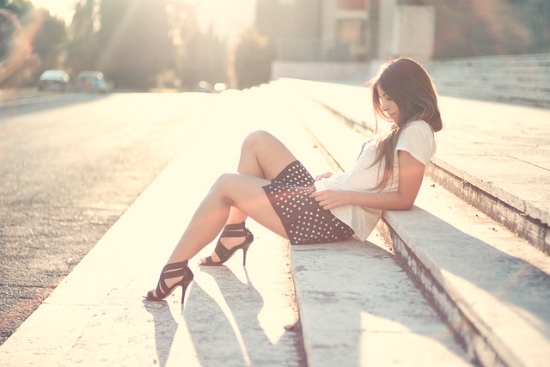 Can we talk for a second about how hot the weather has been lately? With the temperature climbing to over 100°F this week (Thanks, Florida!) all I want to do is blast the AC and watch a Sex and the City marathon. But, alas, I can't do that and have to venture out into the smoldering heat.
So, what's a girl to wear when it's so hot outside? Is it more important to look stylish or dress practically? Luckily, you won't have to pick because I've come up with some fashionable and hot-weather friendly outfits as well as some tips to help you stay cool all summer long.
Interested? Scroll on down to learn more:
Some Quick Tips on Dressing for Hot Weather
Since dark colors absorb more heat, be sure to stick with light colored clothing when it's super hot outside.
While layering is usually a stylish approach, skip it when the weather gets too warm. Those extra layers of clothing will just make the heat feel unbearable!
Wear natural fibers instead of synthetic ones. Clothing made out of fabrics like cotton and linen "breathe," which can help you to stay cool in hot weather.
Remember that waterproof makeup is your friend. It will make sure your look stays fresh all day and keep products from literally melting off your face.
Don't forget the SPF! 'Nuff said.
Outfit Ideas
If you need some inspiration for how to dress when the temperature's rising, here are three CF-approved summer outfits:
1. Hot Hot Heat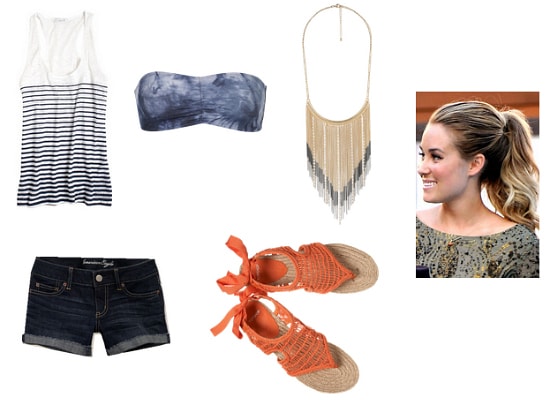 Tank, Bandeau, Shorts, Necklace, Sandals
For a foolproof casual summer outfit, wear a striped racerback tank over a tie-dye bandeau top. Then add some simple denim shorts and some bright orange sandals for a pop of color. Finally, pull your hair up into a high ponytail à la Lauren Conrad in order to keep cool and show off this awesome fringed necklace.
2. Heat Wave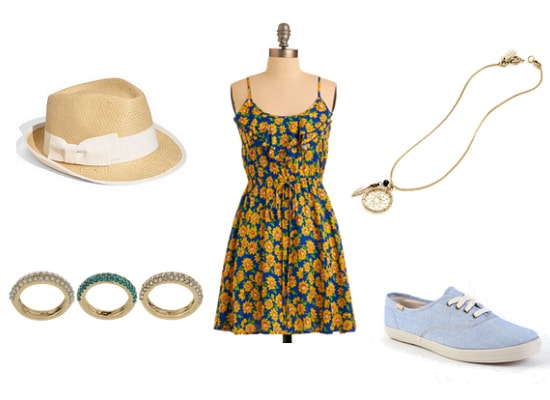 Dress, Fedora, Necklace, Rings, Sneakers
Dresses are the perfect choice for hot weather, so this second look is centered around an adorable and summer-appropriate sunflower print frock. To dress it down for daytime, wear it with some laid-back Keds and a cool fedora. For the finishing touch, add unique jewelry like this pretty necklace and some pretty stacked rings.
3. Summer Nights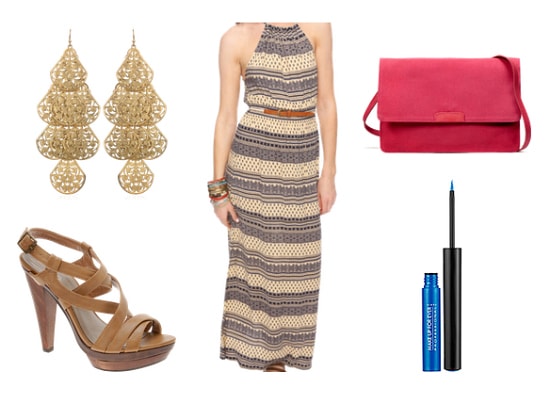 Dress, Earrings, Clutch, Sandals, Waterproof Eyeliner
If it's still balmy when the sun goes down, try this outfit the next time you go out at night. The printed maxi dress is a step above casual, but still breezy enough for high temperatures. Wear some wooden heels to maintain the boho vibe, and add a contrasting punch of color with a sleek pink clutch. Since this look is so bold, the only accessory you need is a pair of statement earrings. If you want to amp up your look for nighttime, try out a chic winged-eye look using some waterproof eyeliner.
What do you think?
How do you dress when it's hot outside? Which outfit is your favorite? Any tips you'd like to share on how to dress for hot weather? Remember to leave a comment and let me know your thoughts!