On Style Remix, we show you interesting new ways to wear staples that most college girls already own, and today, we're featuring a real summer classic: the swimsuit!
Rather than showing you new ways to wear your swimsuit to the beach or pool, we're showing you new ways to play with beach outfits and coverups for settings like beach bonfires, boardwalks, water parks, and lounging by lake houses.
The most common go-to's for swimsuit coverups are sundresses, long tunic tops with loose shorts, and even the occasional maxi dress. So today, we're pushing the envelope to show you even more ways to work your summer swimwear! We've even paired each look with a new favorite summer song.
P.S. – If you're still looking for ways to feel confident in a suit, find the best fit for your body, or explore more inventive swimsuit styles, check out our other articles on swimwear.
1. Icona Pop: "I Love It (feat. Charli XCX)"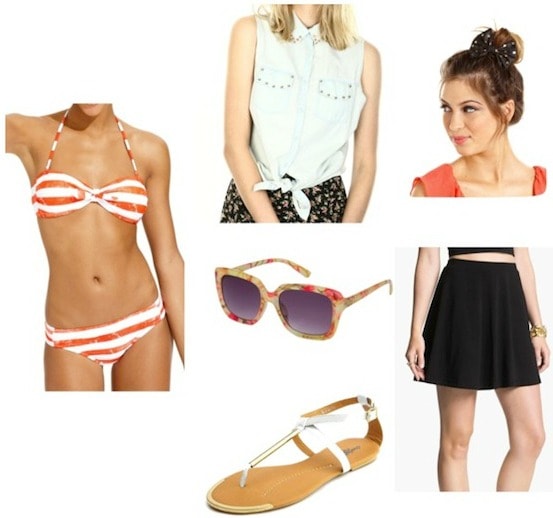 Product Details: Bikini, Shirt, Bow, Sunglasses, Skirt, Sandals
Much like the peppy beat of "I Love It," this outfit has a lot of energy!
Pop a few buttons on the tie-front blouse to show off your bathing suit top, and slip on a skater skirt — it provides decent coverage and a great silhouette for this summer. With this look, you can get away with mixing prints since they're in such small amounts: a little polka-dot in the bow, a little floral in the sunglasses, and the stripes in the bikini all work together here.
2. Jillette Johnson: "Torpedo"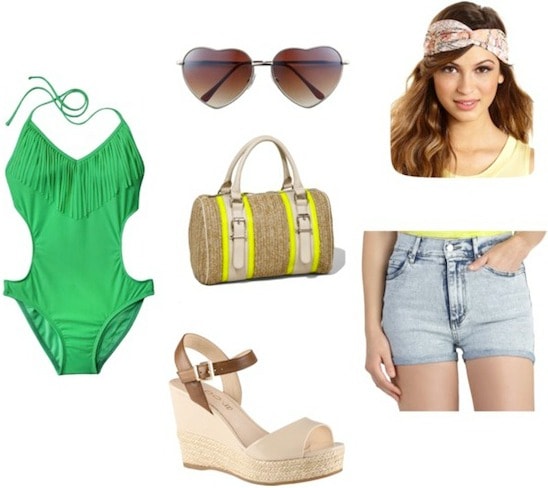 Product Details: Suit, Sunglasses, Headwrap, Bag, Shorts, Sandals
"Torpedo" captures the easygoing vibe of summer so perfectly, and with a little soul in the vocals and reverb in the chorus, it's got us hooked on fresh, funky, youthful style.
For this look, we paired a fringed monokini with high-waist shorts and free-spirited accessories. This look gives you legs for days: the combo of high-waisted shorts and neutral wedges will elongate those gams like nothing else. Here, we've paired neons and brights with neutrals for a look that's on-trend and perfectly fresh for a summer afternoon.
3. Caro Emerald: "Back It Up"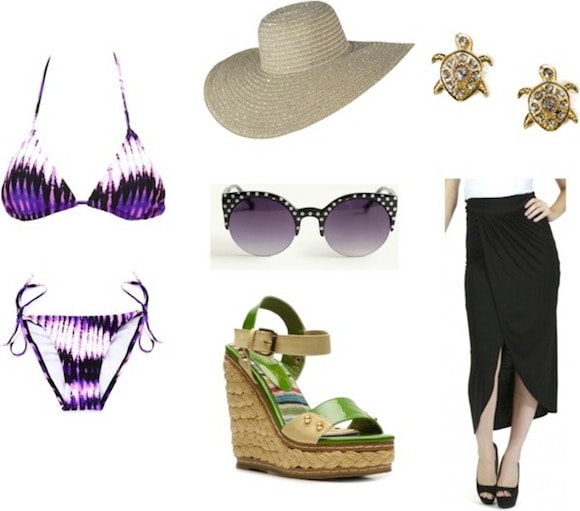 Product Details: Suit Top, Suit Bottom, Hat, Earrings, Sunglasses, Skirt, Sandals
Even though Dutch artist Caro Emerald's CD has been out for a couple of years, "Back it Up" is just now getting popular in the US.
For this swim-friendly look, we've paired a bikini with a long, tulip-cut knit skirt, vintage-inspired accessories, and a glam sun hat! Channel your inner jazz crooner with shapes that not only emphasize your curves, but also provide some modest coverage. Since you're more covered on the bottom, you could take a fashion risk and go bikini-only on top (if your location allows) or you could slip on a light, sleeveless, semi-sheer blouse, like this one.
What do you think?
Would you wear these beach separates? Which look is your favorite? How do you style your beach cover-ups? Have you listened to any of these songs? Tell us in the comments below!