This post may contain affiliate links, which means we may receive a commission if you purchase through our links. Please
read our full disclosure here
.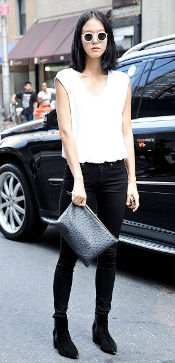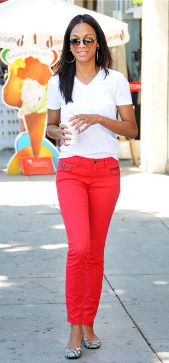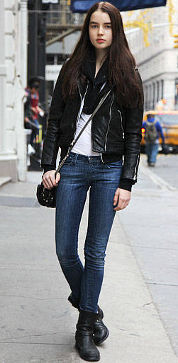 There are days when you want to get dressed up in something bold and adventurous, and there are days when you just feel like slipping on your favorite comfy t-shirt and jeans. There's a reason every college girl has these basics in her closet – they're endlessly versatile! Sure, you can wear them on their own, but you can also adapt them to all different styles and situations.
Not sure how to take your basics to the next level? No worries! I'm here to show you ten ways you can layer and accessorize a white tee and skinny jeans for whatever your style, mood, or lifestyle:
The Basics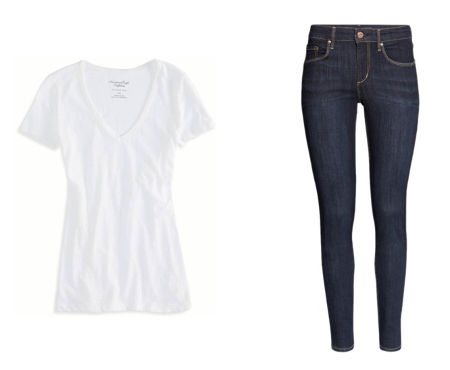 Virtually any white t-shirt and pair of skinny jeans will do, but I picked pieces that I believe are universally flattering and go with everything. A soft v-neck tee looks good on everyone, as do dark wash skinny jeans.
A pair of dark wash jeans also has a slightly more polished look than a lighter or more distressed pair, but if you'd prefer an oversized crew neck tee and ripped, light wash jeans, go for it! Wear whatever you feel comfortable and confident in.
1. Classic: Trench Coat + Leopard Flats + Structured Tote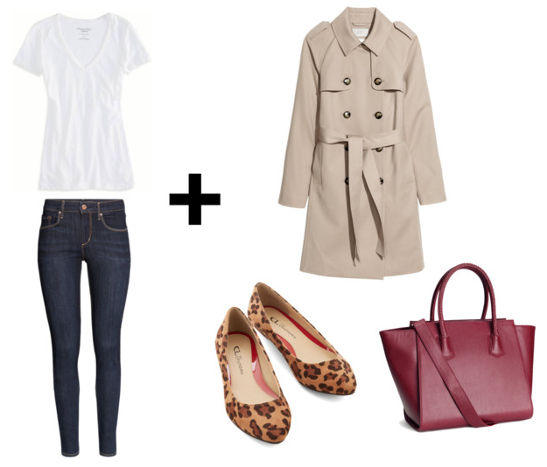 Product Info: Coat, Flats, Bag
What better to pair with basics than some timeless and classic pieces? For a polished, all-grown-up look, layer your jeans and tee with a khaki trench coat and slip on comfy leopard flats. Accessorize with a structured tote in a rich, dark color, like burgundy.
Kick it up a notch: Add rhinestone stud earrings, a gold chain bracelet, and a sophisticated updo.
2. Sporty: Bright Sneakers + Baseball Cap + Backpack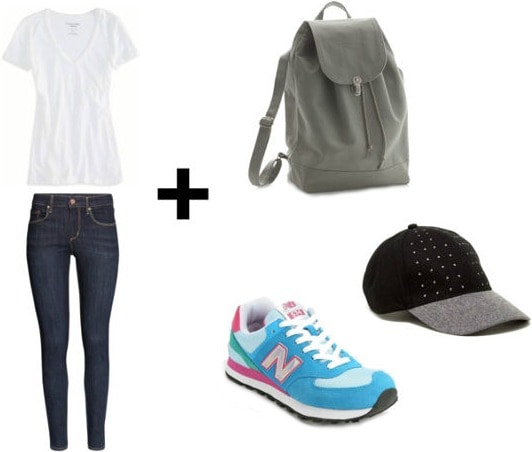 Product Info: Backpack, Hat, Sneakers
This combo is comfy and practical, so it would be perfect for class or running errands, but it still has some trendy touches to help you stand out from the crowd. Start by pairing your basics with a fun pair of bright running shoes or sneakers, and throw on a simple backpack. Accessorize with a trendy, fashion-forward baseball cap.
Kick it up a notch: Add a varsity jacket or bright hoodie and a stylish silicone watch.
3. Grunge: Flannel Shirt + Lace-Up Boots + Beanie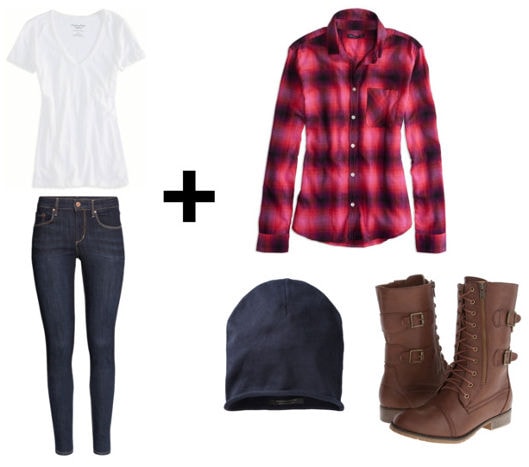 Product Info: Shirt, Beanie, Boots
This casual, grungy look is about as easy and college-y as it gets. Wear your cozy plaid flannel shirt unbuttoned over your tee, and add some more warmth with a slouchy beanie. Toughen up the outfit with lace-up combat boots.
Kick it up a notch: Add some chain or studded jewelry and a slouchy bag.
4. Glam: Statement Necklace + Bright Heels + Clutch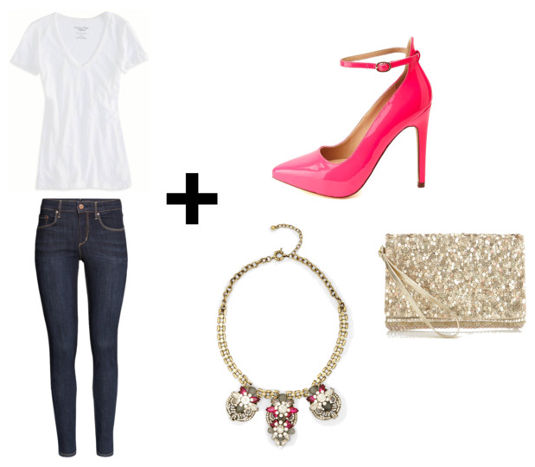 Product Info: Heels, Necklace, Clutch
To glam up your basics for a date or night out, all you need to do is add sparkle and color. Start with a bright pair of stilettos and a jeweled statement necklace. Add a coordinating sequin clutch for some extra glitter.
Kick it up a notch: Add a colorful or sparkly blazer and perfectly wavy hair.
5. All-American: Denim Jacket + Hi-Top Sneakers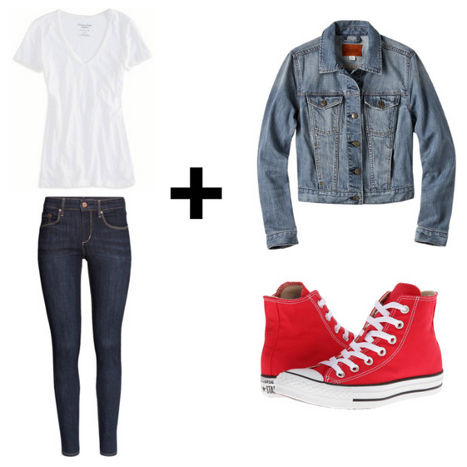 Product Info: Jacket, Sneakers
Denim has to be the most "American" of fashion trends, so what's more American than a red, white, and blue, denim-on-denim look? Throw on your favorite distressed denim jacket (sleeves rolled up), and for a pop of color and retro flair, add hi-top sneakers.
Kick it up a notch: Add wayfarer sunglasses and your favorite charm necklace.
6. Boho: Printed Scarf + Wedge Sandals + Fringed Bag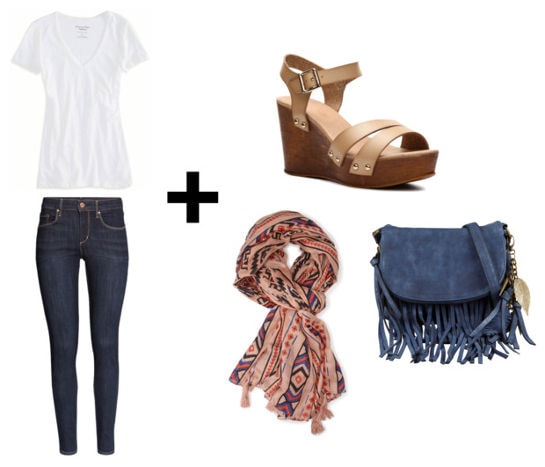 Product Info: Sandals, Scarf, Bag
To give your basics a bohemian touch, start by cuffing your jeans and slipping on some wedge platform sandals. Accessorize with a hippie-esque printed scarf draped loosely around your neck and a fringed bag thrown over your shoulder.
Kick it up a notch: Add dangly feather earrings and woven bracelets.
7. Equestrian-Inspired: Blazer + Riding Boots + Saddle Bag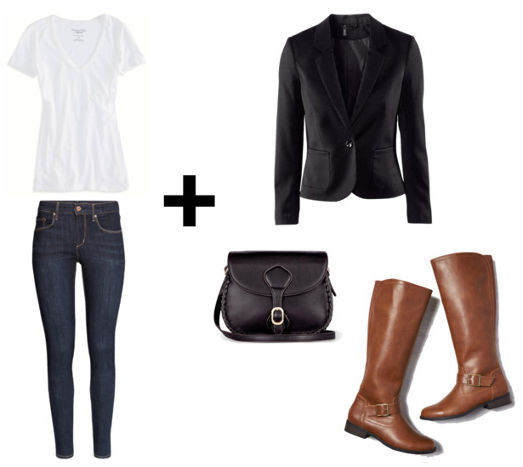 Product Info: Blazer, Boots, Bag
This crisp, clean-cut look uses classic and versatile pieces. By now, everyone knows the value of a pair of riding boots, which are comfy and go with everything. Pair these with a fitted black blazer (a closet essential) and a crossbody saddle bag to finish the equestrian-inspired look.
Kick it up a notch: Style your hair in a sleek bun.
8. Girly: Cardigan + Bow Flats + Pearl Earrings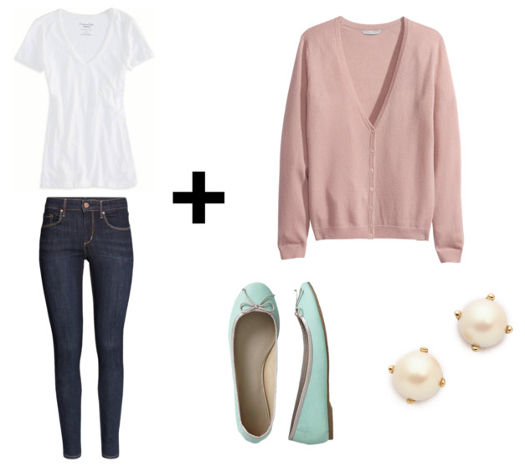 Product Info: Cardigan, Flats, Earrings
For a girlier, pastel-and-polka-dot type of look, layer a pink cardigan over your tee and throw on some cute bow flats. Last, add a bit of preppy, sorority girl polish with pearl earrings.
Kick it up a notch: Add a sparkly hair accessory and cute printed tote.
9. Edgy: Moto Jacket + Peep Toe Booties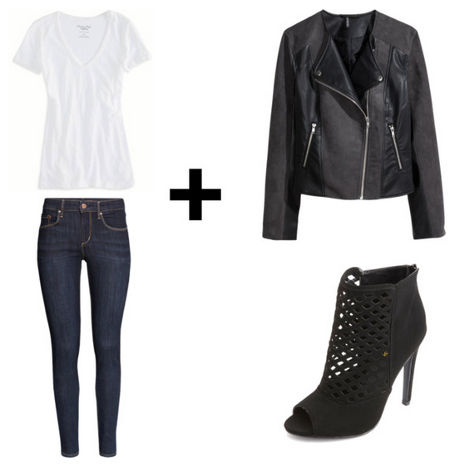 For an edgy and cool ensemble that could work for class or a night out, layer a tough leather moto jacket over your tee and add trendy, peep toe booties to dress up the outfit.
Kick it up a notch: Add an ear cuff and studded bag.
10. Menswear-Inspired: Peacoat + Oxfords + Oversized Watch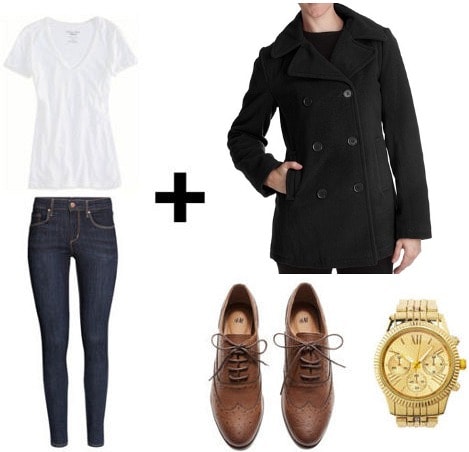 Product Info: Coat, Oxfords, Watch
For a chic, androgynous look that's perfect for cooler fall weather, add a fitted dark peacoat and a pair of leather oxfords to your ensemble. Accessorize with an oversized metallic watch.
Kick it up a notch: Add a leather satchel and plaid wool scarf.
Thoughts?
Do you like going back to basics? Which look would you wear? What's your favorite way to style a white tee and skinny jeans? Let us know in the comments!