This post may contain affiliate links, which means we may receive a commission if you purchase through our links. Please
read our full disclosure here
.
Welcome to the latest edition of Ask CF! Every two weeks, we select a reader fashion question and answer it here on the site. Do you have a specific fashion question for us? Scroll to the bottom of this post to learn how to send it our way!
Ask CF Question:
Dear CF,

My friend invited me to attend a fashion show in late June that she's walking in and I'm super excited! I have this dilemma though: What does one wear to a fashion show on a summer night without looking too casual (or getting too hot)? I guess what I'm asking is: how do I dress chic yet summer-appropriate?

I'm more of a skirt kind of gal when it comes to my wardrobe, but I also like to add leather pieces to give my looks some edge. It's often difficult to find pieces that fit my petite frame without making me look like I'm swimming in fabric. I'm at such a loss! Please help!!

Sincerely,

Anna
Our Response
Get ready to have the time of your life because attending a fashion show is such a fun experience! There's nothing else quite like it.
If there's ever a time or place to take a risk when it comes to fashion, this is your chance. Got a piece in your closet you've been dying to wear, but aren't sure if it's too "out there"? Throw it on! A fashion show is your opportunity to really stand out and show off your personal style. Most people in attendance will admire your ability to take that extra leap.
Now, I realize it's not everyone's goal in life to make a statement, so if you're more inclined to be a fly on the wall at an event like this, that's perfectly okay! You can be chic and fashionable while still remaining understated.
In terms of weather, skirts and dresses are definitely the way to go in order to keep from getting too hot (and from looking too casual). Stick to lightweight fabrics, and bring a jacket if it gets a little cooler at night where you live
I've put together three outfits below that will hopefully give you a little inspiration on what to wear for the big night:
Outfit #1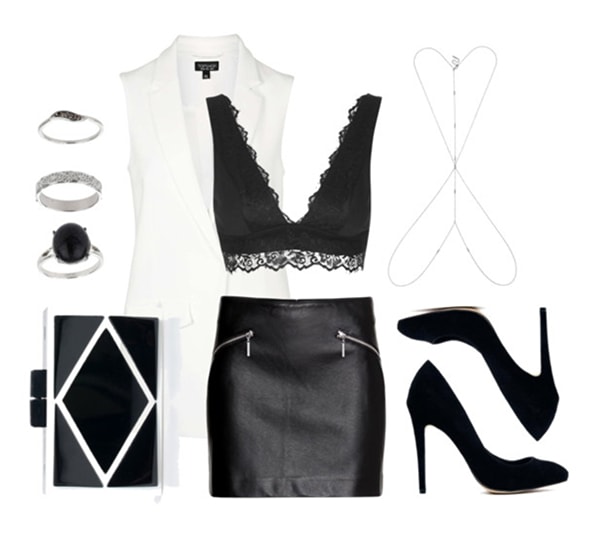 Product Information: Bralet, Skirt, Vest, Pumps, Clutch, Body Chain, Rings
When it comes to looking fashionable, a monochromatic look is always my go-to. This look is super-chic, but also mindful of weather conditions. Wearing some type of heel is always a must when attending a fashion show, so these classic pumps are perfect for the occasion.
Outfit #2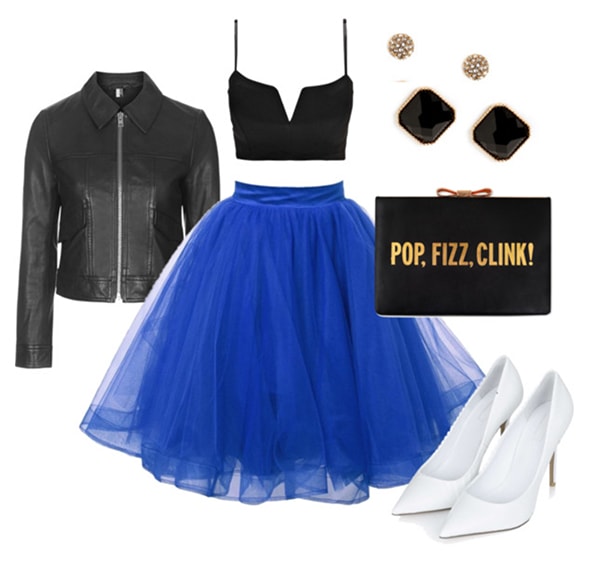 Product Information: Bralet, Skirt, Jacket, Pumps, Clutch, Earrings
If you're not afraid to stand out from the crowd, this is definitely the ensemble for you! A full, tulle skirt makes an eye-catching statement without going too overboard. Paired with understated accessories, like these white pumps and simple bralet, you'll be sure to impress.
Outfit #3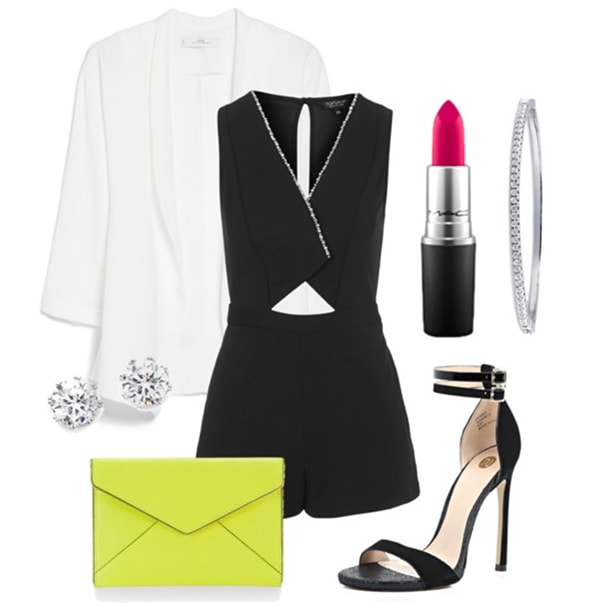 Product Information: Romper, Blazer, Shoes, Clutch, Earrings, Bangle, Lipstick
Neon anything is a great way to stay fashion-forward without drawing too much attention. Pairing bright accessories with an otherwise neutral outfit will help them (and you) to stand out! A romper with cutouts like this one is both playful and chic, making it the perfect piece for your fashion show.
Do you have a pressing fashion question? Ask away!
Is there a piece in your closet that you never know how to style? Do you have an important event coming up? Is there a certain trend that is completely lost on you?
If you have a question you want to see answered in this column, just send it on over via email to askcf @ collegefashion.net and one day you might see your question answered right here on the site!
Please note: We get A LOT of email and unfortunately we will not be able to respond to every single question. However, we will read through each question and then decide which ones will be most helpful to the most readers. Thank you for your understanding.
What do you think?
What would you wear to a summer fashion show? Would you prefer to blend in or stand out from the crowd? Would you wear any of these looks? Let us know in the comments!