This post may contain affiliate links, which means we may receive a commission if you purchase through our links. Please
read our full disclosure here
.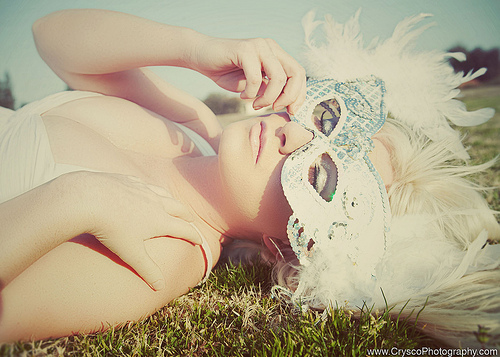 Welcome to the latest edition of Ask CF! Every two weeks, we select a reader fashion question and answer it here on the site. Do you have a specific fashion question for us? Scroll to the bottom of this post to learn how to send it our way!
Ask CF Question
Hi!

I recently got invited to a birthday party in November that is masquerade themed. I'm super excited about it, but I have no idea what to wear! It's cocktail attire, but I don't want to show up looking like everyone else in an LBD. I don't even know where to begin with masks. Any ideas?

Thanks! 🙂
Our Response
'Tis the season for dressing up – and it's awesome! From homecoming and Halloween to holiday parties, you'll be probably be getting all glammed up pretty frequently over these next few months, and it can be difficult to choose what to wear.
A masquerade party sounds like so much fun, but it's easy to see how you could get lost in a sea of plain black bodycon dresses. My advice for how to stand out? Decide whether you want the mask to be the focus of your look or if you want the mask to complement your already smokin' outfit. If you choose the former, find a mask you love, then pick a dress that complements it perfectly. If you choose the latter, start with an amazing dress, then build your masquerade look around it.
No matter which method you use, don't be afraid to experiment with unique colors and textures. You'll stand out in a good way if you rock it all with confidence!
Below are three masquerade party outfits to look at for inspiration. Even if you won't be attending a masquerade anytime soon, just ditch the mask and you have a glam night out look!
Outfit #1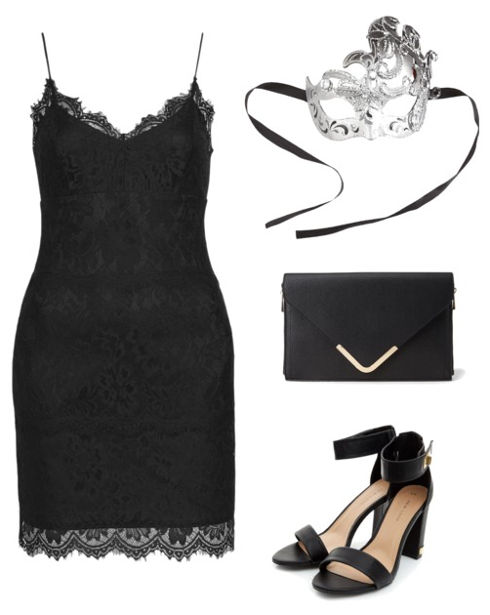 Product Information: Dress, Mask, Shoes, Clutch
Just because you might not be the only one rocking an LBD doesn't mean you still can't stand out from the crowd. This look is all about killer details. The delicate lace dress is feminine and intricate, while the clean lines found on the shoes and clutch keep things sleek and modern. Of course, the showstopping element of this ensemble is the brilliant silver mask. There's no doubt about it: this outfit speaks for itself.
Outfit #2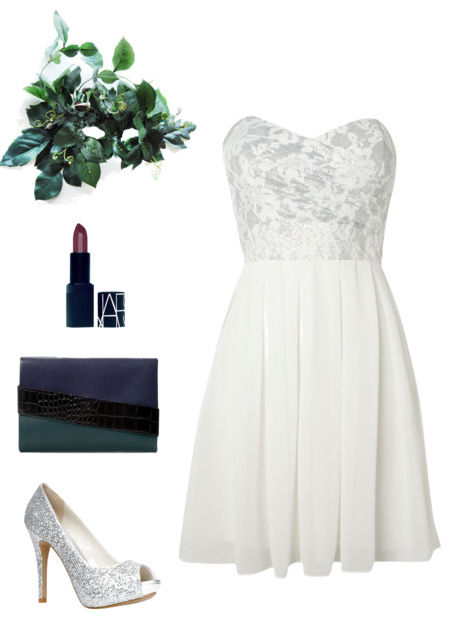 Product Information: Dress, Mask, Shoes, Clutch, Lipstick
On the opposite end of the spectrum, there's always the option of going out-of-the-box. The leaf-adorned mask pictured here is one-of-a-kind and on the pricy side, but I am no means encouraging anyone to spend a fortune on a costume piece you'll likely wear once. I chose it because it serves as a great inspiration if you want to make a similar nature-inspired mask. In fact, Gloria's recent DIY post serves as a pretty great base for how to recreate a leafy mask of your own!
To match that stellar mask, the outfit above has a glam nature/Greek Goddess feel. If you feel like committing to a themed costume for a masquerade ball, this outfit definitely fits the bill and you'll look super-chic wearing it.
Outfit #3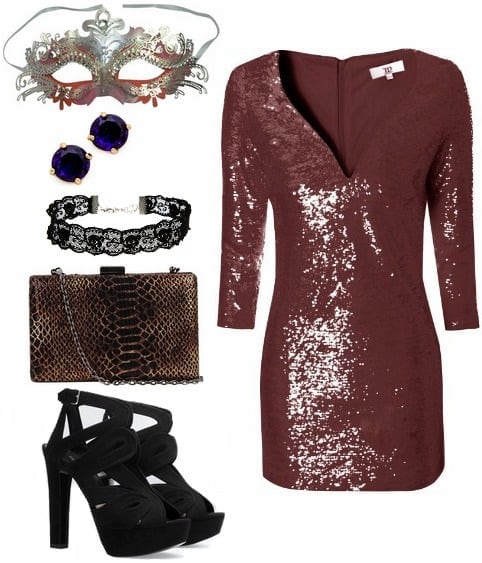 Product Information: Dress, Mask, Earrings, Choker, Clutch, Shoes
If you're feeling a bit edgy, this ensemble should be your go-to. The mask and the dress are both bold and head-turning, yet complement each other wonderfully. Contrasting accessories break up the crimson color palette, and also add even more texture to the outfit. Of the three looks, this one is my favorite!
Do you have a pressing fashion question? Ask away!
Is there a piece in your closet that you never know how to style? Do you have an important event coming up? Is there a certain trend that is completely lost on you?
If you have a question you want to see answered in this column, just send it on over via email to askcf @ collegefashion.net and one day you might see your question answered right here on the site!
Please note: We get A LOT of email and unfortunately we will not be able to respond to every single question. However, we will read through each question and then decide which ones will be most helpful to the most readers. Thank you for your understanding.
What do you think?
What's your method for finding cute theme party outfits? Would you wear any of these looks? Do you like the outfits I picked out? Let us know in the comments!