This post may contain affiliate links, which means we may receive a commission if you purchase through our links. Please
read our full disclosure here
.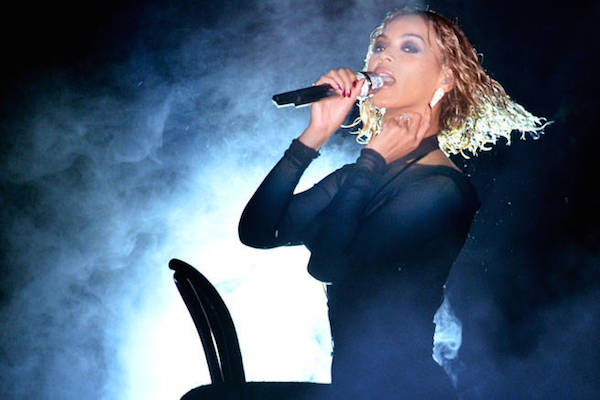 Photo: ELLE
Welcome to the latest edition of Ask CF! Every two weeks, we select a reader fashion question and answer it here on the site. Do you have a specific fashion question for us? Scroll to the bottom of this post to learn how to send it our way!
Ask CF
Hello!

I have been following CF for years! I absolutely love this website. Well, my problem is that I am attending a Beyoncé concert in June and I have no idea what I should wear. This is my first time attending a concert, and it is being held at a ballpark in Ohio. Ohio has crazy weather. I'm never prepared for it.

Can you please save me from embarrassment by giving me some tips or suggestions? I'd really appreciate it!

Thank you!
Our Response
Seeing your favorite musician in concert is such a fun summertime activity, and given most artists' elaborate performance styles, I think it's a shame if you also don't go all out with your outfit! Even though you might not be center stage, pick something that makes you feel like you're in the spotlight.
Beyoncé and Jay Z's "On The Run" tour is going to be wildly popular this summer, and fans everywhere are psyched to be graced by the presence of the Queen B herself. Of course, if you're going to be in the same vicinity as Beyoncé (excuse me while I fan girl from my computer!), you should be dressed to kill.
Below, I've assembled three outfits that radiate sass and fun, and will hopefully give you some ideas on what to wear to the concert. Even if you're not attending a Beyoncé concert this summer, these ensembles can serve as inspiration for a number of other events and activities. Enjoy!
Outfit #1: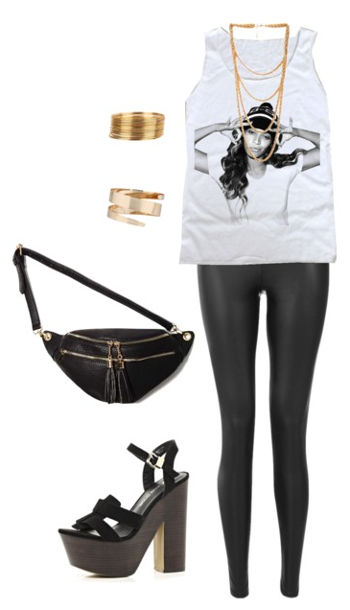 Product Information: Leggings, Shirt,Necklace, Shoes,Arm Cuff, Gold Bangles, Fanny Pack
If I ever have the chance to see Beyoncé in concert, this is the outfit I would wear. The graphic tank is the focus, and the rest of the look channels the attitude of the Beyoncé image on the top – fierce and fun! Liquid leggings look super-sharp and on-trend, while the arm cuff adds some edge.
These platforms are extra fashionable, but combat boots or wedge sneakers are also fab choices if you feel a bit apprehensive about standing in heels all night. Stash your belongings in a hands-free studded fanny pack, then complete the look with a long gold chain necklace and sleek gold bangles.
Outfit #2: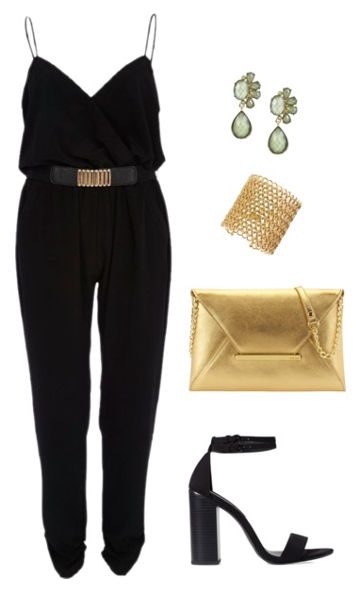 Product Information: Jumpsuit, Earrings, Purse, Cuff Bracelet, Shoes
This look is sophisticated and glamorous, and we think Beyoncé would approve of the black-and-gold theme. The jumpsuit definitely speaks for itself, so keep the rest of the ensemble sleek with ankle strap heels and a gold handbag. The teardrop earrings add a pop of color, while the cuff picks up on the color of the purse.
Again, if you're not feeling the heels, a pair of ankle strap sandals are a comfy option that's still on-trend. If closed toe options make you more comfortable, black pointed-toe flats would also look chic. Remember, it's all about making each outfit work you!
Outfit #3: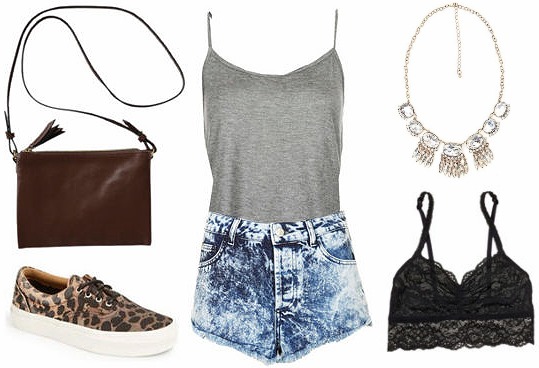 Product Information: Shorts, Tank, Bralette,Shoes, Necklace, Purse
Depending on whether or not the venue is outdoors, a shorts-and-tank option might be most comfortable in the summer heat. This outfit is the most casual of the three, but the acid wash shorts and statement necklace still give it some edge. Not only do these cheetah print sneakers add a hint of sass, but they are much more manageable to jump around in. Don't forget to grab a cross-body bag!
Do you have a pressing fashion question? Ask away!
Is there a piece in your closet that you never know how to style? Do you have an important event coming up? Is there a certain trend that is completely lost on you?
If you have a question you want to see answered in this column, just send it on over via email to askcf @ collegefashion.net and one day you might see your question answered right here on the site!
Please note: We get A LOT of email and unfortunately we will not be able to respond to every single question. However, we will read through each question and then decide which ones will be most helpful to the most readers. Thank you for your understanding.
What do you think?
Will you be attending any fun concerts this summer? Would you wear any of these outfits? Do you like the outfits I picked out? Let us know in the comments!