This post may contain affiliate links, which means we may receive a commission if you purchase through our links. Please
read our full disclosure here
.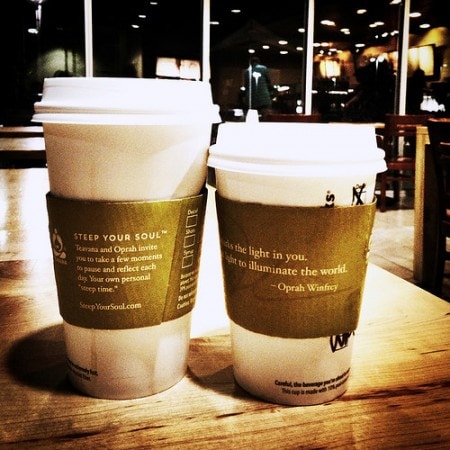 Welcome to the latest edition of Ask CF! Every two weeks, we select a reader fashion question and answer it here on the site. Do you have a specific fashion question for us? Scroll to the bottom of this post to learn how to send it our way!
Ask CF Question
Dear Ask CF,

I have a first date directly after I've been in class all day. What do I wear that is causal enough for all day classes, but cute enough for a date?
Our Response
With the new year approaching, there will be plenty of new opportunities to break some hearts. Unfortunately, our schedules don't always allow us to have a chick flick movie montage of preparation for date night… Sometimes, we have to go straight from class to meet Prince Charming.
Luckily, it's pretty easy to carry a few key transition pieces with us that can help transform any outfit into a chic ensemble to impress anyone. It's also pretty neat how much makeup can change the severity of an outfit. For instance, carry some darker eyeshadow in your purse or your favorite bold red lipstick and you'll instantly be taken from day to night.
Below, I've created three outfits that would transition easily from class to date night in the new semester. Of course, these are just templates to provide inspiration – what you wear will all depend on where you're going and what your specific circumstances are. Enjoy!
Outfit #1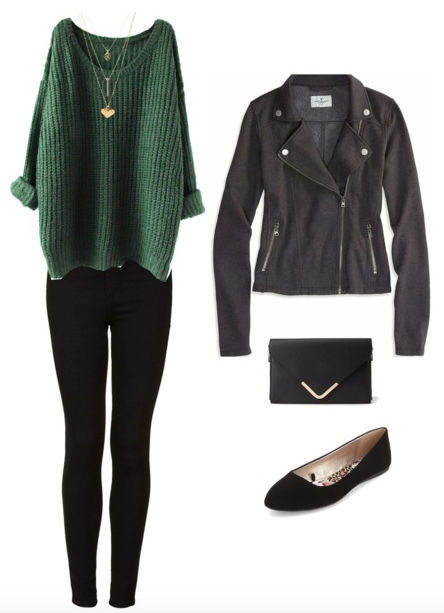 Product Information: Jeans, Flats, Sweater, Necklace, Jacket, Clutch
This first outfit relies on sleek dark wash jeans, a casual yet flirty top, and staple black flats. Minus the clutch and edgier jacket, this outfit is perfect for a crowded lecture hall on any day. Adding the right jacket and purse (both of which are easily transported in your car or backpack) instantly makes this outfit date night chic.
Outfit #2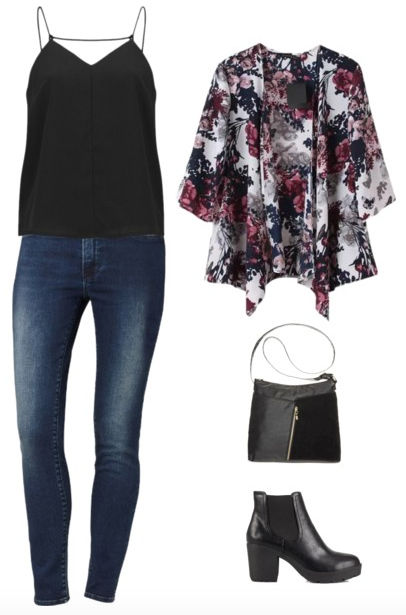 Product Information: Jeans, Kimono, Tank, Crossbody, Boots
Again, jeans and a casual tank top are perfect for a classroom setting: not too dressy and not too terribly college casual. Pair those pieces with a cute and on-trend kimono jacket and super-chic chunky boots for an outfit that works for a date to the movies or an art museum exhibit.
Outfit #3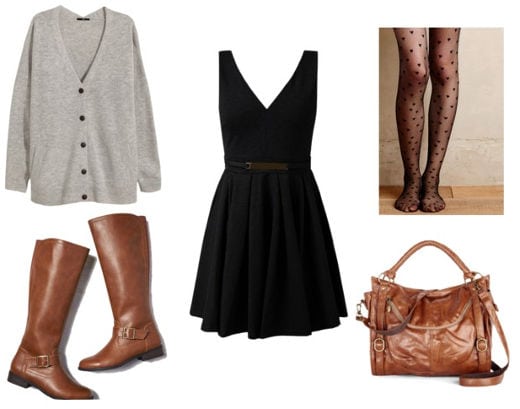 Product Information: Dress, Sweater, Boots, Tights, Bag
Lastly, simple dresses can easily be worn during the day and not look too over-the-top. Chic looking faux-leather accessories create a polished ensemble, while the sweet tights and conservative cardigan make this a stylish option for a casual dinner or even meeting parents.
Do you have a pressing fashion question? Ask away!
Is there a piece in your closet that you never know how to style? Do you have an important event coming up? Is there a certain trend that is completely lost on you?
If you have a question you want to see answered in this column, just send it on over via email to askcf @ collegefashion.net and one day you might see your question answered right here on the site!
Please note: We get A LOT of email and unfortunately we will not be able to respond to every single question. However, we will read through each question and then decide which ones will be most helpful to the most readers. Thank you for your understanding.
What do you think?
How would you dress for a date right after class? Do these options work with your style? Would you wear any of these looks? Do you like the outfits I picked out? Let us know in the comments!