This post may contain affiliate links, which means we may receive a commission if you purchase through our links. Please
read our full disclosure here
.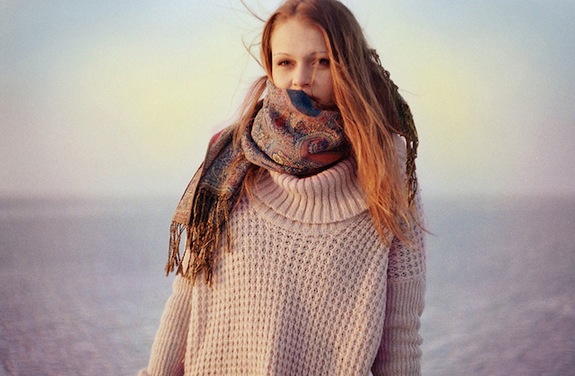 Welcome to the latest edition of Ask CF! Every two weeks, we select a reader fashion question and answer it here on the site. Do you have a specific fashion question for us? Scroll to the bottom of this post to learn how to send it our way!
Ask CF Question
Dear CF,

In three weeks' time I'm flying out to Great Lakes, IL (which, by that time, might be super cold) to attend my boyfriend's graduation from Navy bootcamp. I was wondering if you could help me out by posting some outfits that I can wear while visiting him. All the other posts I've seen on the Internet on what to wear aren't really helping. So maybe you can help me out on this dilemma? Thank you so much!

Always a fan,
Chillin' with my BF
Our Response
Dear Chillin',
Dressing in cold weather is hard enough. Packing for cold weather is even harder. And when your travel destination plans involve many different occasions, you can feel incredibly overwhelmed just thinking about it!
When packing for this trip, think about the different events you will need to attend. Obviously you will need a formal look to wear for the graduation, but you want to make sure you have clothing ready for any and all scenarios. And what's great about your question is that even though most people won't need outfits specifically for a Navy graduation ceremony in Illinois, it does allow me to create some cold weather outfits that can be worn for all of our daily lives.
Because suitcases limit our wardrobes while traveling, I decided to use some of the same pieces in each look (and you could even tailor your suitcase more by only bringing one pair of booties opposed to the two types I used below). Overall, when packing for a trip, make sure to choose pieces that all go together. Also, wear your largest pieces on the plane so they don't take up valuable suitcase space. With these tips and the outfit ideas below, I hope you find this post helpful. I wish you a great trip and safe travels!
Sincerely,
Jessica
Outfit #1: Graduation Ceremony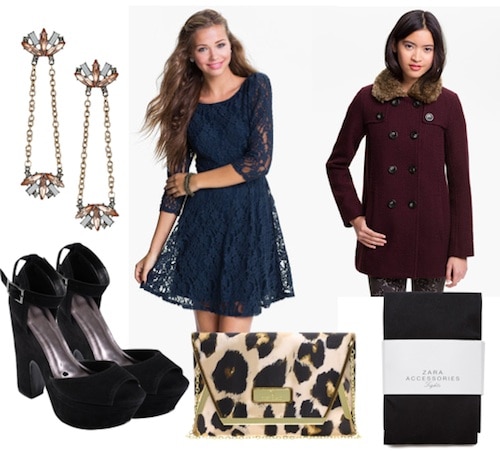 Product Information: Earrings, Dress, Coat, Tights, Bag, Heels
You will need something appropriate to wear to the graduation ceremony, but also something that will keep you warm. And for those of you not attending a graduation, this look also works well for any other formal events you might have scheduled like a party or formal dinner.
For this look, I chose this pretty lace dress – it's completely perfect for a dressy winter occasion. Next, add on some sparkly drop earrings, a pair of opaque black tights, and heels — and yes: you can wear tights with open-toed shoes. (We promise!) To keep warm, I chose a burgundy peacoat that is versatile enough to take you throughout your trip. Finish the look with a leopard clutch.
Outfit #2: Hanging Out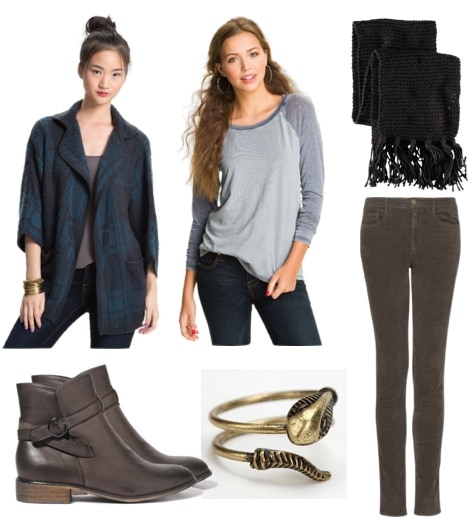 Product Information: Cardigan, Pullover, Scarf, Pants, Ring, Boots
For the more casual times you will spend during your getaway (or even for the plane ride there!), you will need something comfy and warm. A pair of corduroy pants paired with a baseball sweatshirt provide a nice foundation to wear under an oversized print cardigan. Finish the look with simple accessories like a black knit scarf, ankle boots, and a serpent ring.
Outfit #3: Date Night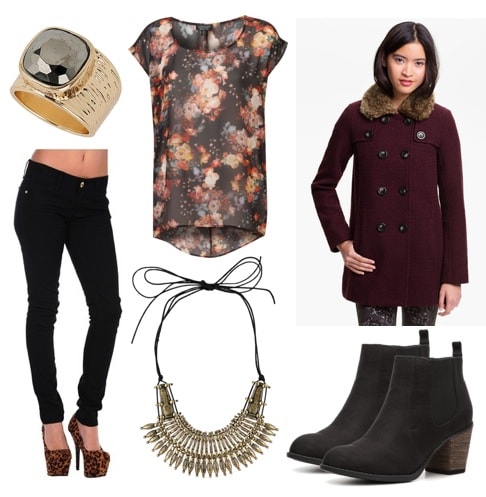 Product Information: Ring, Shirt, Coat, Boots, Necklace, Pants
For date night with your guy, opt for something casual but still a little sexy with a pair of leg-hugging black skinny jeans and a floral print top. Add on a statement necklace for a little pizzaz. As I mentioned previously, you won't have space to pack many different coats (and realistically, one seasonal coat is most cost-efficient, anyway) so I designed this look with that in mind. And if it is still too cold, a leather jacket or black sweater can be layered underneath. Finish the look with some ankle booties (this time with a little heel, but if you are tight on space, the ones used in outfit #2 would work just as well, too!).
Outfit #4: Dinner with the Parents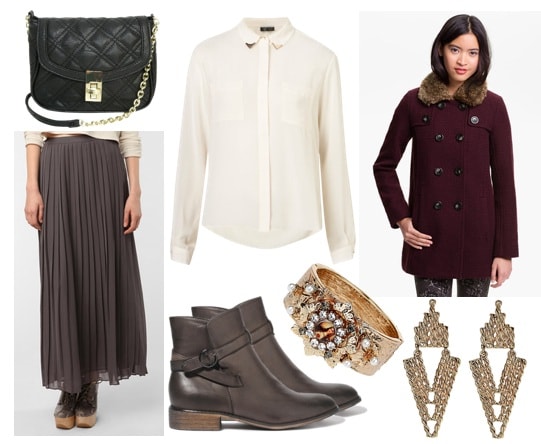 Product Information: Bag, Shirt, Coat, Earrings, Bracelet, Boots, Skirt
For a dinner with his parents, you'll probably want to dress modestly, but that doesn't mean you need to sacrifice your style. For this look, tuck a button-up shirt into a gray maxi skirt. And don't forget to wear some tights, leggings, or both underneath to keep your legs nice and toasty. Add some sparkle to the look with jewelry like gold earrings and an ornate bracelet. Finally, finish the look with the same boots from look #2, the same burgundy coat, and a small bag.
Do you have a fashion question? Send it our way!
Is there something in your closet that you can't seem to figure out how to wear? Do you have an event coming up and need an outfit idea? Do you have a specific fashion conundrum you need help with?
If you have a question you want to see answered in this column, just send it on over via email to @ collegefashion.net and one day you might see your question answered right here on the site!
Please note: We get A LOT of email and unfortunately we will not be able to respond to every single question. However, we will read through each question and then decide which ones will be most helpful to the most readers. Thank you for your understanding.
What do you think?
Have you ever had a similar dilemma? What different occasions do you find it difficult to dress for when it's cold outside? Do you have other tips for keeping warm? Do you like the outfits? Which one is your favorite? Please leave a comment below and let us know what you think!