This post may contain affiliate links, which means we may receive a commission if you purchase through our links. Please
read our full disclosure here
.
Welcome to the latest edition of Ask CF! Every two weeks, we select a reader fashion question and answer it here on the site. Do you have a specific fashion question for us? Scroll to the bottom of this post to learn how to send it our way!
Ask CF
Hey,

So I'm a huge huge fan of CF, and read it basically every day for inspiration for different events. Coming up in April, I have accepted student orientation for college, and I'm totally lost as far as what to wear. Being in South Carolina, the air should definitely be in the 70's by then. Do I wear shorts and a flowy top? A dress? Heels? I'm totally lost. What was your accepted student orientation like?

Thanks so much!
Our Response
Now that spring has rolled around, prospective students are on tours and admitted students are being welcomed on almost every college campus. My orientation was mostly just a blur of new faces and random get-to-know-you activities, but I left feeling so excited that I wanted to skip straight past summer and start classes the next day.
This question is right up my alley because I go to school in South Carolina, too! Get ready for some moody weather – some days the mornings are frigid, but it will get up to beach temperatures by the afternoon.
Here are some general guidelines for your accepted student orientation: bring a sweater (it might be warm outside, but the air conditioner is usually cranking indoors), dress comfortably, and be confident. Also, get ready to be bombarded with information!
Below, I've assembled three outfits that will hopefully provide you with some inspiration on what to wear to college orientation. Enjoy!
Outfit #1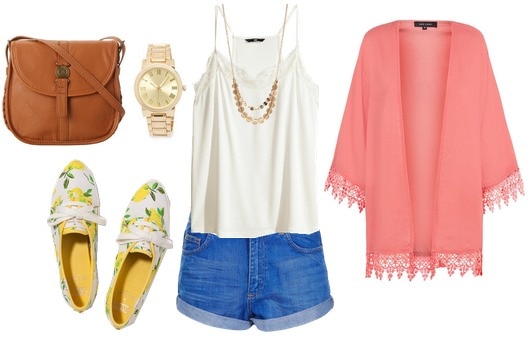 Product Information: Watch, Shorts, Kimono, Tank Top, Necklace, Bag, Shoes
It's spring, so you might as well incorporate bright colors into your outfit! The energetic pink kimono and bright yellow sneakers will keep you in a positive mood all day, while the sleeveless top and shorts will keep you cool. Accessorize with a practical gold wristwatch and a cute layered necklace.
At orientation, the type of bag you carry will vary depending on the activities for the day. For example, this small cross-body bag is perfect if you'll be spending the afternoon doing icebreakers, but you may want to carry a bigger tote if you think you'll gather a bunch of papers.
Outfit #2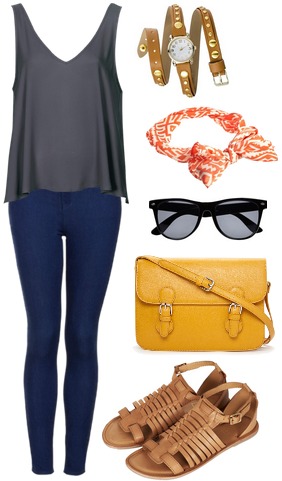 Product Information: Jeans, Top, Headband, Purse, Shoes, Sunglasses, Watch
In the south, there's always the possibility that the weather won't be anything like what you were expecting, so I threw in this outfit in case the forecast predicts some cooler temps. Jeans and a loose tank top will be comfortable enough to move around in all day, while the funky headscarf adds a pop of color and attitude to your look.
As you can tell, I'm loving yellow accents right now, and this cute bag is the perfect mix of fashion and function. Add a bit of refinement to the outfit with a watch, slip on a pair of sunnies, and you're good to go.
Outfit #3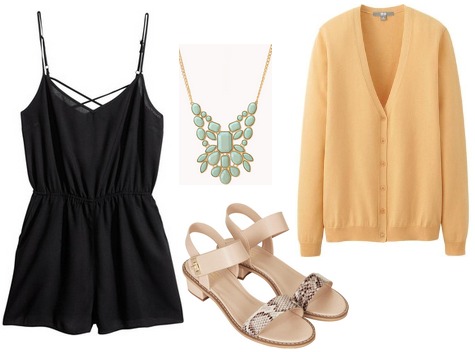 Product Information: Romper, Sweater, Necklace, Shoes
Dresses and heels were mentioned in the reader email, and from my experience, I'd stay away from high heels when trekking around campus. I'd shy away from dresses, too – if it's really windy the day you visit, it would a bit of a hassle to constantly try and prevent your very own Marilyn Monroe moment.
That being said, whoever invented rompers was listening to these grievances and delivered a perfect solution! Rompers are a great way to look feminine and classy without worrying about your skirt flying up. Add a cardigan if you don't want to show too much skin, then grab a pair of sandals that offer a subtle (yet comfy) boost of height. A statement necklace finishes off this ensemble.
Do you have a pressing fashion question? Ask away!
Is there a piece in your closet that you never know how to style? Do you have an important event coming up? Is there a certain trend that is completely lost on you?
If you have a question you want to see answered in this column, just send it on over via email to askcf @ collegefashion.net and one day you might see your question answered right here on the site!
Please note: We get A LOT of email and unfortunately we will not be able to respond to every single question. However, we will read through each question and then decide which ones will be most helpful to the most readers. Thank you for your understanding.
What do you think?
Will you be attending orientation this year? Would you wear any of these outfits? Do you like the outfits I picked out? Do you have any other advice to add? Let us know in the comments!