This post may contain affiliate links, which means we may receive a commission if you purchase through our links. Please
read our full disclosure here
.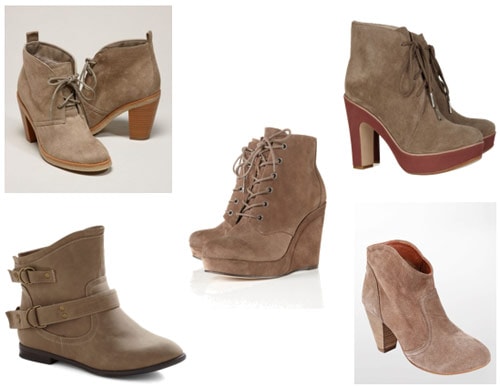 Product Info (Top-Bottom, L-R): Aeo Desert Boot, Kors Michael Kors Divina, Andre Wedge Boot, Knack for Khaki Boot, Steven by Steve Madden Pembroke
Welcome to the latest edition of Ask CF! Every two weeks, we select a reader fashion question and answer it here on the site. Do you have a specific fashion question for us? Scroll to the bottom of this post to learn how to send it our way!
Ask CF Question
Dear CF,

I've recently seen a lot of people wearing tan suede desert booties EVERYWHERE and I definitely want to get into that trend, but I'm not sure what to wear with them. If you had any ideas that would help a lot! Thanks!

Sincerely,

In Need of Inspiration
Our Response
Dear Inspiration,
Suede desert boots have become a huge trend over the past few seasons, thanks to their versatility and range of styles: they come in flat, wedge, and heeled options of various heights making them work with just about any wardrobe.
Below, I've created three sample outfits to show you how to wear them. In these particular outfits, I chose to use a heeled pair, but other varieties (including different fabrics, colors, and heel heights) would work just as well for any of these looks. I hope you find these outfits inspirational and I hope you have fun trying out your own outfit combinations!
Sincerely,
Jessica
Outfit #1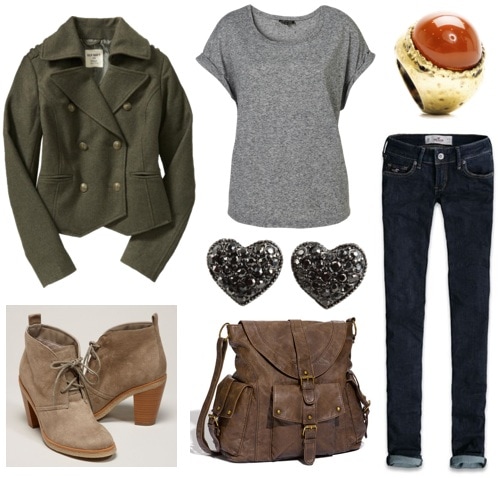 Product Information: Jacket, Shirt, Ring, Jeans, Bag, Earrings, Boots
The basis of this outfit is an all-American pairing of jeans and a t-shirt, but a careful use of accessories will take this rather simple outfit to the next level. Jackets are one of my favorite ways to spice up an outfit and I love this structured, military-green one. A cool statement cocktail ring will add a bright pop of color, while some pretty heart studs add a simple shine to the look. This brown bag is a practical addition, and of course, we have these awesome suede booties that are the topic of our post.
Outfit #2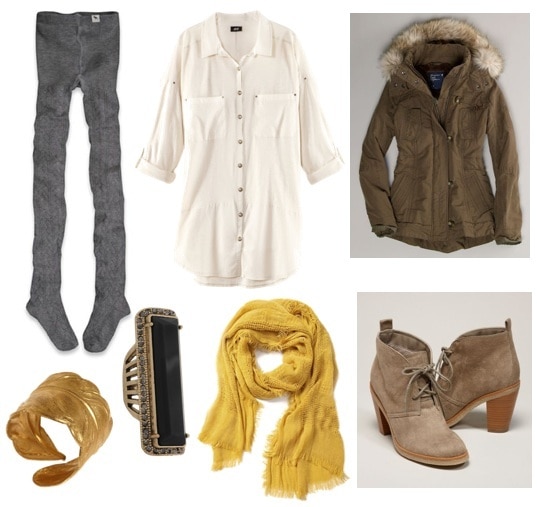 Product Information: Tights, Tunic, Jacket, Boots, Scarf, Black Ring, Leaf Ring
Another cool way to wear these boots is to wear them with a long tunic button-up and some cable-knit leggings. A simple brown parka is a classic piece to add to your wardrobe and it would look great with this outfit. A mustard-colored neck scarf and some fun rings pull together the finished look.
Outfit #3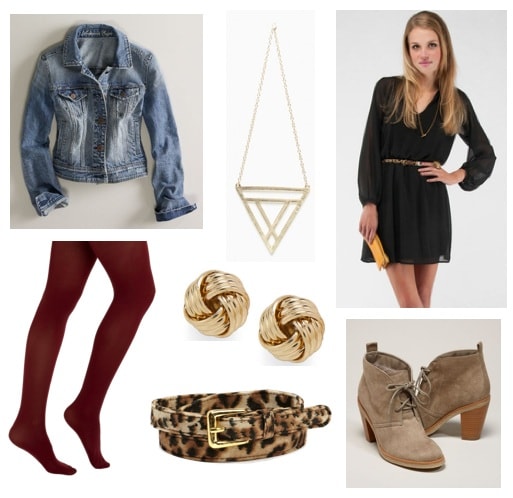 Product Information: Jacket, Necklace, Dress, Boots, Belt, Earrings, Tights
This outfit proves that these boots can also easily be worn with a dress. This black long-sleeved version is great because a simple switch in accessories allows it to be dressed up or down. For this particular outfit, I chose to dress it down with a denim jacket. I have been loving the look of colored tights recently so I thought these maroon ones would be a fun way to rock the trend. A leopard print belt, geometric necklace, and simple gold studs complete the outfit.
Do you have a fashion question? Send it our way!
Is there something in your closet that you can't seem to figure out how to wear? Do you have an event coming up and need an outfit idea? Do you have a specific fashion conundrum you need help with?
If you have a question you want to see answered in this column, just send it on over via email to askcf @ collegefashion.net and one day you might see your question answered right here on the site!
Please note: We get A LOT of email and unfortunately cannot respond to every single question. However, we will read through every question and then decide which ones will be most helpful to the most readers. Thank you for your understanding.
What do you think?
What do you think about the desert bootie trend? Do you own a pair? Have you been wanting to get some? What would you wear them with? Did you like the outfits I came up with? Which one is your favorite? Please leave a comment below to let us know what you think!