This post may contain affiliate links, which means we may receive a commission if you purchase through our links. Please
read our full disclosure here
.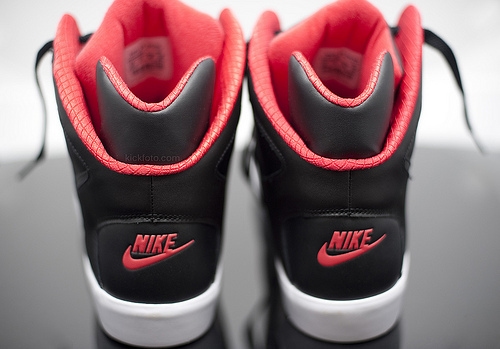 Welcome to the latest edition of Ask CF! Every few weeks, we select a reader fashion question and answer it here on the site. Do you have a specific fashion question for us? Scroll to the bottom of this post to learn how to send it our way!
Ask CF Question
Dear CF,

Last Christmas, I received a pair of sneakers as gift. They are green Vans look-alikes (think highlighter green and you'll be very close). Anyway, I decided to consider them a fashion challenge, but I'm getting stuck. How do you make an extremely loud pair of sneakers work with a cute outfit?

Sincerely,

Inspirationless
Our Response
Dear Inspirationless,
Luckily for you (and all of our feet!) bright, bold sneakers have been making a huge resurgence in the fashion world lately thanks to their popularity among off-duty models and street-style enthusiasts. Thanks to their recent popularity, there are tons of examples of how to style these shoes on the net right now.
In order to make this post adaptable to many different types of sneakers, I've created three different looks with three different types of sneakers. The first is inspired by your particular pair while the other two incorporate trainers and high-top kicks. Even though each of these looks features different sneaker styles, I tried to create looks that could work equally well with your pair – just switch up the color palette as needed.
I hope this inspires you to wear those fab shoes with confidence. Let us know how it goes!
Sincerely,
Jessica
Outfit #1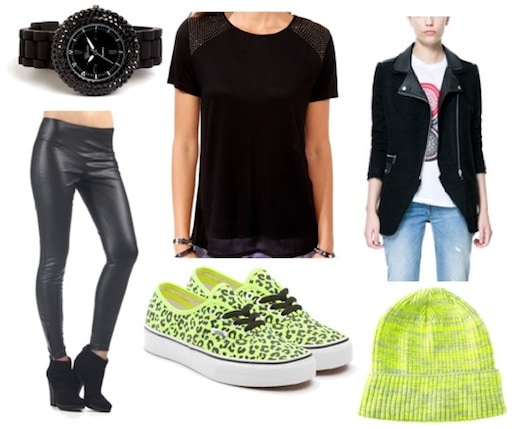 Product Information: Watch, Tee, Jacket, Beanie, Shoes, Leggings
One of the most popular – and easy – ways to work bright sneakers is to pair them with a monochrome look. For this look, I chose an all-black palette using a pair of faux leather leggings, an oversized black tee, and an oversized jacket. Finish the look with a neon beanie that matches the color found at your feet.
Outfit #2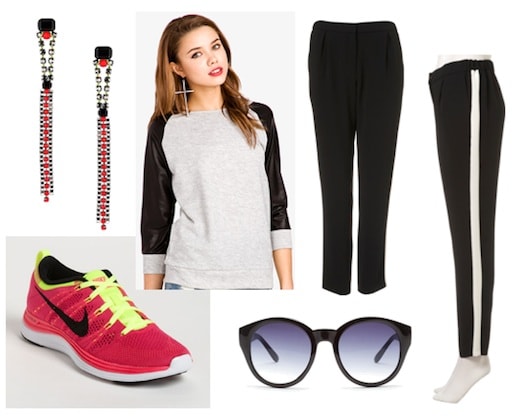 Product Information:Earrings, Sweatshirt, Pants, Sunglasses, Shoes
This look incorporates a pair of neon trainers. These types of shoes are very on-trend and are great for a busy day running around. I continued the athletic wear look with a pair of striped jogging pants. Next, I added on a pullover sweatshirt with trendy faux leather sleeves. Add a touch of glam with some bright drop earrings (remove 'em if you do hit the gym) and finish with oversized sunnies.
Outfit #3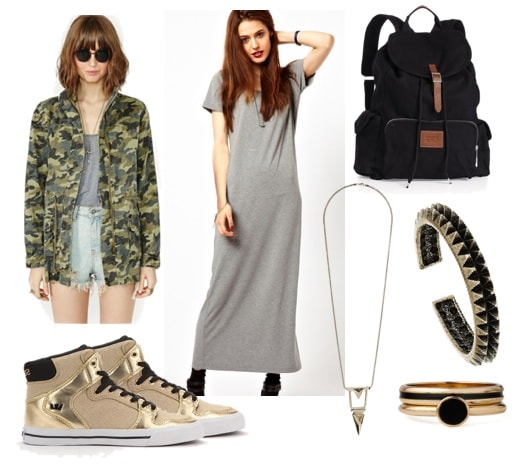 Product Information: Jacket, Dress, Backpack, Bracelet, Rings, Necklace, Shoes
For this last look, I chose to use a pair of high-top kicks and I thought this gold pair was the perfect pick. Although it might seem contradictory, a pair of sneakers can work with items like dresses and skirts; in this example, a tee-shirt-style maxi dress acts as a nice, neutral base to the look. But don't think that means you can't substitute other, more feminine styles of dresses and skirts – this look is totally open to interpretation. Next, add on a camo topper. Finish the look with gold accessories and a stylish backpack.
Do you have a fashion question? Send it our way!
Is there something in your closet that you can't seem to figure out how to wear? Do you have an event coming up and need an outfit idea? Do you have a specific fashion conundrum you need help with?
If you have a question you want to see answered in this column, just send it on over via email to askcf @ collegefashion.net and one day you might see your question answered right here on the site!
Please note: We get A LOT of email and unfortunately we will not be able to respond to every single question. However, we will read through each question and then decide which ones will be most helpful to the most readers. Thank you for your understanding.
What do you think?
Do you have a pair of crazy sneakers? What do you think of this trend? How would you wear this trend? Do you like these looks? Which one is your favorite? Please let us know what you think by leaving a comment below!