This post may contain affiliate links, which means we may receive a commission if you purchase through our links. Please
read our full disclosure here
.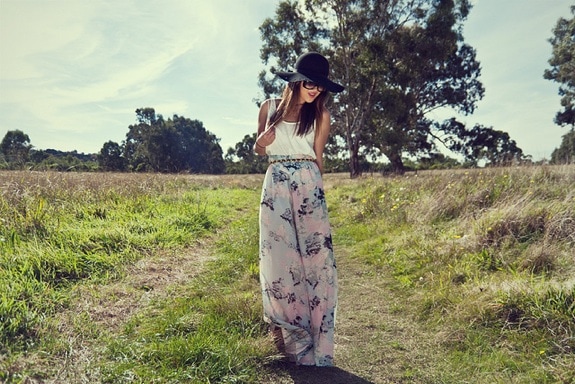 Welcome to the latest edition of Ask CF! Every couple of weeks, we select a reader fashion question and answer it here on the site. Do you have a specific fashion question for us? Scroll to the bottom of this post to learn how to send it our way!
Ask CF Question
Dear CF,

Because of certain health reasons, I've been told to stay out of the sun as much as possible. However, summertime/springtime certainly gets extremely warm where I live and I've pretty much run out of options for things to wear! Normally I would just wear long sleeved shirts with maybe jeans/pants except I can't do this in the hotter seasons! I also feel pretty uncomfortable wearing a hat all the time. Are there any tips you can give me to stay cool in summer or how to accessorize with hats?

Sincerely,

Stuck in the Shade
Our Response
Dear Stuck in the Shade,
Thank you for your question! I think this is a great topic to cover since many others might have a similar dilemma due to health or religious reasons, or just because of a desire to stay covered up and modest even when it's hot out.
The most important factors to consider when dressing for hot weather are fabrics and fit. Probably the easiest and most obvious advice is to choose light colors, which don't absorb heat. Second, choose light and breathable fabrics (cotton, silk, and chiffon — or a blend of two — are some examples). And lastly choose clothes that don't hug your body: the less skin-to-clothes contact there is, the better.
I have created a few outfits below using these tips for inspiration. I have included a hat in all but one of the outfits. If you aren't comfortable with wearing hats, you can definitely omit it, but I thought it might be nice to give you that option in case you'd like to try it out. I hope you find these ideas helpful. Enjoy the rest of your (cool and covered) summer!
Sincerely,
Jessica
Outfit # 1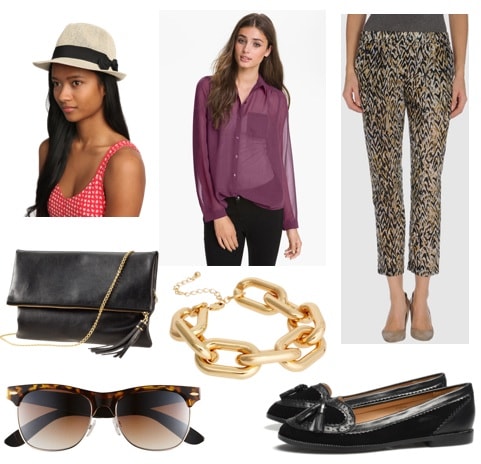 Product Information: Hat, Shirt, Pants, Shoes, Bracelet, Sunglasses, Bag
Recently, silky, slouchy pants have been all the rage. With hot weather upon us, loose pants like these can be a much better choice than thick and constraining jeans. Pair the pants with a light blouse like the one above. (Don't forget an undershirt – this blouse is sheer!) Next come the accessories. This adorable bow-embellished fedora is classic and stylish, and will keep your face protected from the sun. A black cross-body bag and penny loafers add on the perfect classic touches to the look. Finally, finish the look with some sunglasses and gold chain bracelet.
Outfit # 2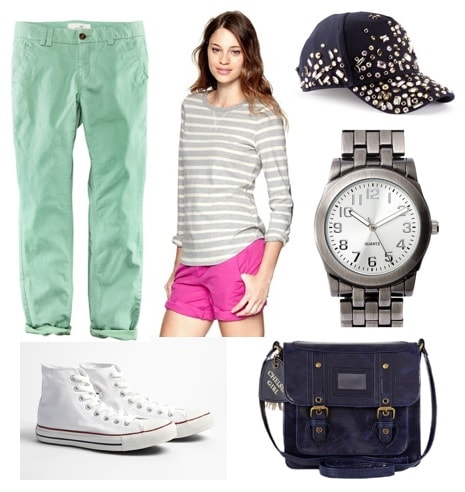 Product Information: Pants, Sweater, Hat, Watch, Bag, Sneakers
For a laid-back day of running errands, try an outfit like this. Chino pants are a great choice to cover up your legs since they are loose fitting and made out of cotton, a natural material that breathes (read: keeps you cool). Pair them with a thin, loose fitting, breathable sweater in light, cool colors like grey and white. Baseball hats are an American classic and perfect for a day running around. This one from H&M gives this classic an update by adding on rhinestones. (Also, this would be an easy DIY!) Complete the look with a silver boyfriend watch, a simple cross-body bag, and a timeless pair of high-top Chucks.
Outfit # 3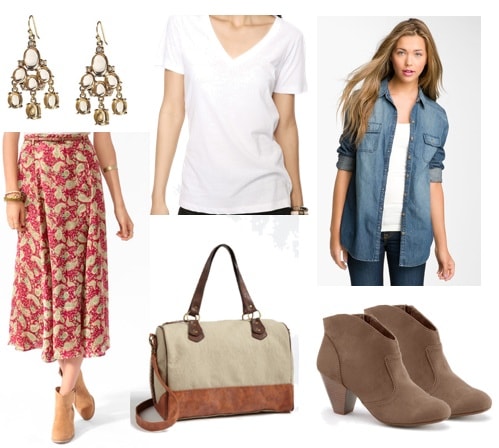 Product Information: Earrings, T-Shirt, Denim Shirt, Booties, Bag, Skirt
One of my favorite ways to keep cool during the summer is to wear the maxi-skirt/dress trend. These pieces keep you cool since your legs aren't completely surrounded by fabric like they would be in a pair of pants. For this particular look, tuck a simple white tee into a belted maxi skirt. Next, add on a light chambray top to keep your arms covered. Complete the look with some sparkly earrings, and a neutral bag and booties.
Outfit # 4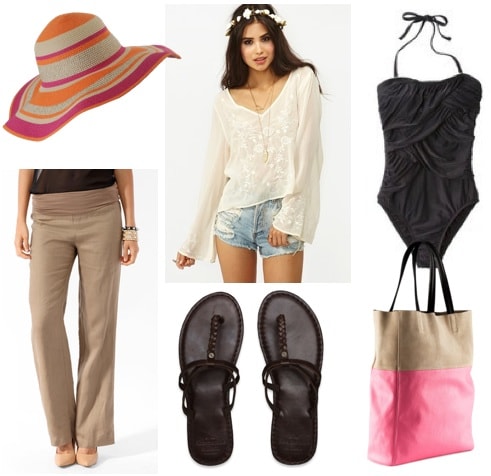 Product Information: Hat, Top, Swimsuit, Bag, Sandals, Pants
Whether your friends are planning a day at the beach or you and your girls are just hanging by the pool, a day of swimming is inevitable in the summertime. But just because you need to stay covered doesn't mean you can't join in on the fun. For this look, I chose a pair of wide-leg linen pants and a loose top – both in light colors – to wear over a timeless black one-piece bathing suit. To shade you from the sun's harsh rays, add on a bright, floppy hat. Throw on some simple flip flops and grab an all-purpose beach bag for a functional finish to the look. Oh, and don't forget to pack your beach umbrella!
Do you have a fashion question? Send it our way!
Is there something in your closet that you can't seem to figure out how to wear? Do you have an event coming up and need an outfit idea? Do you have a specific fashion conundrum you need help with?
If you have a question you want to see answered in this column, just send it on over via email to askcf @ collegefashion.net and one day you might see your question answered right here on the site!
Please note: We get A LOT of email and unfortunately cannot respond to every single question. However, we will read through every question and then decide which ones will be most helpful to the most readers. Thank you for your understanding.
What do you think?
Do you have a similar dilemma? Did you find the advice helpful? Which outfit is your favorite? How do you feel about hats? What are some of your tips and tricks for covering up in the heat of summer? Please let us know what you think by leaving a comment below!