This post may contain affiliate links, which means we may receive a commission if you purchase through our links. Please
read our full disclosure here
.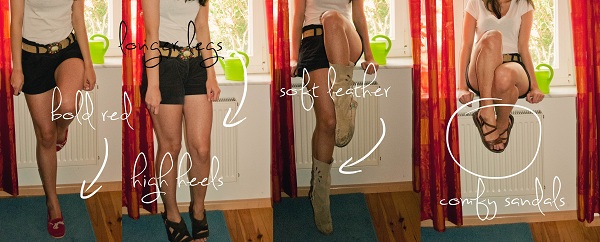 Ask CF Question
Dear CF,

I'm plus sized and it is really hard for me to find cute summer clothes that keep me cool and still help me maintain my confidence. Any ideas?

Sincerely,
Overheated
Our Response
Dear Overheated,
I am glad you asked this question. In a world where we are bombarded with the image of a super-skinny, supposedly "ideal" body type, it is easy lose sight of the beautiful body you were born with. And naturally, it is easy to start believing that the best way to hide your insecurities about your body is to cover yourself up. But let's be honest: In summer, it's hot! And your well-being should never be sacrificed because of any insecurities.
To help with your confidence, I recommend looking at confident, curvy girls as role models. One of my favorite artists, Adele, is a great example of a body-positive woman. As a plus-sized musician, she gets asked about body image all the time. In one response, she said, "I don't want to be on the cover of Playboy or Vogue. I want to be on the cover of Rolling Stone or Q… I'd rather weigh a ton and make an amazing album than look like Nicole Richie and do a [bad] album. My aim in life is never to be skinny." It's obvious that Adele loves the body she was given, and she will not let anyone else's opinions change that.
Another inspirational, confident, and curvy girl I came across while researching for this post was Weesha, a self-claimed "plus size girl who loves fashion." While skimming through her blog, Weesha's World, I noticed that this girl radiates confidence. She doesn't care if plus sized girls aren't "supposed" to wear tapered pants or ruffles. She likes them, and if no one else does, too bad. Woman like Adele and Weesha are good reminders for anybody, plus size or not, that if you have confidence, you will look and feel great in everything you wear.
To help you get a few ideas for some summer looks, I created a few outfits for various summer occasions. Notice that all of the outfits look like any other outfit we would normally post. (Although for this article, the items featured are plus size-specific.) Magazines always wax poetic about "tricks to dress the plus sized body" — cinch your waist, show off your neckline, don't wear tapered pants, ruffles add on pounds, never wear horizontal stripes, etc., etc. — but as we've stated here before, we don't believe you should have to dress to "minimize" any part of yourself.
At the end of the day, dressing a plus size body should not be any more challenging than dressing any other body type. (Availability of cute plus sized clothes, however, is another issue entirely – we hope the plus sized picks in this post help!) Wear what you love, wear what fits, exude confidence, and you will have nothing to fear!
Sincerely,
Jessica
Outfit #1: Hanging Out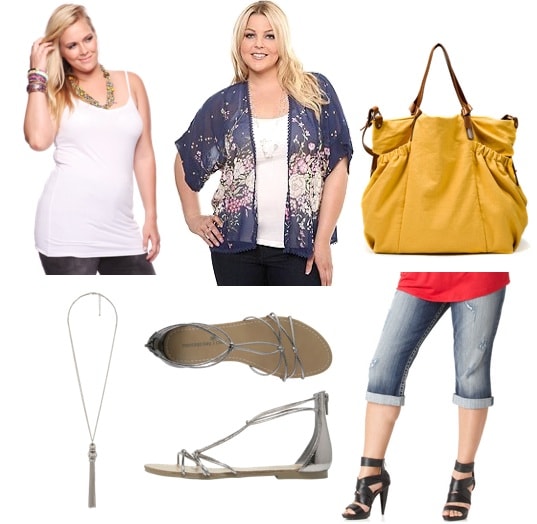 Product Information: Cami, Top, Bag, Pants, Sandals, Necklace
When hanging out during the day, you don't want to be too buttoned-up. Therefore, casual basics are key. This breezy kimono-inspired top, layered over a basic white cami, provides the perfect combination of ease and style. Simple jean capris are easy to wear and are a staple in any closet. A simple tassel necklace, silver sandals, and an unexpected yellow bag tie the whole outfit together.
Outfit #2: Dress Up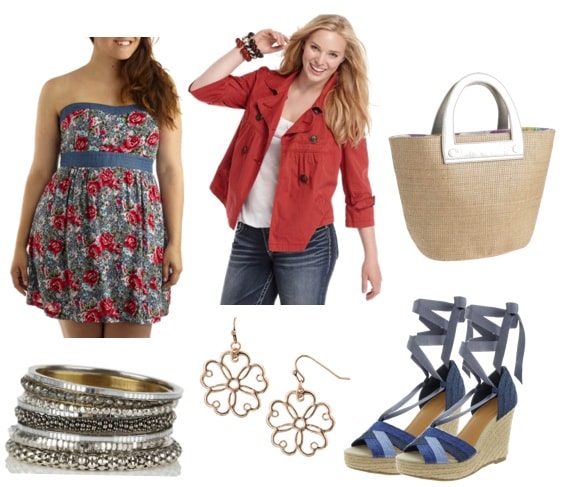 Product Information: Dress, Jacket, Bag, Shoes, Earrings, Bracelets
This look is a casual, dressed-up look for summer that can work for a backyard get together with friends, a dinner out, or date night. This floral printed dress is so cute and the built in denim detail below the bust adds a hint of this season's chambray trend. If summer nights tend to get chilly where you live, throw on this adorable jacket in this pretty rust color. Nothing says summer to me like a straw tote and espadrille wedges, and these two complement the dress and jacket well. Finally, add on some simple jewelry.
Outfit #3: Pool Day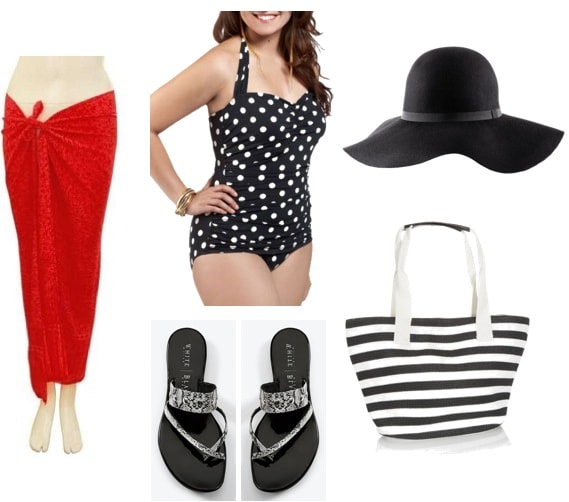 Product Information:Sarong, Bathing suit, Hat, Bag, Shoes
This outfit is all about the pin-up-inspired bathing suit. A sweetheart neckline paired with a halter neck is a foolproof combination to keep you supported and frame your face. In addition, the ruching on the bathing suit is a fun detail that brings this swimsuit beyond basic. If you want a cute cover up, throw on a bright red sarong. Snakeskin sandals, a wide-brimmed hat, and a funky tote complete the look.
Outfit #4: A Day at Work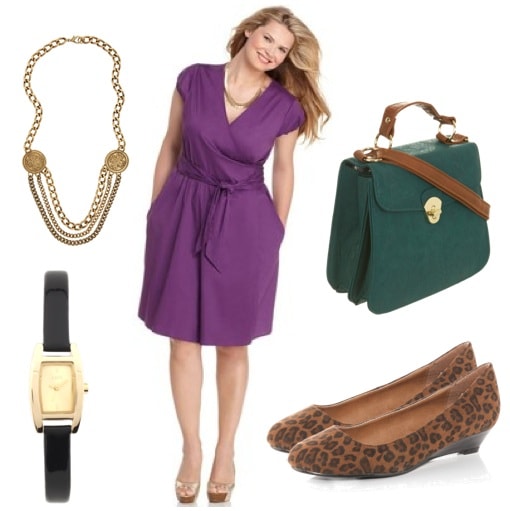 Product Information: Necklace, Dress, Bag, Shoes, Watch
Many college students take on summer jobs and internships so I thought it would be helpful to feature a work-appropriate outfit as well. Here we start off with this gorgeous purple dress with matching belt. Adding on a statement necklace is an easy way to accessorize any outfit and this gold one can do exactly that. Before heading off to work, slip into some leopard shoes, throw on a classic watch, and grab a structured bag and you'll be ready for a day at the office.
What do you think?
Do you like the Ask CF series? Can you relate to the person who wrote this question? Do you have any role models that help you feel confident about your body? Did you like the outfits that were featured? Which one was your favorite? Please let me know you thoughts by leaving a comment below!