This post may contain affiliate links, which means we may receive a commission if you purchase through our links. Please
read our full disclosure here
.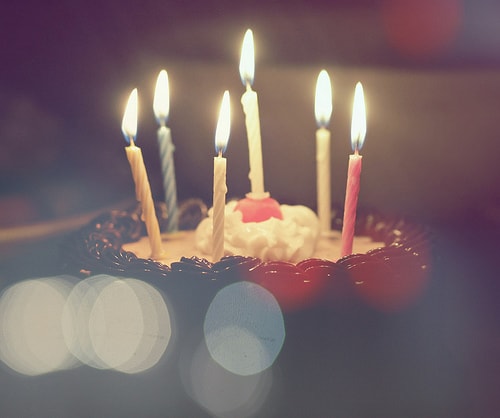 Welcome to the latest edition of Ask CF! Every two weeks, we select a reader fashion question and answer it here on the site. Do you have a specific fashion question for us? Scroll to the bottom of this post to learn how to send it our way!
Ask CF Question
Dear CF,

I'm a Christmas baby, having been born on December 22, and every year I face the same problem. I want to celebrate my birthday without thinking of the much bigger holiday that's just three days after mine, but it seems that stores are only jam packed with holiday wear. What are some great outfits for birthday festivities for us girls who seem to have their day overshadowed by all the holidays?

Sincerely,
Birthday Girl
Our Response
Dear Birthday Girl,
You are not alone in this problem – I have gotten quite a few emails from readers asking similar questions!
With all the festivities that surround the winter holiday season, December birthday girls can definitely get lost in the shuffle. But regardless of what everyone else is busy celebrating, it makes sense to want some of the spotlight on your day. My advice to you is to take advantage of all of the holiday fashions available during this time of year and find a way to make them less holiday-festive and more about you and what you love. Find some interesting standout pieces that no one else will have to really make your day special.
Here are a few outfits that I have created using these guidelines. I hope you find them inspirational. Oh, and happy birthday!
Sincerely,
Jessica
Outfit #1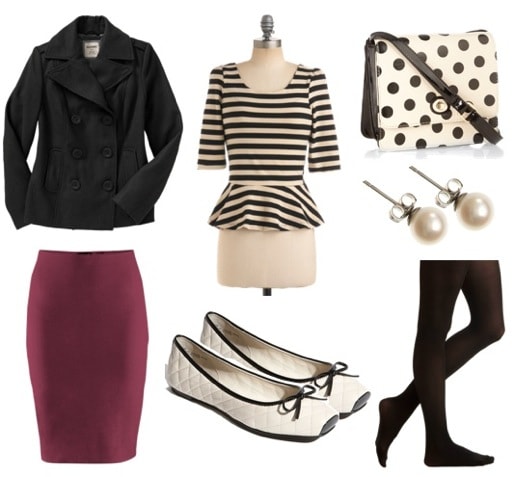 Product Information: Jacket, Top, Bag, Earrings, Tights, Shoes, Skirt
To stand out on your special day, try out a striped peplum shirt – the print and silhouette are bold but still classic. Pair the top with a burgundy pencil skirt, black tights, and an ever-classic black peacoat. To amp up the look even more, grab this polka-dot bag — the contrast created by pairing it with a striped top ensures that all eyes will be on you for all the right reasons. Finish the outfit with some quilted ballet flats and simple pearl studs.
Outfit #2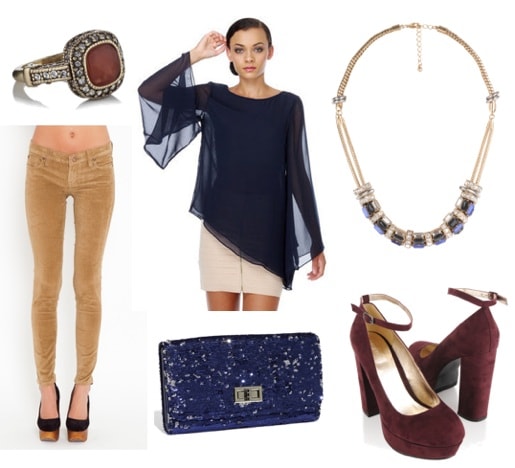 Product Information: Ring, Top, Necklace, Shoes, Clutch, Pants
I wanted to create an outfit option with pants, but I knew it needed something extra to make it different. When I found these camel-colored velvet ones, I knew they were perfect. Pair these pants with a diaphanous navy top complete with a dramatic hemline and full sleeves, and throw on a sparkly beaded necklace to add that something extra. Add another color with these wine-hued shoes and ring for a one-of-a-kind look. Lastly, with New Year's Eve around the corner, sequins and sparkles dominate the stores… so take advantage of this time of year by finishing with a sequined navy clutch.
Outfit #3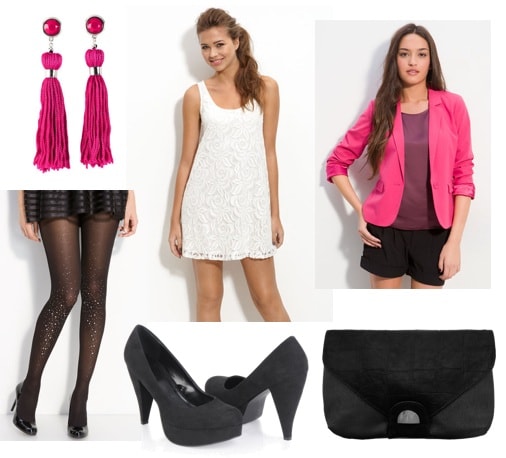 Product Information: Earrings, Dress, Jacket, Clutch, Shoes, Tights
Who says you can't wear white after Labor Day? In fact, I happen to be one girl who loves winter white. Between this white lace dress, hot pink blazer, and festive crystal tights, all eyes will be on you for your special day! Add on these fun tassel earrings for some extra pizzaz. Lastly, finish the look with a simple black pair of pumps and a clutch.
Do you have a fashion question? Send it our way!
Is there something in your closet that you can't seem to figure out how to wear? Do you have an event coming up and need an outfit idea? Do you have a specific fashion conundrum you need help with?
If you have a question you want to see answered in this column, just send it on over via email to askcf @ collegefashion.net and one day you might see your question answered right here on the site!
Please note: We get A LOT of email and unfortunately cannot respond to every single question. However, we will read through every question and then decide which ones will be most helpful to the most readers. Thank you for your understanding.
What do you think?
Does your birthday also conflict with the holidays? What do you do to stand out on your birthday? What would you suggest to our December birthday readers? Do you like these outfits? Which one is your favorite? Please let us know what you think by leaving a comment below!