This post may contain affiliate links, which means we may receive a commission if you purchase through our links. Please
read our full disclosure here
.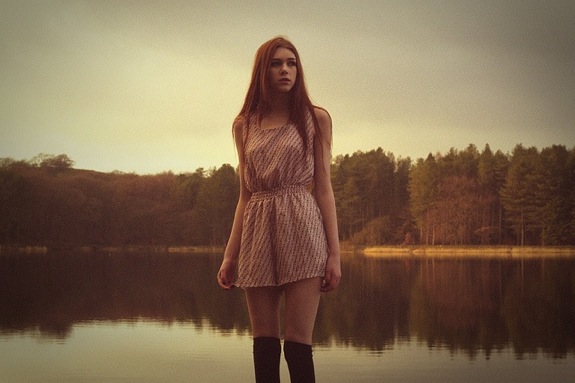 Welcome to the latest edition of Ask CF! Every two weeks, we select a reader fashion question and answer it here on the site. Do you have a specific fashion question for us? Scroll to the bottom of this post to learn how to send it our way!
Ask CF Question
Dear CF,

I'm totally loving all the fall outfits you guys are posting; it's getting me so pumped for the cold! However, I'm in school in central Florida, and it's still 85 degrees here, WAY too hot here to start piling on flannels and leather jackets. I was wondering if you could post some outfits geared towards fall in Florida? Thanks so much!

Sincerely,

"Fall" in Florida
Our Response
Dear "Fall,"
I may not be in Florida, but I do live in L.A. and girl, I feel your pain. These past few weeks alone, temps ran in the mid 80s and even reached up to 100 degrees at one point. And coming from someone who is obsessed with knit sweaters, comfy jackets, and ankle booties, this weather is definitely cramping my fall style.
However, just because temps are warm, it doesn't mean we need to miss out on these fun fall trends altogether. With a little creativity, we too can embrace the best of fall without breaking a sweat (literally). It's all about adapting the trends. Too hot to wear a leather jacket? Try a pair of leather shorts or a skirt instead. Flannel shirts got you "glistening"? Try tying one around your waist or finding a similar pattern in some material other than flannel. To see some of these tips (and more!) translated into an entire look, keep on scrolling. Thanks for the question and enjoy!
Sincerely,
Jessica
Outfit #1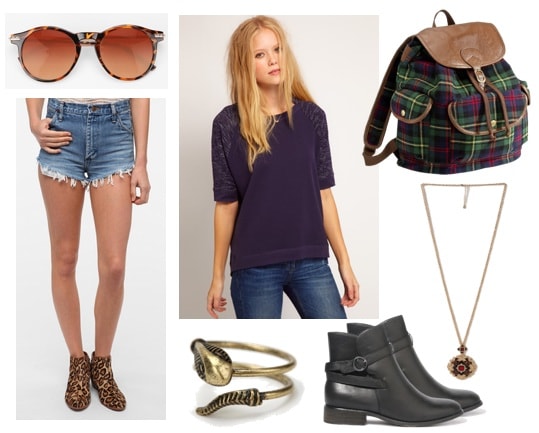 Product Information: Sunglasses, Shirt, Backpack, Necklace, Shoes, Ring, Shorts
If there's one item I gravitate toward every time I go shopping, it's sweaters. But sadly for me, my collection has been tucked away anxiously awaiting temps to drop. And so, I bring you this pullover. I love how this top has the pullover sweater feel without fully committing to long sleeves. To keep the look warm weather-appropriate, pair it with high-waisted cutoff jean shorts. Lastly, finish the look with the ever-popular fall ankle boot, and add key accessories like this pendant necklace, a snake ring, tortoiseshell sunnies, and a flannel-inspired backpack.
Outfit #2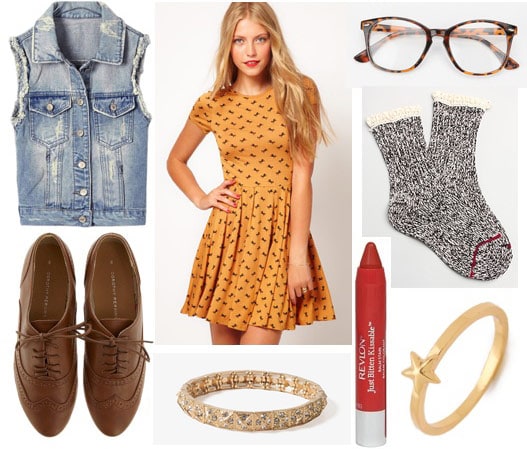 Product Information:Vest, Dress, Glasses, Socks, Ring, Lip Stain, Bracelet, Shoes
I'm not from a cold-weather climate, but if there's one complaint that I hear most often from those who are, it's that wearing tights day in and day out can get really old, really fast. So with that being said, why not go bare-legged since you can? I love this dress, especially its fall color scheme. Pair it with a jean vest that'll add extra dimension to the look (like a jacket would) without adding on too much bulk and heat. To play off the school-girl vibe of this dress, I brought in some glasses and oxford shoes accessorized with ruffly socks. Finish the look with dainty jewelry and — my favorite fall beauty trend — a bright red lip.
Outfit #3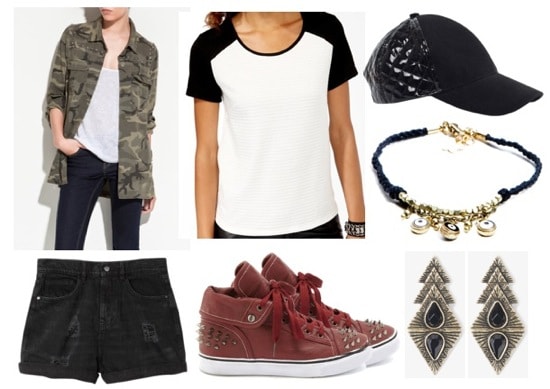 Product Information: Over-shirt, Top, Hat, Bracelet, Earrings, Shoes, Shorts
The sporty look is another trend that has recently been gaining a lot of popularity. With a baseball tee-inspired top, a baseball cap with leather details, and oxblood studded sneakers, you will be well on your way to emulating this trend for yourself. And if it's too hot to wear this camouflage shirt, try tying it around your waist. (We promise that this it is totally okay to do.) Bonus: if it does cool off in those lecture halls or after sunset, you'll be prepared. Complete the look with some art deco-inspired statement earrings and a simple bracelet.
Outfit #4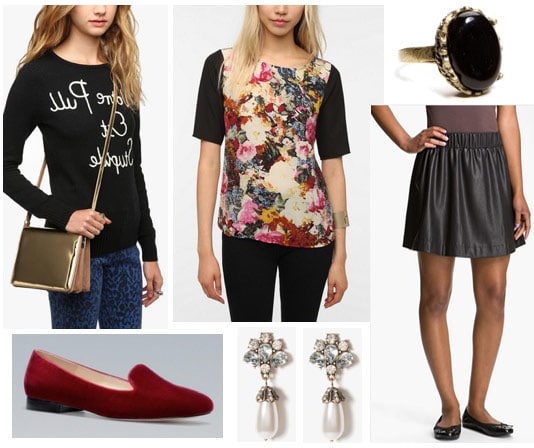 Product Information: Bag, Shirt, Ring, Skirt, Earrings, Shoes
For this last look, I wanted to bring in a leather piece. I liked the idea of choosing a skirt in place of shorts in this instance because there is less skin-to-material contact. Pair the look with a top that demonstrates fall's take on printed florals. Lastly, some dainty statement earrings, a stand-out cocktail ring, and burgundy loafers add feminine details to the look, while this metallic bag keeps that urban feel alive.
Do you have a fashion question? Send it our way!
Is there something in your closet that you can't seem to figure out how to wear? Do you have an event coming up and need an outfit idea? Do you have a specific fashion conundrum you need help with?
If you have a question you want to see answered in this column, just send it on over via email to askcf @ collegefashion.net and one day you might see your question answered right here on the site!
Please note: We get A LOT of email and unfortunately we will not be able to respond to every single question. However, we will read through each question and then decide which ones will be most helpful to the most readers. Thank you for your understanding.
What do you think?
What's the weather like where you live? Is it warm like it is in Florida and Southern California, or are you already adding on the layers? Do you have any other tips to share? For those of you in colder climates, how would you make these looks work for you? Which is your favorite outfit? Please leave a comment below to let us know what you think!