This post may contain affiliate links, which means we may receive a commission if you purchase through our links. Please
read our full disclosure here
.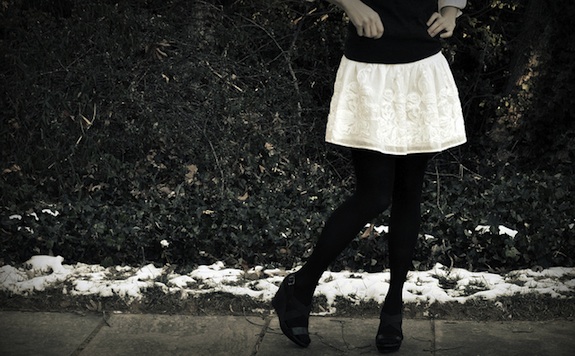 Welcome to the latest edition of Ask CF! Every couple of weeks, we select a reader fashion question and answer it here on the site. Do you have a specific fashion question for us? Scroll to the bottom of this post to learn how to send it our way!
Ask CF Question
Hi College Fashion,

I'm going to be going out dancing soon and it's cold out now, so I'm wondering what is a good flirty & fun outfit that will still keep me warm enough when walking outside?

Thanks,

Dancing in Winter (in Canada)
Our Response
Dancing in Winter,
Oh, winter! While the layers upon layers of clothes give you tons of opportunities to experiment and mix and match your wardrobe, at the end of the day, practicality can easily trump your sartorial hopes. A night out dancing can be particularly difficult, since being out in the cold requires lots of layers, yet once you're ready to dance, you'll be working up a sweat.
The best way to prep for these situations is to layer. While wearing multiple layers of clothing isn't the most efficient or easy way to do it, in reality, it's just something you have to deal with alongside any winter wonderland.
To keep your legs warm, try a pair of fleece-lined tights. A big overcoat will act as the best defense against the frigid winter air. And if you need to layer on a beanie, scarf, and sweater, too, most places have a coat check where you can drop off your goods for a minimal service fee. That way, you can dance the night away without having to worry about losing your jacket for the walk home. I hope you find these looks inspiring so that you can dance the night away in style without letting those dancing feet getting frostbite!
Best,
Jessica
Outfit # 1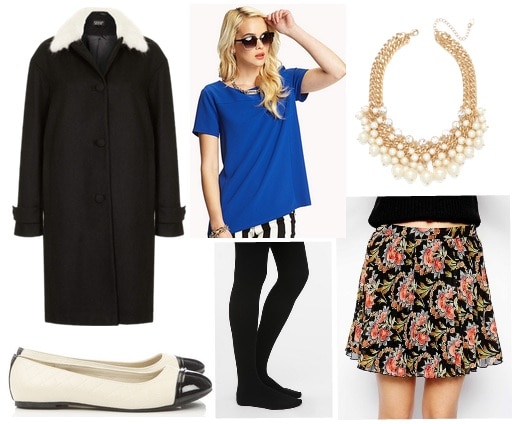 Product Information: Coat, Top, Necklace, Skirt, Tights, Flats
This printed skirt is perfect for a night of twirling around the dance floor, while an electric blue top and pearl statement necklace make a chic statement. Layer on a pair of fleece-lined black tights and a long overcoat as a topper to brave the chilly air.
Outfit # 2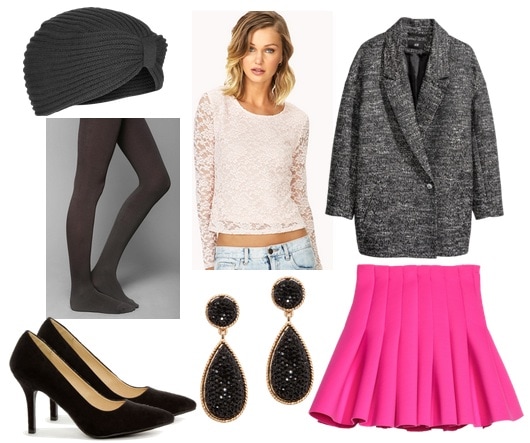 Product Information: Turban, Top, Coat, Skirt, Earrings, Heels, Tights
This next outfit takes similar pieces from the first and alters them slightly for a different look. A flouncy pleated skirt is the ultimate in channeling your inner dancer. Next, a lace pullover is a perfect feminine addition to the mini-skirt. Put on some pretty drop earrings, gray fleece-lined tights and a turban head wrap. Before you step out into the cold, don't forget to grab an oversized coat.
Outfit # 3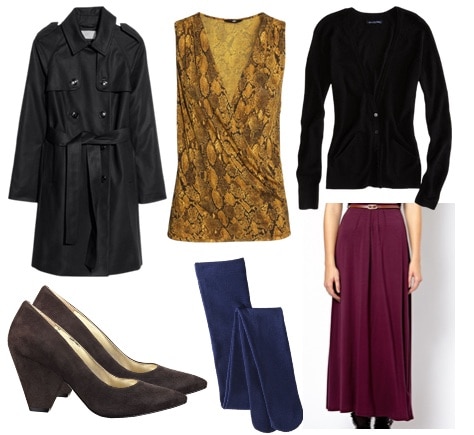 Product Information: Trench Coat, Top, Sweater, Skirt, Tights, Heels
A night of dancing doesn't always mean you need to rock a mini skirt, and this outfit proves it. Slip into a burgundy maxi skirt and mustard printed top. If needed, add on a knitted cardigan. Again, we have our trusty fleece-lined tights and trench coat. Finish the look with a pair of sturdy heels.
Do you have a fashion question? Send it our way!
Is there something in your closet that you can't seem to figure out how to wear? Do you have an event coming up and need an outfit idea? Do you have a specific fashion conundrum you need help with?
If you have a question you want to see answered in this column, just send it on over via email to askcf @ collegefashion.net and one day you might see your question answered right here on the site!
Please note: We get A LOT of email and unfortunately cannot respond to every single question. However, we will read through every question and then decide which ones will be most helpful to the most readers. Thank you for your understanding.
What do you think?
What do you wear for a night out during the winter? What outfit is your favorite? How would you style a skirt for a night out dancing? Please let us know what you think by leaving a comment below!