This post may contain affiliate links, which means we may receive a commission if you purchase through our links. Please
read our full disclosure here
.
Welcome to the latest edition of Ask CF! Every couple of weeks, we select a reader fashion question and answer it here on the site. Do you have a specific fashion question for us? Scroll to the bottom of this post to learn how to send it our way!
Ask CF Question
Hey CF!

So, allergy season has hit full-swing where I live. Every day in class there are coughs and sniffles (most of the time from me!!). What is a good way to dress cute even while you're sick? Any tips for how I can wear makeup when my eyes are super watery all the time?

Thanks so much!

Sickly in Sweatpants
Our Response
Dear Sickly in Sweatpants,
Unfortunately, 'tis the season of sniffles, especially for those who suffer from allergies this time of year. While getting dressed and looking cute may not be high on everyone's sick day priority list, when you're sick all season it makes sense that you'd like a few days off from the uni hoodie-and-sweats days.
I have created three outfits below for inspiration. For each of these looks, I chose comfy casual clothes, but added in touches of on-trend elements. These ensembles prove that you can be comfy and cozy while you battle the drudgery of allergy season.
As for makeup, if your eyes are itchy and watery, I would recommend wearing little to no makeup at all. But if you do decide to put some on, stick with waterproof mascara and very little else — you don't want the makeup irritating your eyes any more than they already are.
Here's to feeling better and dressing cute in the meantime!
Sincerely,
Jessica
Outfit # 1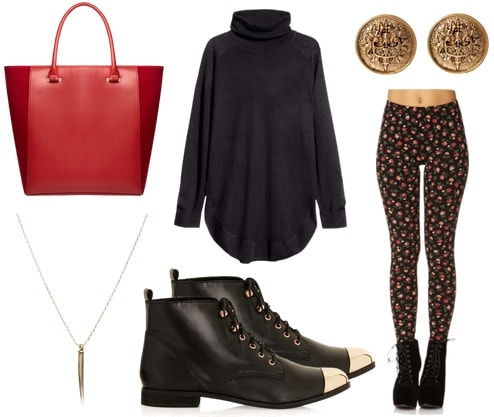 Product Information: Bag, Sweater, Earrings, Leggings, Boots, Necklace
There's nothing easier or comfier than a cozy sweater and a pair of leggings. To amp up the look, try a printed legging paired with an on-trend turtleneck sweater. Finish the outfit with some gold-toe boots, a bright red bag and simple gold jewelry.
Outfit # 2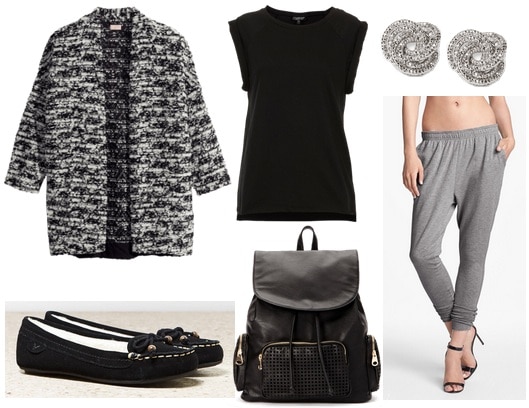 Product Information: Cardigan, Shirt, Earrings, Sweatpants, Backpack, Shoes
Believe it or not, sweatpants can be fashionable! For this ensemble, a pair of sweatpants paired with an oversized sweater and tee is an easy way to dress if you're feeling under the weather. Slip into some shearling moccasins, grab your everyday backpack, and you'll be good to go.
Outfit # 3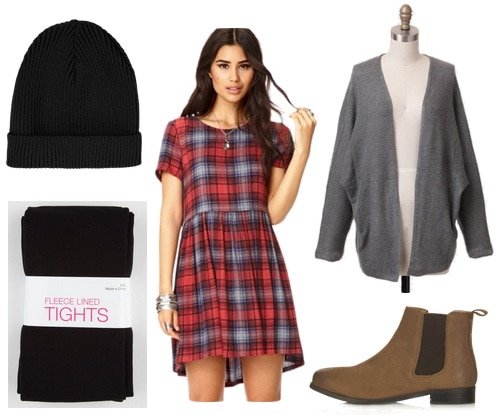 Product Information: Beanie, Dress, Cardigan, Boots, Tights
For this last look, I used a simple printed dress as the base. While some may feel like putting on a dress is too dressy, I find that dresses are perfect for lazy days because all you need is one piece and you're done. Next, throw on an oversized knit sweater, beanie, tights and an ankle-length Chelsea boot. You'll look so good that no one will suspect that you're sick!
Do you have a fashion question? Send it our way!
Is there something in your closet that you can't seem to figure out how to wear? Do you have an event coming up and need an outfit idea? Do you have a specific fashion conundrum you need help with?
If you have a question you want to see answered in this column, just send it on over via email to askcf @ collegefashion.net and one day you might see your question answered right here on the site!
Please note: We get A LOT of email and unfortunately cannot respond to every single question. However, we will read through every question and then decide which ones will be most helpful to the most readers. Thank you for your understanding.
What do you think?
Do you dress fashionable when you are feeling under the weather? What would you wear in this situation? Do you have any other advice? Please let us know what you think by leaving a comment below!