This post may contain affiliate links, which means we may receive a commission if you purchase through our links. Please
read our full disclosure here
.
Welcome to the latest edition of Ask CF! Every few weeks, we select a reader fashion question and answer it here on the site. Do you have a specific fashion question for us? Scroll to the bottom of this post to learn how to send it our way!
Ask CF Question
Dear CF,

At my job, we have to wear all black. Beyond that, we're allowed to wear whatever. But I'm stuck in a fashion rut! How do you wear black on black every time you work, but change it up?

Sincerely,

Sick of the Black Tank/Legging Combo
Our Response
Dear Sick of Black,
We've actually gotten a few of these requests so it's obvious it's a common challenge for a lot of people. My best advice for switching things up in your all-black work wardrobe is to play with textures and layers, look for pieces with little details, and get creative with accessories. With these tricks, you can build a work wardrobe that is far from drab and will still show off your personal style.
Below, I've created a few outfits to act as a jumping-off point. As every workplace requires a different aesthetic depending on the profession, so I tried to represent a few different types of jobs in these outfits. If one of the outfits seems too dressy or casual for your place of business, a little tweaking can make it appropriate for your job.
I hope you find these looks inspiring and helpful. And thank you for your question!
Sincerely,
Jessica
Outfit #1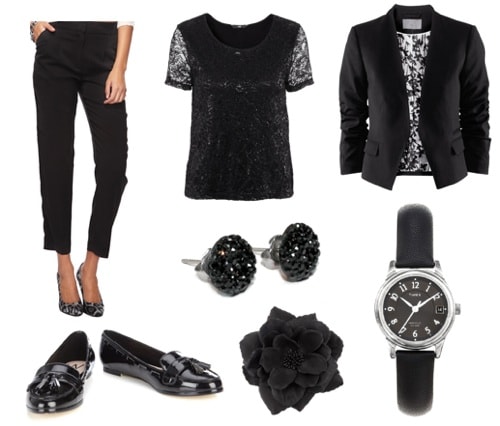 Product Information: Pants, Top, Jacket, Watch, Brooch, Earrings, Shoes
This look would work well for an office or a position in the customer service industry. Pair some structured black slacks with a lace top — this one has some shine to it, which gives it some dimension. Layer the shirt under a classic black jacket. Make the look yours with accessories like these patent loafers, watch, and simple stud earrings. Another good way to use accessories to your advantage is to pin a flower brooch onto the lapel of your jacket. (Or if you prefer, this one works as a hair accessory, too.)
Outfit #2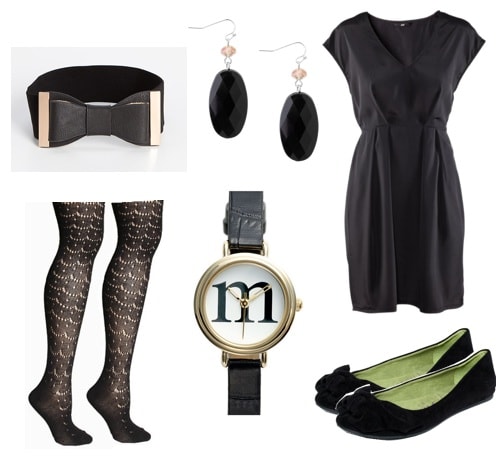 Product Information: Belt, Earrings, Dress, Shoes, Watch, Tights
Start this look with a work-appropriate black dress. Since it's pretty basic, accessories will amp up the look. Try adding on a bow belt for starters. Next, add on some printed tights. Complete the look with some simple black earrings, timeless ballet flats, and an initial watch.
Outfit #3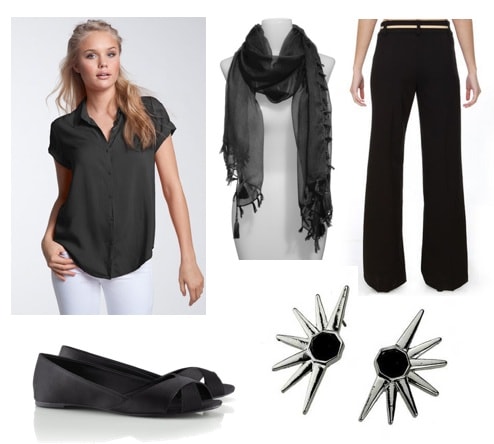 Product Information: Top, Scarf, Pants, Earrings, Shoes
This next look is a little more casual. Pair a classic button-up shirt with some wide-legged trousers for a simple and work-appropriate look. Add on a sheer black scarf with tassels to give the look some texture and dimension. If your job requires you to be on your feet all day, flats will make sure you're comfortable. Lastly, add on some post earrings that express your personality.
Outfit #4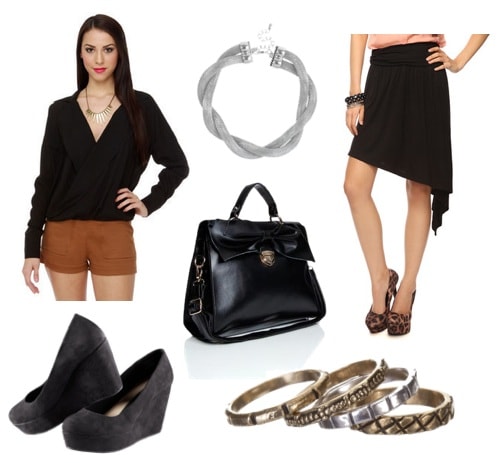 Product Information: Top, Necklace, Skirt, Rings, Bag, Shoes
If your job's work attire regulations are a little more lenient, an outfit like this would be great. Try tucking this unique top into a skirt with an asymmetrical hemline. Accessorize with a statement necklace and some simple rings that won't get in the way of your work. Finish the look with a structured bag and some simple wedges.
Do you have a fashion question? Send it our way!
Is there something in your closet that you can't seem to figure out how to wear? Do you have an event coming up and need an outfit idea? Do you have a specific fashion conundrum you need help with?
If you have a question you want to see answered in this column, just send it on over via email to askcf @ collegefashion.net and one day you might see your question answered right here on the site!
Please note: We get A LOT of email and unfortunately we will not be able to respond to every single question. However, we will read through each question and then decide which ones will be most helpful to the most readers. Thank you for your understanding.
What do you think?
Does your work require you to wear all black as well? Do you find it challenging to come up with new combinations of outfits with this limitation on your work wardrobe? Which outfit above is your favorite? Do you have any other tips related to this question? Please let us know your thoughts by leaving a comment below!