This post may contain affiliate links, which means we may receive a commission if you purchase through our links. Please
read our full disclosure here
.
Welcome to the latest edition of Ask CF! Every couple of weeks, we select a reader fashion question and answer it here on the site. Do you have a specific fashion question for us? Scroll to the bottom of this post to learn how to send it our way!
Ask CF Question
Dear CF,

I have sooo many maxi skirts. In fact, they're all I ever wear and I need more outfit ideas. I don't want to wear my skirts the same way every time to school; I want to make my outfits more unique and interesting. Please give me some ideas. Thanks! 🙂

Sincerely,

I Love Maxi Skirts
Our Response
Dear I Love Maxi Skirts,
First of all, thank you for your question! Maxi skirts have been a popular for a few seasons now, and they don't look like they'll be going anywhere anytime soon. But like you mentioned, sometimes it's easy to get in the same routine with outfits, especially when you're styling something like a maxi skirt that is a statement piece.
To make the most out of your maxi skirt collection, don't be afraid to experiment with a few different looks. Do you always wear them with a simple tank? Try a graphic, or patterned tank, or even a long-sleeved button up. If you like color, maybe try playing with the color blocking trend. Some other options are to wear a maxi with a sweater, jacket, or vest to add something new to the routine. Lastly, don't be afraid to play with accessories like belts, jewelry, or hats.
I've created a few outfits below for inspiration. I hope you enjoy them. And lastly, have fun finding some of your own new ways to wear your collection of skirts!
Sincerely,
Jessica
Outfit # 1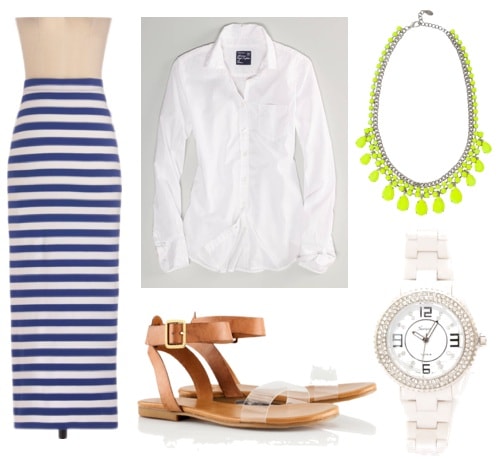 Product Information: Skirt, Shirt, Necklace, Watch, Sandals
For this look, I started off with this awesome striped maxi skirt. Next, add on a classic white button-up — I would probably tie the bottom to make it a little more casual. For another pop of color, try this neon statement necklace. And lastly, finish the look with understated accessories like this watch and sandals.
Outfit # 2
Product Information: Jacket, Top, Skirt, Sandals, Bracelet, Belt, Hat
For this look, I wanted to pair a cool printed tank with a maxi skirt, and I fell in love with these two pieces. As I mentioned in a previous post, denim jackets go with just about anything — including this look. To complete the ensemble, add on some standout accessories like a leopard printed belt, bangle, and hat. Complete the look with some gladiator sandals.
Outfit # 3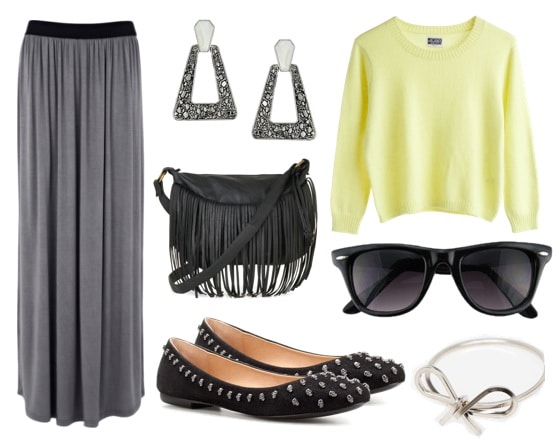 Product Information: Skirt, Earrings, Sweater, Sunglasses, Ring, Shoes, Bag
For this final look, try pairing your maxi skirt with a sweater. I especially like this light yellow one next to the charcoal grey skirt. Next, add on the accessories. I love the juxtaposition of feminine pieces like pretty drop earrings and a bow ring, contrasted with edgier pieces like wayfarer sunglasses, a fringe bag, and skull-studded ballet flats.
Do you have a fashion question? Send it our way!
Is there something in your closet that you can't seem to figure out how to wear? Do you have an event coming up and need an outfit idea? Do you have a specific fashion conundrum you need help with?
If you have a question you want to see answered in this column, just send it on over via email to askcf @ collegefashion.net and one day you might see your question answered right here on the site!
Please note: We get A LOT of email and unfortunately cannot respond to every single question. However, we will read through every question and then decide which ones will be most helpful to the most readers. Thank you for your understanding.
What do you think?
Do you own a maxi skirt? Have you ever have trouble styling this trend? What are you favorite ways to change it up? Do you have a favorite outfit? Please let us know what you think by leaving a comment below!