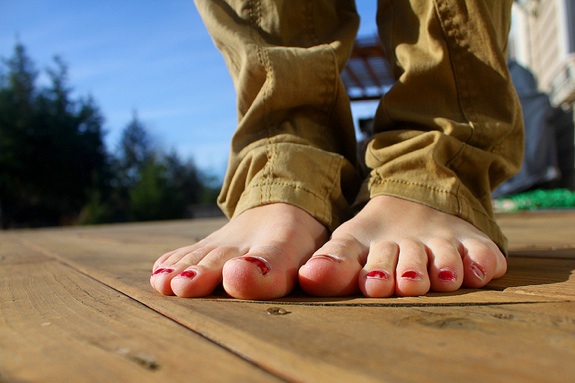 Welcome to the latest edition of Ask CF! Every couple of weeks, we select a reader fashion question and answer it here on the site. Do you have a specific fashion question for us? Scroll to the bottom of this post to learn how to send it our way!
Ask CF Question
Dear CF,

I don't like wearing skirts or dresses very often. I only wear them for special occasions. Many bloggers tend to feature skirts and dresses on their blogs. What options are there for pants-wearers, especially for daytime without resorting to the old standby of wearing jeans?

Sincerely,
Pants-less
Our Response
Dear Pants-less,
Let me just start out by saying that I can totally relate to your question. Not that I don't like wearing dresses and skirts, but I definitely tend towards pants — specifically jeans.
It has recently become one of my goals to try out some new combinations with different kinds of pants. So far I've only bought a pair of velvet burgundy skinnies, but because of how much I have loved playing with them in my wardrobe I am excited to some new kinds of pants for myself.
In short, coming from someone who wears jeans very often, switching it up once in a while is a great way to give your look an extra oomph. And it's a lot of fun! I have created a few looks below that will hopefully inspire you to try this look out on your own. Good luck and have fun!
Sincerely,
Jessica
Outfit #1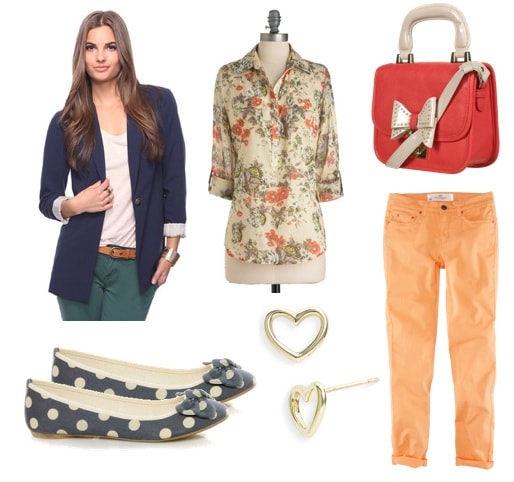 Product Information: Blazer, Shirt, Bag, Pants, Earrings, Shoes
A great way to break away from standard blue jeans is to try a pair of colored pants. Colored pants are very on-trend right now so it's not difficult to find your favorite color. For this outfit I chose a pair of light orange chinos, and paired them with a floral print blouse and an ever-classic navy blazer. Finish off the look with an adorable coral bag, pretty post earrings, and some polka dot flats.
Outfit #2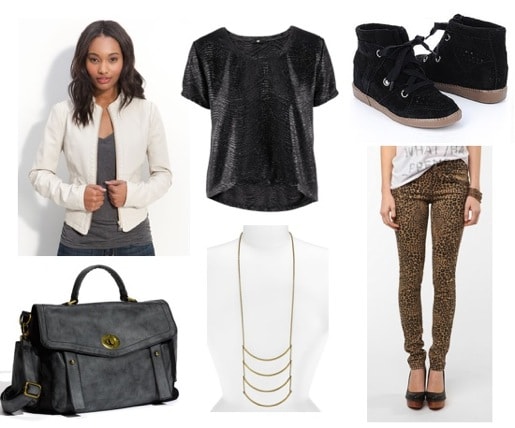 Product Information: Jacket, Top, Shoes, Pants, Necklace, Bag
Another option to break away from denim is to try a pair of printed pants. For this look I chose a pair of leopard print pants. Add on a textured black top and a structured faux-leather moto-jacket. Accessorize with a long necklace, some black trainers, and a bag.
Outfit #3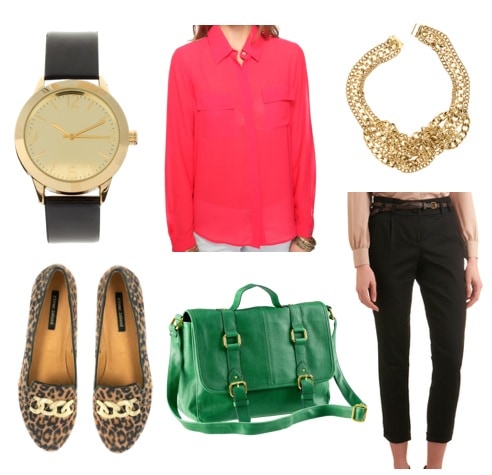 Product Information: Watch, Shirt, Necklace, Pants, Bag, Shoes
If you want to try something far from the usual routine of jeans, try a pair of high-waisted slacks. These black ones pair perfectly with a hot-pink button up. I love adding a statement necklace to any look, and I especially love this one. If you've read our article on how to match colors flawlessly, you already know that green is a complementary color to pink, which is where this bag comes in. Complete the look with some trendy leopard print loafers and a classic watch.
Outfit #4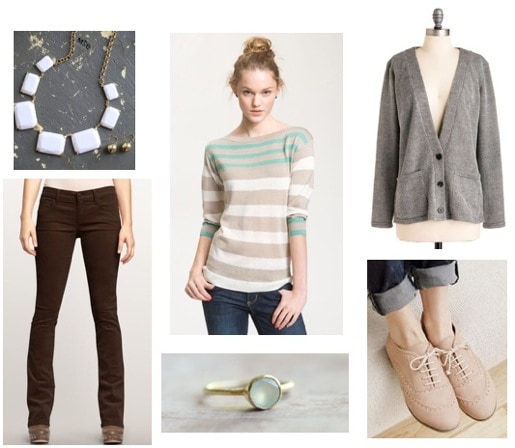 Product Information: Necklace, Top, Sweater, Shoes, Ring, Pants
Another alternative is to try a pair of textured pants — in this case I chose a bootcut corduroy pair. I love the look of this striped sweater with a hint of the popular spring color, mint, in the stripes. Add on a chunky necklace to draw attention up to your face and an oversized sweater for an extremely comfy, relaxed look. Finish the ensemble with some oxfords and a pretty ring that picks up on the mint color in the sweater.
Do you have a fashion question? Send it our way!
Is there something in your closet that you can't seem to figure out how to wear? Do you have an event coming up and need an outfit idea? Do you have a specific fashion conundrum you need help with?
If you have a question you want to see answered in this column, just send it on over via email to askcf @ collegefashion.net and one day you might see your question answered right here on the site!
Please note: We get A LOT of email and unfortunately cannot respond to every single question. However, we will read through every question and then decide which ones will be most helpful to the most readers. Thank you for your understanding.
What do you think?
Do you prefer wearing pants to skirts and dresses? Have you been wanting to try to change up your jean routine, too? Do you have a favorite outfit? Which one is it? Do you have any advice to add to the discussion? Please leave us a response below to let us know what you think!