This post may contain affiliate links, which means we may receive a commission if you purchase through our links. Please
read our full disclosure here
.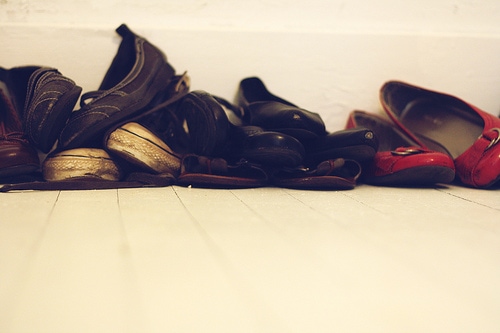 Welcome to the latest edition of Ask CF! Every two weeks, we select a reader fashion question and answer it here on the site. Do you have a specific fashion question for us? Scroll to the bottom of this post to learn how to send it our way!
Ask CF Question
Dear CF,

I am in desperate need of shoe advice! I can no longer wear high heels for long periods after breaking my ankle last year. I'm about to graduate and move to a really large city — one with a nightlife that definitely requires dressing up on a regular basis. I've looked at other girls for inspiration, but they all wear heels! Do you have any suggestions for stylish flat shoes that would be appropriate for swanky nightclubs? What about cocktail parties and weddings?

Thanks,
Shoeless
Our Response
Dear Shoeless,
I am sorry to hear about your broken ankle. But even though you can't wear heels for long periods of time, you can still get dressed up for more formal events without having to sacrifice style.
Since you will now be wearing flats often, I would suggest investing in some dressier flats if you don't have some already. Little details like rhinestones, sequins, bows, or even just high quality materials and craftsmanship will provide that formal feel.
You might have to get a little creative with your outfits, and it might be challenging to transition at first (especially if you are used to wearing heels to formal events), but with a little experimentation and imagination you can surely find a look that is sure to make others envious of your style and pain-free soles. Here are a few ideas to get you started. Enjoy!
Sincerely,
Jessica
Outfit #1: Nightclub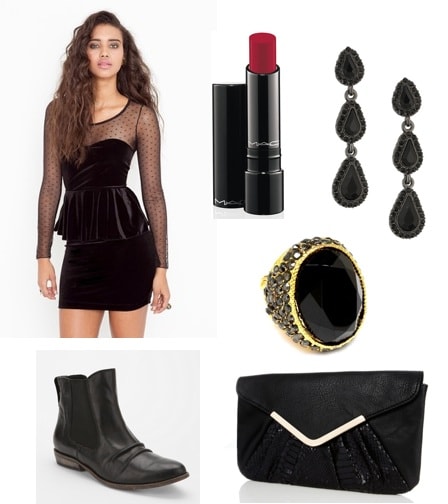 Product Information: Dress, Lip Stick, Earrings, Ring, Clutch, Boots
One way to wear flats to a nightclub is to try a pair of boots. Pairing them with a velvet, peplum mini-dress will ensure that your look is right on trend. Accessorize the look with some dangly earrings, a statement cocktail ring, and an envelope clutch. Finally, swipe on your favorite eye-catching lip color and you'll be ready to hit the town! And if boots aren't your style, you can easily swap them out for a nice pair of sandals or ballet flats.
Outfit #2: Cocktail Party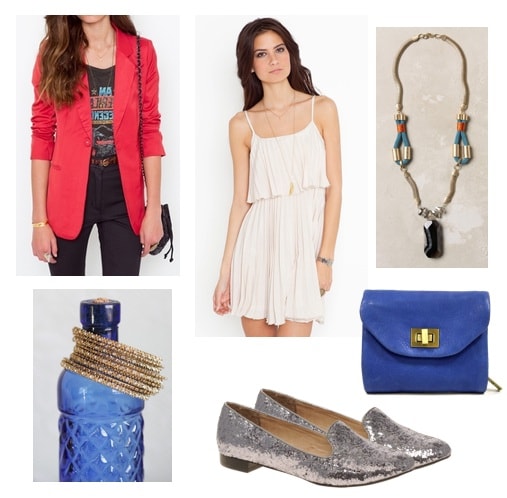 Product Information: Jacket, Dress, Necklace, Bag, Shoes, Bracelets
For a unique look at your next cocktail party, try wearing this red blazer over a cream-colored, pleated dress. Add on a statement necklace for another eye-catching touch. Throw on some bangle bracelets and grab a cobalt blue bag for an extra pop of color. Finally, add on these glitter loafers – they're sure to make a statement at any event.
Outfit #3: Wedding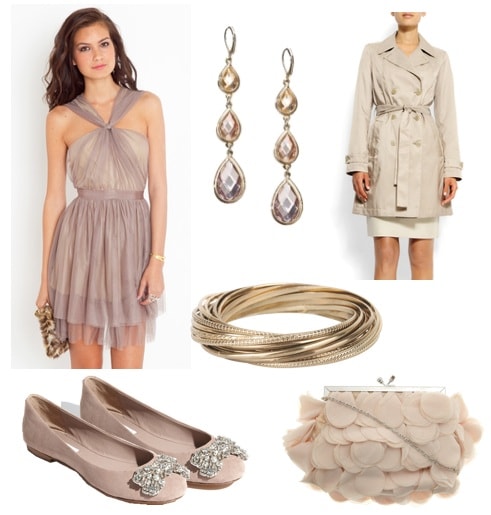 Product Information: Dress, Earrings, Jacket, Bracelets, Bag, Shoes
As you can see from the look above, it's possible to dress for a wedding without donning heels. A pair of neutral ballet flats with a pretty bow detail are a perfect addition to a delicate dress like the one above. Put on a classic trench coat like the one above to stay warm. Finally, accessorize the look with some gold bangle bracelets, pretty drop earrings, and a whimsical ruffled bag.
Do you have a fashion question? Send it our way!
Is there something in your closet that you can't seem to figure out how to wear? Do you have an event coming up and need an outfit idea? Do you have a specific fashion conundrum you need help with?
If you have a question you want to see answered in this column, just email it to askcf @ collegefashion.net and one day you might see your question answered right here on the site!
Please note: We get A LOT of email and unfortunately we will not be able to respond to every single question. However, we will read through each question and then decide which ones will be most helpful to the most readers. Thank you for your understanding.
What do you think?
Do you have a similar problem that doesn't allow you to wear heels? Or do you just prefer to wear flats in the first place? For you heel lovers, do you think you would wear flat shoes to these types of events? Do you like these outfits? Which is your favorite? Got any more advice? Please leave a comment below to let me know what you think!