This post may contain affiliate links, which means we may receive a commission if you purchase through our links. Please
read our full disclosure here
.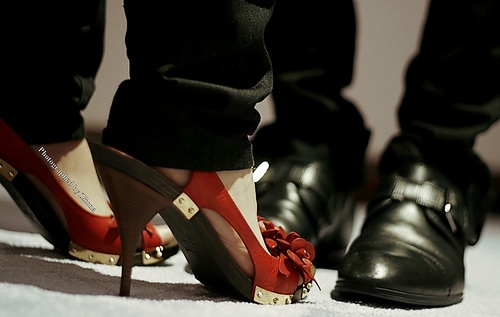 Welcome to the latest edition of Ask CF! Every two weeks, we select a reader fashion question and answer it here on the site. Do you have a specific fashion question for us? Scroll to the bottom of this post to learn how to send it our way!
Over the past few weeks, you guys have sent in some great questions, and it was hard to choose which one to feature next! In case you missed them, see the past two Ask CF posts, How Do I Ditch My Denim Shorts?, and How Do I Stay Cool & Confident in Summer as a Plus Sized Girl?. This week, we tackle a topic that we all struggle with.. transitioning outfits from day to night.
Ask CF Question
Dear CF,

Summer's coming to an end 🙁 and the Fall semester is almost here. Many times after my last class I like to go out on dates with my boyfriend. Can you come up with some outfit ideas that would be class and date appropriate, along with one that would be appropriate for an anniversary date after class as well? I just can't seem to find one that would be appropriate for both occasions since I often overthink the oufits :/ Please help!

Sincerely,

Over thinker
Our Response
Dear Over thinker,
College students are notoriously busy – it's definitely a challenge to juggle school, work, extracurriculars, and a personal life. With all these different hats that we wear, our wardrobe has to be strategic at times (unless, of course, you have time to change your outfit three times a day and are willing to do extra laundry — yeah, we didn't think so). Which brings us to your question. It's tough to dress for multiple occasions at once, but luckily, if you choose the right basic ensemble, all you really need to do is swap out a few accessories to bring your look from day to night.
Below, I have created a few outfits for inspiration – they require you to run back to your dorm or car and swap accessories, but you could easily pack the shoes/accessories in your bag, too. Also, I could see any of the day looks working for a casual date night, but I thought I'd throw in more formal options, too. I hope this helps!
Sincerely,
Jessica
Outfit #1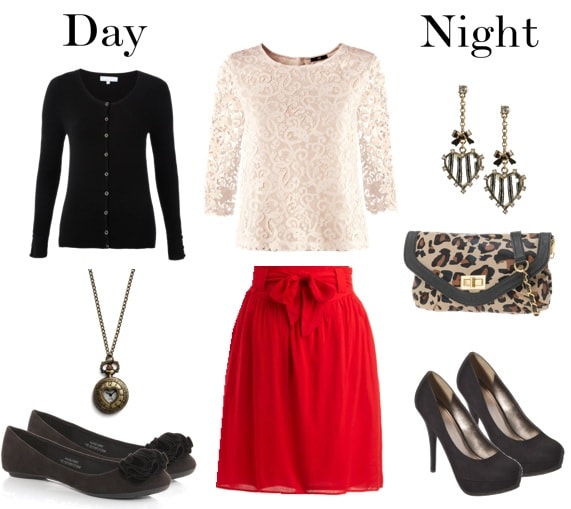 Product Information: Cardigan, Necklace, Flats, Top, Skirt, Earrings, Bag, Heels
This outfit is all about simplicity – a lace top tucked into a pretty red skirt forms a romantic ensemble that is appropriate for both class and date night. For day, throw on a simple black button-up cardigan, a clock necklace, and black ballet flats. To kick the look up a notch for night, slip on some drop heart earrings and some classic black pumps. Finish the look with the ever-classic leopard purse.
Outfit #2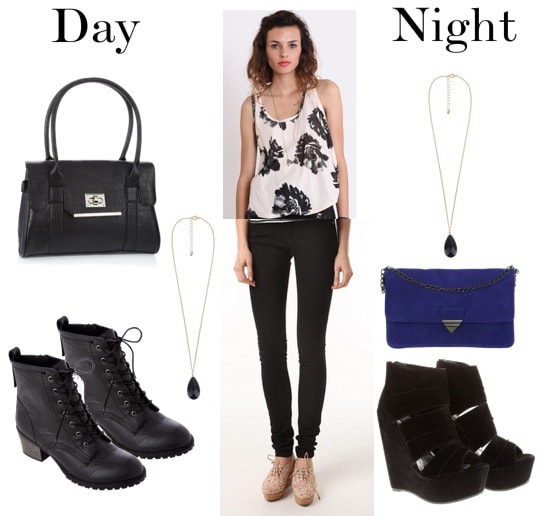 Product Information: Bag, Necklace, Boots, Top, Pants, Clutch, Wedges
This is a typical look that I'd wear both to class and for a night out. Black skinny jeans are a staple and can be worn so many ways. For this outfit, pair them with a floral printed tank. A pendant necklace, like the one above, works for both a daytime and nighttime look. A simple switch of the bag and shoes will transform this outfit. During the day, grab a structured black tote and some motorcycle lace-up boots. For night, swap out the bag and boots for a pretty blue clutch and strappy wedges.
Outfit #3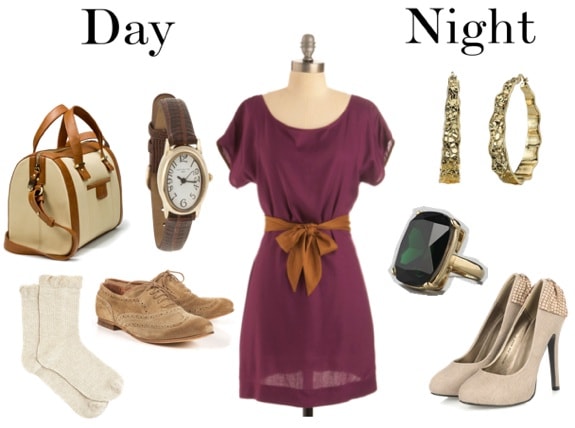 Product Information: Bag, Watch, Shoes, Socks, Dress, Earrings, Ring, Heels
This outfit has a fun old-world charm to it that can easily work for day or night. Dresses are a fabulous choice for day or night, and this purple one would be absolutely perfect for fall. For the daytime look, I thought it would be fun to pair this dress with some brogues and some cute ruffly socks. A leather watch and a structured bag complete the look. For night, jazz up the dress with sparkling gold hoop earrings, an emerald ring, and some studded heels.
Do you have a fashion question? Send it our way!
Is there something in your closet that you can't seem to figure out how to wear? Do you have an event coming up and need an outfit idea? Do you have a specific fashion conundrum you need help with?
If you have a question you want to see answered in this column, just send it on over via email to askcf @ collegefashion.net and one day you might see your question answered right here on the site!
Please note: We get A LOT of email and unfortunately we will not be able to respond to every single question. However, we will read through each question and then decide which ones will be most helpful to the most readers. Thank you for your understanding.
What do you think?
Do you often find yourself in this same dilemma? When going from class to a night out, do you typically change your outfit completely or switch out accessories? Do you like the outfits? Which one is your favorite? We'd love to hear your thoughts so please leave a comment below!