This post may contain affiliate links, which means we may receive a commission if you purchase through our links. Please
read our full disclosure here
.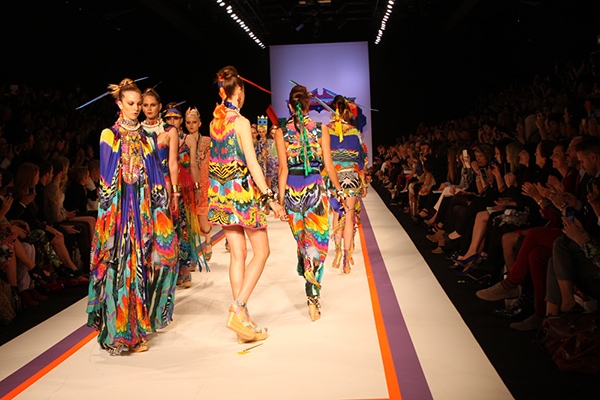 Welcome to the latest edition of Ask CF! Every two weeks, we select a reader fashion question and answer it here on the site. Do you have a specific fashion question for us? Scroll to the bottom of this post to learn how to send it our way!
Ask CF Question
Dear CF,

I love the posts about color combos to try – coral and turquoise, olive and gray, etc – but my own wardrobe is seriously limited. Practically all of my clothes are black, white and red. I used to like being so color-coordinated, but it's getting boring now. What colors could I introduce to my wardrobe to mix it up a bit, and how can I wear them with the clothes I already have?

Thanks,

Miserably Monotone
Our Response
It can be hard to incorporate colors into your wardrobe, especially during winter, when everything from the sky to your closet is a muted shade of gray. However, spring is quickly approaching, and you'll soon have plenty of options to choose from, since fun florals and bright colors will hit the stores once more.
As someone who rarely wears anything but black and white (guilty as charged), I can definitely understand being a little hesitant about wearing bright colors, but there is nothing to fear. As the weather and your favorite stores begin to switch gears, I would start collecting a few pieces that you think would mesh well with your preexisting wardrobe. A fun, printed scarf here or a bright, colorful bag there, and you'll be well on your way!
I've put together three outfits below that will hopefully provide a little bit of inspiration for the colorfully challenged, like myself.
Outfit #1: Pops of Color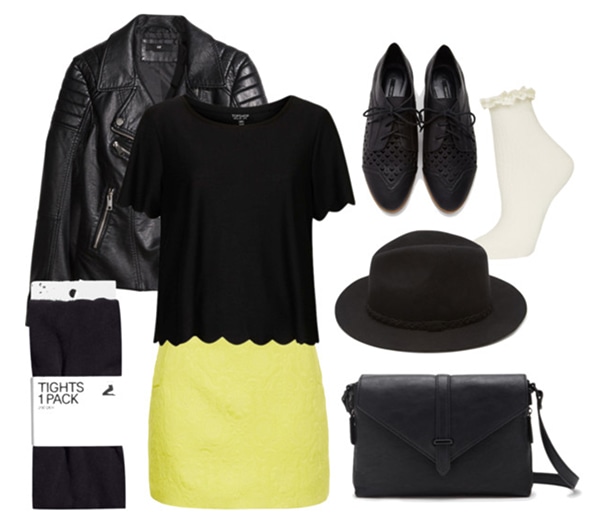 Product Information: Top, Skirt, Jacket, Tights, Shoes, Socks, Hat, Bag
If you're not used to wearing a lot of color on a daily basis, this is the easiest way to start! Adding small pops of color is my favorite way to add extra "oomph" to the typical monochromatic outfit. Pick one item (a bag, a skirt, or even lipstick!) and swap it out for something bright and colorful.
Outfit #2: Muted Hues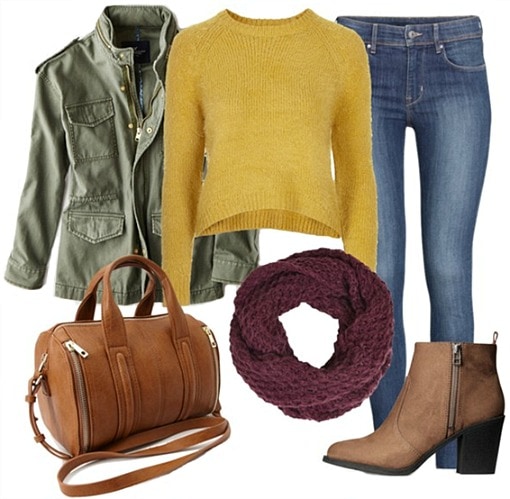 Product Information: Sweater, Jeans, Jacket, Scarf, Bag, Booties
A lot of people are hesitant to wear bright colors because they tend to draw the eye. However, if you stick with a palette of more muted hues, you can still wear colors without drawing any unwanted attention to yourself. Olive greens, mustard yellows, and rich burgundies are perfect for incorporating a little bit of color into your look without going overboard.
Outfit #3: Colorful Prints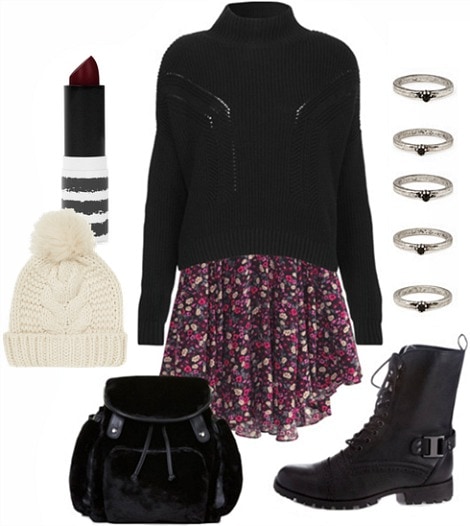 Product Information: Dress, Sweater, Backpack, Boots, Rings, Beanie, Lipstick
Another great way to add a little more color to your closet is to pick up items that are printed or patterned. I love the colors in this floral print dress, and it perfectly complements any black and white items you already own. Keep in mind: outfits that are predominantly monochromatic are also perfect for rocking a deep berry lip!
Do you have a pressing fashion question? Ask away!
Is there a piece in your closet that you never know how to style? Do you have an important event coming up? Is there a certain trend that is completely lost on you?
If you have a question you want to see answered in this column, just send it on over via email to askcf @ collegefashion.net and one day you might see your question answered right here on the site!
Please note: We get A LOT of email and unfortunately we will not be able to respond to every single question. However, we will read through each question and then decide which ones will be most helpful to the most readers. Thank you for your understanding.
What do you think?
What are your tips for incorporating a little color in your life? Do you prefer a pop of color or an all-over colorful ensemble? Would you wear any of these looks? Let us know in the comments!