Anthony Vaccarello's Spring 2015 collection is a chic and feminine take on menswear, striking the right balance between comfort and style. There is much that we can learn from this collection including how to wear similar pieces (heels, mini skirts, and the classic white button-up shirt) in numerous ways. There is a lot of repetition on Anthony Vaccarello's runway.
The looks from this collection mix pinstripes, leather, and bold graphic prints, all within a black and white palette. There's also proportion play: Loose-fitting pants and airy button-downs contrast with fitted asymmetrical mini skirts and tight leather jackets.
Are you coveting Anthony Vaccarello's spring collection, but want to have some cash left over for your college textbooks? Keep reading for three budget-friendly outfits inspired by looks straight off the runway.
1. Sweater & Leather
As soon as I laid eyes on this look, I immediately thought "sweater weather!" The sweater makes this ensemble look so comfy, but the leather wrap skirt and heels dress it up. This look would be perfect for a semi-casual night out with friends, especially on a cool autumn night.
Get the Look: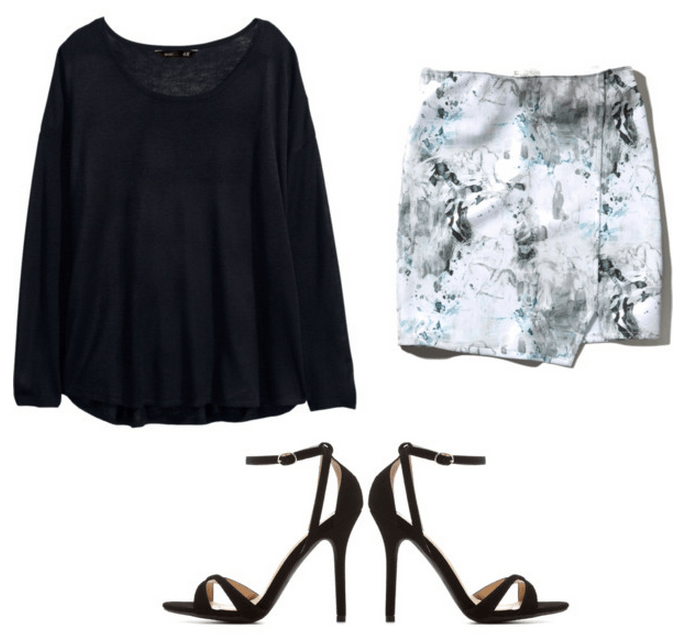 Products: Sweater, Skirt, Heels
Recreate this look with a black loose-fitting knit sweater. Tuck the sweater into a splat-patterned mini skirt. (This one is on sale for $20!) Pull out a pair of single strap heels and head out for a night in town with your girls.
2. Rock the Red
Now that fall is approaching, don't throw your summer internship pieces to the back of your closet! Remix your classic white button-down by pairing it with fun pieces, like a patterned mini skirt and strappy heels.
Get the Look: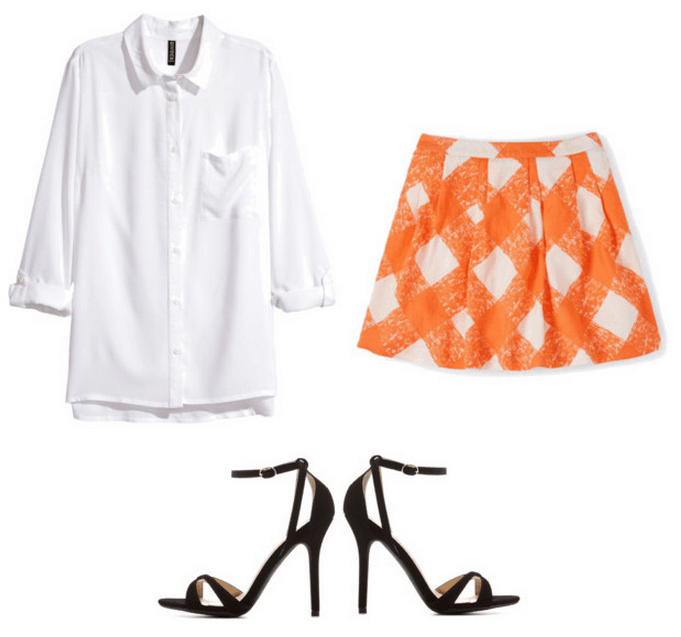 For this look, start with a classic white button-down shirt and roll up the sleeves. Tuck your shirt into this structured linen skirt for a flattering look. Add strappy heels and show off your legs for days.
3. Pinstriped
This runway look represents a feminine take on classic menswear. Pinstripes are no longer reserved for your dad's outdated suit. Modernize the print and add some flair with a mini skirt, blouse, and killer heels.
Get the Look: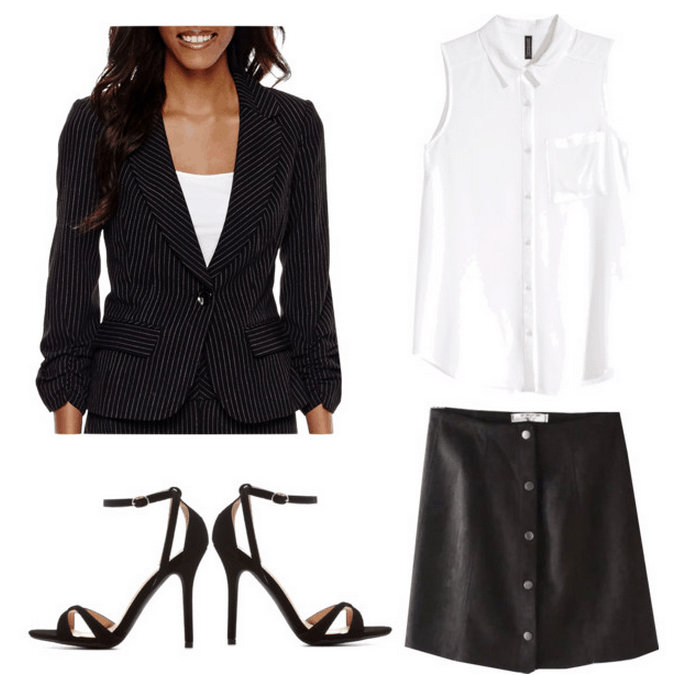 Products: Jacket, Shirt, Heels, Skirt
Earn your style stripes by grabbing a chic pinstriped jacket and pulling it over a crisp, white sleeveless blouse. Add edge to your ensemble with a retro mini skirt in faux leather. Complete the look with our favorite single-strap heels.
Your thoughts?
What do you think of Anthony Vaccarello's newest collection? Are you obsessed with any of these looks as much as we are? Which one would you wear? Don't forget to share your thoughts in the comment section below!